July 19, 2016
July 19, 2016
.
In this newsletter, you will find books releasing the weeks of July 18th and July 25th that we think will be of interest to Bookreporter.com readers, along with Bonus News, where we call out a contest, feature or review that we want to let you know about so you have it on your radar. This week, we are calling attention to our Sounding Off on Audio contest and Reading Roundup feature.
Know a friend or family member who you think may enjoy this newsletter? Then please forward it on to them!

And for those of you who are doing online shopping, if you use the store links below, Bookreporter.com gets a small affiliate fee on your purchases. We would appreciate your considering this!

Amazon | Barnes & Noble | Indiebound
This Week's Bonus News: Our Sounding Off on Audio Contest and Reading Roundup Feature
Sounding Off on Audio


Tell us about the audiobooks you've finished listening to with your comments and a rating of 1 to 5 stars for both the performance and the content. During the contest period from July 1st to August 1st at noon ET, two lucky readers each will be randomly chosen to win the audio versions of Wendy Walker's

ALL IS NOT FORGOTTEN

, read by Dylan Baker, and Cathleen Schine's

THEY MAY NOT MEAN TO, BUT THEY DO

, read by Cynthia Darlow.
To make sure other readers will be able to find the audiobook, please include the full title and correct author names (your entry must include these to be eligible to win). For complete rules and guidelines,

click here

.
-

Click here

to enter the contest.
-To see reader comments from previous contest periods,

click here

.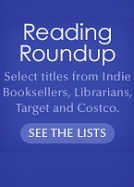 Reading Roundup
In a

recent Bookreporter.com poll

, we asked how you feel about book recommendation lists that appear either online or in print. The results of the poll reveal that many of you use these lists to plan your reading, so we wanted to make sure you were aware of our

Reading Roundup

feature. Each month, we share top book picks from Indie Next and LibraryReads, as well as the Target Book Club title and Pennie's Pick for Costco. Indie Next's top titles for July include

BARKSKINS

by Annie Proulx,

UNDERGROUND AIRLINES

by Ben H. Winters and

VINEGAR GIRL

by Anne Tyler, while LibraryReads is spotlighting (among others)

DARK MATTER

by Blake Crouch,

THE HOPEFULS

by Jennifer Close and

THE WOMAN IN CABIN 10

by Ruth Ware.

-

Click here

for the complete roundup.
On Sale the Week of July 18th in Hardcover
July 19th



THE CASTLE OF KINGS

written by Oliver Pötzsch, translated by Anthea Bell (Historical Thriller)
In 1524, in what is now Germany, hundreds of thousands of peasants revolted against the harsh treatment of their aristocratic overlords. Agnes is the daughter of one of these overlords, but she is not a typical 16th-century girl, refusing to wear dresses and spending more time with her pet falcon than potential suitors. There is only one suitor she is interested in: Mathis, a childhood friend who she can never marry due to his low birth status. But when a rogue knight attacks Agnes and Mathis shoots the knight to save her, the two are forced to go on the run together, into the midst of the raging Peasants' War.
Houghton Mifflin Harcourt * 9780544319516



FALLING: A Love Story

by Jane Green (Romance)
When Emma Montague left the strict confines of upper-crust British life for New York, she felt sure it would make her happy. But the cutthroat world of finance and relentless pursuit of more began to take its toll. On the move again, Emma settles in the picturesque waterfront town of Westport, Connecticut, where she decides to remake the dilapidated cottage she rents from Dominic, a local handyman who lives next door with his six-year-old son. They become friends, and slowly much more, as Emma finds herself feeling at home in a way she never has before. But just as they start to imagine a life together as a family, fate intervenes in the most shocking of ways.
Berkley * 9780399583285



THE GIRL WHO ESCAPED ISIS: This Is My Story

by Farida Khalaf and Andrea C. Hoffmann (Memoir)
In the early summer of 2014, Farida Khalaf was a typical Yazidi teenager living with her parents and three brothers in her village in the mountains of Northern Iraq. In one horrific day, she lost everything: ISIS invaded her village, destroyed her family and sold her into sexual slavery. THE GIRL WHO ESCAPED ISIS is her incredible account of captivity and describes how she defied the odds and escaped a life of torture, in order to share her story with the world.
Atria Books * 9781501131714



GUILTY MINDS

by Joseph Finder (Thriller)
The chief justice of the Supreme Court is about to be defamed, his career destroyed, by a powerful gossip website that specializes in dirt on celebs and politicians. Their top reporter has written an exposé claiming that he had liaisons with an escort, a young woman prepared to tell the world her salacious tale. Intelligence operative Nick Heller has just 48 hours to disprove the story. But when the call girl is found murdered, Nick resolves to find the mastermind behind the conspiracy before anyone else falls victim to the maelstrom of political scandal and ruined reputations predicated upon one long-buried secret.
Dutton * 9780525954620



THE HOPEFULS

by Jennifer Close (Fiction)
When Beth arrives in DC, she hates everything about it. At dinner parties, guests compare their security clearance levels. They leave their BlackBerrys on the table. They speak in acronyms. And once they realize Beth doesn't work in politics, they smile blandly and turn away. Soon Beth and her husband, Matt, meet a charismatic White House staffer named Jimmy, and his wife, Ashleigh, and the four become inseparable. But as Jimmy's star rises higher and higher, the couples' friendship --- and Beth's relationship with Matt --- is threatened by jealousy, competition and rumors.
Knopf * 9781101875612



THE IMPERIAL WIFE

by Irina Reyn (Fiction)
Tanya Kagan, a rising specialist in Russian art at a top New York auction house, is trying to entice Russia's wealthy oligarchs to bid on the biggest sale of her career, The Order of Saint Catherine, while making sense of the sudden and unexplained departure of her husband. As questions arise over the provenance of the Order and auction fever kicks in, author Irina Reyn takes us into the world of Catherine the Great, the infamous 18th-century empress who may have owned the priceless artifact and who, it turns out, faced many of the same issues Tanya wrestles with in her own life.
Thomas Dunne Books * 9781250076038



THE INSEPARABLES

by Stuart Nadler (Fiction)
After a lifetime spent trying to outrun the humiliation her own book caused her, Henrietta has reluctantly agreed to a reissue of The Inseparables, the salaciously filthy and critically despised bestseller she wrote decades earlier. At the same time, her daughter, Oona --- in the middle of a divorce --- has moved back home to the house that Henrietta needs to sell. And Oona's teenage daughter, Lydia, is facing an onslaught of scrutiny and shame when a nude photo of her goes viral. Over the course of a few tumultuous days, the Olyphant women must come to terms with their past and try to reimagine their future.
Little, Brown and Company * 9780316335256



MONTEREY BAY

by Lindsay Hatton (Historical Fiction)
In 1940, 15-year-old Margot Fiske arrives on the shores of Monterey Bay with her eccentric entrepreneur father. Margot has been her father's apprentice all over the world, until an accident in Monterey's tide pools drives them apart and plunges her head-first into the mayhem of John Steinbeck's CANNERY ROW. Steinbeck is hiding out from his burgeoning fame at the raucous lab of Ed Ricketts, the biologist known as Doc in CANNERY ROW. Ricketts, a charismatic bohemian, quickly becomes the object of Margot's fascination. When the two begin an affair, Margot sets in motion a chain of events that will affect not just the two of them, but the future of Monterey as well.
Penguin Press * 9781594206788



NIGHT AND DAY: An Eve Duncan Novel

by Iris Johansen (Thriller)
Forensic sculptor Eve Duncan risked it all to protect Cara Delaney from the enemies who want her dead. The journey has led them from California to a remote mountain in the Scottish highlands --- and earned Eve the distinction of becoming their next target. When, despite all precautions, Cara is taken, Eve must hunt down the very people who want to kill her in order to save the young girl. At a time in her life when she has more at stake than ever before, she unhesitatingly puts it all on the line in a pulse-pounding mission of rescue and survival.
St. Martin's Press * 9781250075833



OUTFOXED: An Andy Carpenter Mystery

by David Rosenfelt (Mystery)
Lately, defense lawyer Andy Carpenter has been involved in a county prison program where inmates help train dogs the Tara Foundation has rescued to make them more adoptable. One of the prisoners Andy has been working with is Brian Atkins, who has 18 months left on a five-year term for fraud. Brian has been helping to train Boomer, an adorable fox terrier the Tara Foundation rescued from a neglectful owner. But one day, Andy arrives at the prison to discover that Brian has used Boomer to make an ingenious escape. The next day, the man on whose testimony Brian was convicted is found murdered. Brian is caught and arrested for the crime, though he forcefully protests his innocence.
Minotaur Books * 9781250055347



REVOLVER

by Duane Swierczynski (Thriller)
In 1965, two Philadelphia street cops are gunned down in a corner bar. One of the fallen officers, Stan Walczak, leaves behind a 12-year-old boy, Jimmy. Thirty years later, homicide detective Jim Walczak learns that his father's alleged killer, Terrill Lee Stanton, has been sprung from prison. Jim stalks the ex-con, hoping to finally learn the truth. Fast forward 20 years: Jim's daughter Audrey, a forensic science student, reopens her grandfather's murder for a research paper. But as Audrey digs deeper, she comes to realize that Stanton probably didn't pull the trigger --- and her father may have made a horrible mistake.
Mulholland Books * 9780316403238



SOHO SINS

by Richard Vine (Mystery)
They were the New York art scene's golden couple until Amanda Oliver was found murdered, and her husband Philip confessed to shooting her. But was he a continent away when she died? Art dealer Jackson Wyeth sets out to learn the truth, and uncovers the secrets of Manhattan's galleries and wild parties, a world of beautiful girls growing up too fast and men losing their minds. But even the worst the art world can imagine will seem tame when the final sin is revealed.
Hard Case Crime * 9781783299287



THIS MUST BE THE PLACE

by Maggie O'Farrell (Fiction)
A New Yorker living in the wilds of Ireland, Daniel Sullivan has children he never sees in California, a father he loathes in Brooklyn, and a wife, Claudette, who is a reclusive ex–film star given to pulling a gun on anyone who ventures up their driveway. Claudette was once the most glamorous and infamous woman in cinema before she staged her own disappearance and retreated to blissful seclusion in an Irish farmhouse. But the life Daniel and Claudette have so carefully constructed is about to be disrupted by an unexpected discovery about a woman Daniel lost touch with 20 years ago.
Knopf * 9780385349420



WARS OF THE ROSES: BLOODLINE

by Conn Iggulden (Historical Fiction)
Winter, 1461: Richard, duke of York, is dead. King Henry VI is still held prisoner. His Lancastrian queen, Margaret of Anjou, rides south with an army of victorious northerners, accompanied by painted warriors from the Scottish Highlands. With the death of York, Margaret and her army seem unstoppable. Yet in killing the father, Margaret has unleashed the sons. Edward of March, now duke of York, proclaims himself England's rightful king. Factions form and tear apart as snow falls. Through blood and treason, through broken men and vengeful women, brother shall confront brother, king shall face king. Two men can always claim a crown --- but only one can keep it.
G. P. Putnam's Sons * 9780399165382



WHITE BONE

by Ridley Pearson (Thriller)
When ex–military contractor John Knox receives a text from partner Grace Chu warning that she fears her cover may have been blown while on assignment, he jumps into action. Knox must locate her overseas handlers, convince them of the threat, and then attempt to retrace the well-hidden steps of a woman who had been attempting to determine how one million euros' worth of AIDS vaccine disappeared, all while eluding angry poachers on a parallel trail. As the threat from Al-Shaabab militants interferes with his pursuit of Grace, Knox finds himself pitted against the most savage and suicidal fighters in the world.
G. P. Putnam's Sons * 9780399163753



THE WOMAN IN CABIN 10

by Ruth Ware (Mystery/Thriller)
Lo Blacklock, a journalist who writes for a travel magazine, has just been given the assignment of a lifetime: a week on a luxury cruise with only a handful of cabins. At first, Lo's stay is nothing but pleasant. But as the week wears on, frigid winds whip the deck, gray skies fall, and Lo witnesses what she can only describe as a dark and terrifying nightmare: a woman being thrown overboard. The problem? All passengers remain accounted for --- and so the ship sails on as if nothing has happened, despite Lo's desperate attempts to convey that something (or someone) has gone terribly, terribly wrong.
Gallery/Scout Press * 9781501132933
On Sale the Week of July 18th in Paperback
July 19th



AFTER YOU

by Jojo Moyes (Romance)
After the transformative six months spent with Will Traynor, Louisa Clark is struggling without him. When an extraordinary accident forces Lou to return home to her family, she can't help but feel she's right back where she started. Thanks to the members of the Moving On support group, Lou meets strong, capable Sam Fielding, a paramedic whose business is life and death, and the one man who might be able to understand her. Then a figure from Will's past appears and hijacks all her plans, propelling her into a very different future.
Penguin Books * 9780143108863



BACHELOR UNFORGIVING

by Brenda Jackson (Romance)
Paperback Original
Four years ago, Kara Goshay believed a vicious lie about Virgil Bougard and ended their relationship. And even after her apology, Virgil is still bitter. He doesn't intend to make things easy for Kara when his family's firm hires her PR company to revamp his playboy image. But faking a liaison with Kara for the media backfires when the line between fantasy and reality is blurred by strong sexual attraction. Kara wanted forgiveness. Instead she's deep into a heated affair with the powerful, charismatic man she can't resist. The man who claims he'll never forgive her, especially when a secret enemy puts her professional reputation in jeopardy.
Harlequin Kimani * 9780373864614



LAST RAGGED BREATH

by Julia Keller (Mystery)
Royce Dillard doesn't remember much about the day his parents --- and 123 other souls --- died in the 1972 Buffalo Creek disaster. He was only two years old when he was ripped from his mother's arms. But now Dillard, who lives off the grid with only a passel of dogs for company, is fighting for his life one more time: He's on trial for murder. Prosecutor Bell Elkins faces her toughest challenge yet in this haunting story of vengeance, greed and the fierce struggle for social justice.
Minotaur Books * 9781250044761



LOOKING THROUGH DARKNESS: A Trading Post Novel

by Aimée and David Thurlo (Romantic Suspense)
Josephine Buck runs a trading post just off the Navajo Reservation. Widow Leigh Ann Vance is Jo's right-hand woman, filling the emptiness in her own life. Shortly after her husband, Kurt, was killed, Leigh Ann discovered he had been having a string of affairs. Leigh Ann's trust issues affect her feelings for blind sculptor Melvin Littlewater. Kurt's business partners accuse Leigh Ann of helping Kurt embezzle, and the police wonder if Leigh Ann killed him. When she turns to Melvin for help, she finds him fighting his own demons, haunted by memories of a young girl he saw moments before the car crash that cost him his sight.
Forge Books * 9780765334060



MATA HARI'S LAST DANCE

by Michelle Moran (Historical Fiction)
Paperback Original
Paris, 1917. The notorious dancer Mata Hari sits in a cold cell awaiting freedom…or death. Alone and despondent, she is as confused as the rest of the world about the charges she's been arrested on: treason leading to the deaths of thousands of French soldiers. As she waits for her fate to be decided, she relays the story of her life to a reporter who is allowed to visit her in prison. Beginning with her carefree childhood, Mata Hari recounts her father's cruel abandonment of her family as well her calamitous marriage to a military officer. Taken to the island of Java, she refuses to be ruled by her abusive husband and instead learns to dance, paving the way to her stardom as Europe's most infamous dancer.
Touchstone * 9781476716381



MULTIPLE CHOICE

written by Alejandro Zambra, translated by Megan McDowell (Humor/Satire)
Paperback Original
Written in the form of a standardized test, MULTIPLE CHOICE invites the reader to respond to virtuoso language exercises and short narrative passages through multiple-choice questions that are thought-provoking, usually unanswerable and often absurd. It offers a new kind of reading experience, one in which the reader participates directly in the creation of meaning, and the nature of storytelling itself is called into question. At once funny, poignant and political, MULTIPLE CHOICE is about love and family, authoritarianism and its legacies, and the conviction that, rather than learning to think for ourselves, we are trained to obey and repeat.
Penguin Books * 9780143109198



THE TSAR OF LOVE AND TECHNO: Stories

by Anthony Marra (Fiction/Short Stories)
Anthony Marra's collection introduces a cast of remarkable characters whose lives intersect in ways both life-affirming and heartbreaking. A 1930s Soviet censor painstakingly corrects offending photographs, bewitched by the image of a disgraced prima ballerina. A chorus of women recount their stories and those of their grandmothers, former gulag prisoners. Two pairs of brothers share a fierce, protective love. Young men across the former USSR face violence at home and in the military. And great sacrifices are made in the name of an oil landscape that is unremarkable except for the almost incomprehensibly peaceful past it depicts.
Hogarth * 9780770436452

On Sale the Week of July 25th in Hardcover
July 26th



AGE OF CONSENT

by Marti Leimbach (Fiction)
June was a young widow with a hopeless crush on Craig Kirtz, a disc jockey at a local rock station. To her surprise, the two struck up a friendship that seemed headed for something more. But it was June's 13-year-old daughter, Bobbie, whom Craig had wanted all along. Bobbie thought her secret life --- the sex, the drugs, the illicit relationship itself --- could remain safely buried in the past. But 30 years later, when Bobbie discovers that Craig's attentions to her had been repeated with any number of girls, she returns home with one purpose in mind: to bring Craig to trial.
Nan A. Talese * 9780385540872



THE BEAUTY OF THE END

by Debbie Howells (Psychological Thriller)
Ex-lawyer Noah Calaway is haunted by the memory of the beguiling young woman who left him at the altar 16 years earlier. Then one day, he receives a troubling phone call. April, the woman he once loved, lies in a coma, the victim of an apparent overdose --- and the lead suspect in a brutal murder. While Noah searches for evidence that will clear April's name, a teenager named Ella begins to sift through the secrets of her own painful family history. The same age that April was when Noah first met her, Ella harbors a revelation that could be the key to solving the murder. As the two stories converge, there are shocking consequences when the truth emerges at last. Or so everyone believes…
Kensington * 9781496705983



COUSIN JOSEPH: A Graphic Novel

by Jules Feiffer (Graphic Novel)
While in the midst of the Great Depression, Big Sam sees himself as a righteous, truth-seeking patriot, defending the American way against a rising tide of left-wing unionism, strikes and disruption that plague his home town. At the same time, he makes monthly, secret overnight trips on behalf of Cousin Joseph, a mysterious man on the phone he has never laid eyes on, to pay off Hollywood producers to ensure that they will film only upbeat movies that idealize a mythic America. But Sam himself is not in for a happy ending, as step by step the secret of his unseen mentor's duplicity is revealed to him.
Liveright * 9781631490651



DARK MATTER

by Blake Crouch (Science Fiction/Thriller)
"Are you happy with your life?" Those are the last words Jason Dessen hears before the masked abductor knocks him unconscious. He awakens to find himself strapped to a gurney, surrounded by strangers in hazmat suits. In this world he's woken up to, Jason's life is not the one he knows. Is it this world or the other that's the dream? And even if the home he remembers is real, how can Jason possibly make it back to the family he loves? The answers lie in a journey more wondrous and horrifying than anything he could've imagined --- one that will force him to confront the darkest parts of himself even as he battles a terrifying, seemingly unbeatable foe.
Crown * 9781101904220



DEAD JOKER: A Hanne Wilhelmsen Novel

by Anne Holt (Mystery)
Chief Public Prosecutor Sigurd Halvorsrud's wife is found dead, the victim of a brutal decapitation. Her husband, who witnessed the grisly murder, immediately falls under suspicion, though he claims his wife's killer was Ståle Salvesen, a man he had prosecuted years before. Despite the circumstantial evidence, Detective Inspector Hanne Wilhelmsen is unconvinced of Halvorsrud's guilt --- that is, until a witness says he saw Ståle Salvesen commit suicide by jumping off a bridge days before the murder took place. Then a journalist at one of Oslo's largest newspapers is found beheaded. What links these two horrifically violent crimes?
Scribner * 9781501123269



GOOD AS GONE

by Amy Gentry (Psychological Suspense)
Thirteen-year-old Julie Whitaker was kidnapped from her bedroom in the middle of the night, witnessed only by her younger sister. Her family was shattered but managed to stick together, hoping against hope that Julie is still alive. And then one night the doorbell rings. A young woman who appears to be Julie is miraculously home safe. The family is ecstatic, but Anna, Julie's mother, has whispers of doubts. When she is contacted by a former detective turned private eye, she begins a torturous search for the truth about the woman she desperately hopes is her daughter.
Houghton Mifflin Harcourt * 9780544920958



HEROES OF THE FRONTIER

by Dave Eggers (Fiction)
Josie and her children's father have split up, she's been sued by a former patient and lost her dental practice, and she's grieving the death of a young man senselessly killed. When her ex asks to take the children to meet his new fiancée's family, Josie makes a run for it, figuring Alaska is about as far as she can get without a passport. She and her kids, Paul and Ana, rent a rattling old RV named the Chateau, and at first their trip feels like a vacation. But as they drive, pushed north by the ubiquitous wildfires, Josie is chased by enemies both real and imagined, past mistakes pursuing her tiny family, even to the very edge of civilization.
Knopf * 9780451493804



THE HIDDEN LETTERS OF VELTA B.

by Gina Ochsner (Fiction)
Young Maris has been summoned to his mother's bedside as she nears the end of her life. She feels she must tell him her version of their family history, the story of his early life, and the ways in which he changed the lives of others. Maris' large, very special ears enable him to hear the secrets of the dead, as well as the memories that haunt his Latvian hometown. Nestled in the woodlands on the banks of the Aiviekste River, their town suffered the ravages of war, followed by the cold shock of independence. As a boy, Maris found himself heir to an odd assortment of hidden letters. A school project provided the chance to share them, forcing the town to hear the truth from the past and face what it meant for their future.
Houghton Mifflin Harcourt * 9780544253216



KILLER LOOK

by Linda Fairstein (Mystery/Thriller)
New York City is one of the fashion capitals of the world, well-known for its glamour and style. Nowhere is this more apparent than on the runway, where American haute couture continually astounds with its creativity, daring and innovation in the name of beauty. Yet high fashion means high stakes, as Alex Cooper quickly discovers when businessman and designer Wolf Savage is found dead in an apparent suicide, mere days before the biggest show of his career. When the man's daughter insists Savage's death was murder, the case becomes more than a media sensation: It is a race to find a killer in a world created entirely out of fantasy and illusion.
Dutton * 9781101984017



LEAVING LUCY PEAR

by Anna Solomon (Historical Fiction)
One night in 1917, Beatrice Haven sneaks out of her uncle's house on Cape Ann, Massachusetts, leaves her newborn baby at the foot of a pear tree, and watches as another woman claims the infant as her own. Bea plans to leave her shameful secret behind and make a fresh start, but returns to her uncle's house 10 years later, seeking a refuge from her unhappiness. She discovers far more when the rum-running manager of the local quarry inadvertently reunites her with Emma Murphy, the headstrong Irish Catholic woman who has been raising Bea's abandoned child --- now a cross-dressing girl named Lucy Pear, with secrets of her own.
Viking * 9781594632655



THE LOST GIRLS

by Heather Young (Mystery)
In 1935, six-year-old Emily Evans vanishes from her family's vacation home on a remote Minnesota lake. Sixty years later, Emily's sister, Lucy, lives in the lake house alone. Before her death, she writes the story of that devastating summer in a notebook that she leaves, along with the house, to her grandniece, Justine. Justine's only neighbor is a strange old man who seems to know more about the summer of 1935 than he's telling. Soon Justine's troubled oldest daughter becomes obsessed with Emily's disappearance, her mother arrives to steal her inheritance, and the man she left launches a dangerous plan to get her back.
William Morrow * 9780062456601



THE MUSE

by Jessie Burton (Historical Fiction)
England, 1967: Odelle Bastien --- a Caribbean émigré trying to make her way in London --- starts working at the prestigious Skelton Institute of Art and discovers a painting rumored to be the work of Isaac Robles, a young artist of immense talent whose mysterious death has confounded the art world for decades. Spain, 1936: Olive Schloss follows her parents to Arazuelo, a poor village on the southern coast. She grows close to Teresa, a housekeeper, and her half-brother, Isaac Robles. Insinuating themselves into the Schloss family's lives, Teresa and Isaac help Olive conceal her artistic talents with devastating consequences that will echo into the decades to come.
Ecco * 9780062409928



MY NAME IS LEON

by Kit de Waal (Fiction)
Leon loves his beautiful, golden-haired baby brother, Jake, and is determined to save him from any pain. But when their mother falls victim to her inner demons, strangers suddenly take Jake away; after all, a white baby is easy to adopt, while a half-black nine-year-old faces a less certain fate. Vowing to get Jake back by any means necessary, Leon's own journey will carry him through the lives of a doting but ailing foster mother, Maureen; Maureen's cranky and hilarious sister, Sylvia; a social worker Leon knows only as "The Zebra"; and a colorful community of local gardeners and West Indian political activists.
Simon & Schuster * 9781501117459



ONE LESS PROBLEM WITHOUT YOU

by Beth Harbison (Fiction)
Three women --- Prinny, a shop owner who is in love with a married lawyer; Chelsea, whose dream of becoming a successful actress starts to seem more remote; and Diana, who needs to figure out whether she'd rather be lonely alone than lonely in love --- suddenly find themselves together at their own very different crossroads. It will take hope, love, strength and a little bit of magic for them to find their way together.
St. Martin's Press * 9781250043825



THE SUMMER THAT MELTED EVERYTHING

by Tiffany McDaniel (Fiction)
Sal seems to appear out of nowhere --- a bruised and tattered 13-year-old boy claiming to be the devil himself answering an invitation. Fielding Bliss, the son of a local prosecutor, brings him home where he's welcomed into the Bliss family, assuming he's a runaway from a nearby farm town. When word spreads that the devil has come to Breathed, Ohio, not everyone is happy to welcome this self-proclaimed fallen angel. While the Bliss family wrestles with their own personal demons, a fanatic drives the town to the brink of a catastrophe that will change this sleepy Ohio backwater forever.
St. Martin's Press * 9781250078063



TRULY MADLY GUILTY

by Liane Moriarty (Fiction)
Sam and Clementine have a wonderful, albeit busy life. If there's anything they can count on, it's each other. Clementine and Erika are each other's oldest friends. A single look between them can convey an entire conversation. But theirs is a complicated relationship, so when Erika mentions a last-minute invitation to a barbecue with her neighbors, Tiffany and Vid, Clementine and Sam don't hesitate. Having Tiffany and Vid's larger-than-life personalities there will be a welcome respite. Two months later, it won't stop raining, and Clementine and Sam can't stop asking themselves the question: What if we hadn't gone?
Flatiron Books * 9781250069795



THE UNSEEN WORLD

by Liz Moore (Fiction)
Ada Sibelius is raised by David, her brilliant, eccentric, socially inept single father, who directs a computer science lab in 1980s-era Boston. Home-schooled, Ada accompanies David to work every day; by 12, she is a painfully shy prodigy. The lab begins to gain acclaim at the same time that David's mysterious history comes into question. When his mind begins to falter, leaving Ada virtually an orphan, she is taken in by one of David's colleagues. Soon she embarks on a mission to uncover her father's secrets: a process that carries her from childhood to adulthood.
W. W. Norton & Company * 9780393241686



VALLEY OF THE MOON

by Melanie Gideon (Fiction)
Lux is a single mom struggling to make her way in the world when she stumbles across an idyllic community in the Sonoma valley, where she feels instantly at home. It seems like a place from another time --- until she realizes it actually is. One night in 1906, an earthquake left Greengage stuck in the past. Lux must keep one foot in her world, raising her son as well as she can with the odds stacked against her. But every day she is more strongly drawn in by the sweet simplicity of life in Greengage, and by the irresistible connection she feels with a man born decades before her time. Soon she finds herself torn between her ties to the modern world and the first place she has ever felt truly at home.
Ballantine Books * 9780345539281



YOU WILL KNOW ME

by Megan Abbott (Psychological Thriller)
How far will you go to achieve a dream? That's the question a celebrated coach poses to Katie and Eric Knox after he sees their daughter Devon, a gymnastics prodigy and Olympic hopeful, compete. But then a violent death rocks their close-knit gymnastics community, and everything they have worked so hard for is suddenly at risk. As rumors swirl among the other parents, Katie tries frantically to hold her family together while also finding herself irresistibly drawn to the crime itself. What she uncovers forces Katie to consider whether there's any price she isn't willing to pay to achieve Devon's dream.
Little, Brown and Company * 9780316231077

On Sale the Week of July 25th in Paperback
July 26th



THE ADVENTURESS: A Lady Emily Mystery

by Tasha Alexander (Historical Mystery)
Emily and husband Colin have come to the French Riviera for what should be a joyous occasion --- the engagement party of her lifelong friend Jeremy, Duke of Bainbridge, and Amity Wells, an American heiress. But the merrymaking is cut short with the shocking death of one of the party in an apparent suicide. Not convinced by the coroner's verdict, Emily must employ all of her investigative skills to discover the truth and avert another tragedy.
St. Martin's Griffin * 9781250092090



AFTER SHE'S GONE

by Lisa Jackson (Thriller)
Cassie Kramer and her younger sister, Allie, learned the hazards of fame long ago. Together, they'd survived the horror of a crazed fan who nearly killed their mother. Still, Cassie moved to L.A., urging Allie to follow. As a team, they'd take the town by storm. But Allie, finally free of small-town Oregon and just that little bit more beautiful, also proved to be more talented --- and driven. Where Cassie got bit parts, Allie rose to stardom. But now her body double has been shot on the set of her latest movie --- and Allie is missing.
Zebra * 9781420135978



AFTER THE PARADE

by Lori Ostlund (Fiction)
After 20 years under the Pygmalion-like care of his older partner, Walter, Aaron Englund at last decides it is time to take control of his own fate. But soon after establishing himself in San Francisco, Aaron sees that real freedom will not come until he has made peace with his memories of Mortonville, Minnesota: a cramped town whose 400 souls form a constellation of his childhood heartbreaks and hopes. When Aaron was 17, Dolores --- his loving yet selfish and enigmatic mother --- vanished one night. And when, all these years later, a new friend in San Francisco offers Aaron a way to locate his mother, his past and present collide, forcing him to rethink his place in the world.
Scribner * 9781476790114



ALL THE STARS IN THE HEAVENS

by Adriana Trigiani (Historical Fiction)
The movie business is booming in 1935 when 21-year-old Loretta Young meets 34-year-old Clark Gable on the set of The Call of the Wild. Though he's already married, Gable falls for the stunning and vivacious young actress instantly. Far from the glittering lights of Hollywood, Sister Alda Ducci has been forced to leave her convent and begin a new journey that leads her to Loretta. Over the course of decades, they forge an enduring bond of love and loyalty that will be put to the test when they eventually face the greatest obstacle of their lives.
Harper Paperbacks * 9780062319203



ALL TOGETHER NOW

by Gill Hornby (Fiction)
The small town of Bridgeford is in crisis. Downtown is deserted, businesses are closing, and the idea of civic pride seems old-fashioned to residents rushing through the streets to get somewhere else. But there is one thing that just might unite the community --- music. The local choir, a group generally either ignored or mocked by most of Bridgeford's inhabitants, is preparing for an important contest. To win it, they need new members and a whole new sound.
Back Bay Books * 9780316234726



BLUE MOON: Mundy's Landing Book Two

by Wendy Corsi Staub (Thriller)
Paperback Original
A century ago, the Sleeping Beauty Murders terrified picturesque Mundy's Landing. The victims, like the killer, were never identified. Now, on the 100th anniversary, the Historical Society's annual "Mundypalooza" offers a hefty reward for solving the notorious case. Annabelle Bingham, living in one of the three Murder Houses, can't escape the feeling that her family is being watched --- and not just by news crews and amateur sleuths. Having unearthed the startling truth behind the horrific crimes, a copycat killer is about to reenact them --- beneath the mansard roof of Annabelle's dream home.
William Morrow * 9780062349750



THE BONE LABYRINTH: A Sigma Force Novel

by James Rollins (Thriller/Adventure)
In the remote mountains of Croatia, an archaeologist makes a strange discovery: a subterranean Catholic chapel, hidden for centuries, holds the bones of a Neanderthal woman. In the same cavern system, elaborate primitive paintings tell the story of an immense battle between tribes of Neanderthals and monstrous shadowy figures. It isn't long before the investigative team is attacked, while a bloody assault is made upon a primate research center outside of Atlanta. How are these events connected? Who is behind these attacks? The search for the truth will take Commander Gray Pierce of Sigma Force 50,000 years into the past.
William Morrow * 9780062381651



BROTHERHOOD IN DEATH

by J. D. Robb (Thriller)
Just as Dennis Mira is about to confront his cousin Edward about selling the West Village brownstone that belonged to their grandfather, he gets a shock: Edward is in front of him, bruised and bloody…and then everything goes black. When Dennis comes to, Edward is gone. Luckily Dennis' wife is a top profiler for the NYPSD --- and a close colleague of Lieutenant Eve Dallas. Now Eve is determined to uncover the secrets of Edward Mira, but whoever is behind this disappearance, Edward is not going to be their last victim.
Berkley * 9780425279007



CITY ON FIRE

by Garth Risk Hallberg (Historical Fiction)
New York City, 1976. Meet Regan and William Hamilton-Sweeney, estranged heirs to one of the city's great fortunes; Keith and Mercer, the men who, for better or worse, love them; Charlie and Samantha, two suburban teenagers seduced by downtown's punk scene; an obsessive magazine reporter and his idealistic neighbor --- and the detective trying to figure out what any of them have to do with a shooting in Central Park on New Year's Eve. When the blackout of July 13, 1977, plunges this world into darkness, each of these lives will be changed forever.
Vintage * 9780804172950



THE DIAMOND CAPER

by Peter Mayle (Mystery/Thriller)
When a Riviera socialite's diamonds are stolen --- the latest in a string of seemingly unconnected but ever-more-audacious jewelry heists across France --- Elena flies in to investigate the insurance claim. Once reunited, Sam isn't entirely distracted by domestic matters. In the pattern of these "perfect crimes," he is beginning to see a master at work and is quickly determined to connect and solve the cases. But as he and Elena dig deeper, they begin to realize just how much is connected and how dangerous it may be to pursue the whole truth.
Vintage * 9780804173193



THE DYING GRASS: A Novel of the Nez Perce War

by William T. Vollmann (Historical Fiction)
Defrauded and intimidated at every turn, the Nez Perces finally went on the warpath in 1877, subjecting the U.S. Army to its greatest defeat since Little Big Horn as they fled from northeast Oregon across Montana to the Canadian border. William T. Vollmann's main character is not the legendary Chief Joseph, but his pursuer, General Oliver Otis Howard --- the brave, shy, tormented, devoutly Christian Civil War veteran. In this novel, we see him as commander, father, son, husband, friend and killer.
Penguin Books * 9780143109402



THE FALL

by John Lescroart (Thriller)
Late one night, a teenage African American foster child named Tanya Morgan plummets to her death from the overpass above San Francisco's Stockton tunnel. But did she fall…or was she pushed? Homicide inspectors focus their attention on a naïve young man named Greg Treadway. At first, the only thing connecting him to Tanya's death is the fact that they shared a meal earlier that night. But soon enough, elements of that story seem to fall apart…and Hardy's daughter, Rebecca, finds herself drawn into the young man's defense.
Pocket Books * 9781501140662



FOOL'S QUEST: Book II of the Fitz and the Fool Trilogy

by Robin Hobb (Fantasy)
Long ago, Fitz and the Fool changed the world, bringing back the magic of dragons and securing both the Farseer succession and the stability of the kingdom. Or so they thought. But now the Fool is near death, maimed by mysterious pale-skinned figures whose plans for world domination hinge upon the powers the Fool may share with Fitz's own daughter. In a horrible instant, though, Fitz's world is undone and his beloved daughter stolen away by those who would use her as they had once sought to use the Fool --- as a weapon.
Del Rey * 9780553392944



IN THE DARK PLACES: An Inspector Banks Novel

by Peter Robinson (Mystery/Thriller)
Two young men have vanished, and the investigation leads to two troubling clues in two different locations --- a scorched van and a peculiar bloodstain in an abandoned airport hangar. As Detective Chief Inspector Alan Banks and his team scramble for answers, the inquiry takes an even darker turn when a truck careens off an icy road in a freak hailstorm. In the wreckage, rescuers find the driver, who was killed on impact, as well as another body --- a body that was dead well before the crash.
William Morrow Paperbacks * 9780062240569



IN THE LANGUAGE OF MIRACLES

by Rajia Hassib (Fiction)
Emigrating from Egypt, Samir and Nagla Al-Menshawy were determined to live the American dream. After years of hard work, Samir set up his own medical practice and the family moved to an upscale New Jersey suburb. But when a devastating turn of events leaves their eldest son and their neighbors' daughter dead, all their years of success begin to unravel. The Al-Menshawys become pariahs in the neighborhood, and whether through religion, work or friendship, each family member struggles to move forward in his or her own way.
Penguin Books * 9780143109150



INFINITE HOME

by Kathleen Alcott (Fiction)
Edith is a widowed landlady who rents apartments in her Brooklyn brownstone to an unlikely collection of humans, all deeply in need of shelter. Crippled in various ways --- in spirit, in mind, in body, in heart --- the renters struggle to navigate daily existence. They come to realize that Edith's deteriorating mind, and the menacing presence of her estranged, unscrupulous son, Owen, is the greatest challenge they must confront together.
Riverhead Books * 9780399576027



THE LIGHTNING STONES: A Philip Mercer Novel

by Jack Du Brul (Thriller/Adventure)
Geologist and adventurer Philip Mercer is visiting an old friend who's working far down in Minnesota's Leister Deep Mine. But he arrives too late to save Abe Jacobs and his climate-research team from a shocking, brutal attack. Mercer vows to seek revenge as well as answers, hoping to pick up Jacobs' search for a cache of the rare crystals known as lightning stones --- rumored to have been aboard Amelia Earhart's plane when it vanished in 1937. He must race to stay ahead of a team of highly trained assassins --- and to figure out if he's chasing a rare scientific discovery, or merely a historical fairy tale.
Anchor * 9780307454799



THE NATURE OF THE BEAST: A Chief Inspector Gamache Novel

by Louise Penny (Mystery)
Hardly a day goes by when nine-year-old Laurent Lepage doesn't cry wolf. His tales are so extraordinary that no one can possibly believe him, including Armand and Reine-Marie Gamache, who now live in the Quebec village of Three Pine. But when the boy disappears, the villagers are faced with the possibility that one of his tall tales might have been true. And so begins a frantic search for the boy and the truth. What they uncover deep in the forest sets off a sequence of events that leads to murder, an old crime, an old betrayal, and right to the door of an old poet.
Minotaur Books * 9781250022103



OUR MAN IN CHARLESTON: Britain's Secret Agent in the Civil War South

by Christopher Dickey (History)
When Robert Bunch arrived in Charleston to take up the post of British consul in 1853, he was young and full of ambition, but even he couldn't have imagined the incredible role he would play in the history-making events to unfold. In an age when diplomats often were spies, Bunch's job included sending intelligence back to the British government in London. Yet as the United States threatened to erupt into Civil War, Bunch found himself plunged into a double life, settling into an amiable routine with his slavery-loving neighbors on the one hand, while working furiously to thwart their plans to achieve a new Confederacy.
Broadway Books * 9780307887283



ROGUE LAWYER

by John Grisham (Legal Thriller)
Sebastian Rudd is not your typical street lawyer. His office is a customized bulletproof van, complete with Wi-Fi, a bar, a small fridge and fine leather chairs. He has no firm, no partners, and only one employee: his heavily armed driver, who also happens to be his bodyguard, law clerk, confidant and golf caddie. Sebastian defends people other lawyers won't go near: a drug-addled, tattooed kid rumored to be in a satanic cult; a vicious crime lord on death row; a homeowner arrested for shooting at a SWAT team that mistakenly invaded his house. Why these clients? Because Sebastian believes everyone is entitled to a fair trial --- even if he has to bend the law to secure one.
Dell * 9780553393484



THE SECRETS SHE KEPT

by Brenda Novak

(Fiction)


Paperback Original


The rich and powerful Josephine Lazarow, matriarch of Fairham Island, is dead. The police say it's suicide, but Keith, her estranged son, doesn't believe it. After walking away from his mother and her controlling ways five years ago, Keith has built a new life in LA. He's also accumulated a fortune of his own. But as soon as he learns of his mother's death, he returns to Fairham to find his mother's killer. The problem is, coming home puts him back in contact with Nancy Dellinger, the woman he hurt so badly when he left before. And digging that deep into his mother's final days and hours entails a very real risk. Because the person who killed her could be someone he loves.


Mira * 9780778319061



SIDNEY SHELDON'S RECKLESS: A Tracy Whitney Novel

by Tilly Bagshawe (Thriller)
The world faces a new terror threat from a group of global hackers intent on the collapse of capitalism and private wealth and the creation of a new world order. When this group turns to violence, with deadly effect, the mysterious woman pulling their strings becomes the CIA's public enemy number one. Only one clever and ruthless woman is capable of tracking down the terrorist: Tracy Whitney. Hampered by corruption and enemies masked as allies, Tracy will be pushed to the brink, where she must face her darkest demons. But just how reckless will a person become when she has nothing left to lose?
William Morrow * 9780062304063



THE SMALL BACKS OF CHILDREN

by Lidia Yuknavitch (Fiction)
In a war-torn village in Eastern Europe, an American photographer captures a young girl flying toward the lens, fleeing a fiery explosion that has engulfed her home and family. The image becomes the subject of obsession for one writer, the photographer's best friend, who has suffered a devastating tragedy of her own. As the writer plunges into a suicidal depression, her filmmaker husband enlists several friends to save her by rescuing the unknown girl and bringing her to the US. Yet, as their plot unfolds, everything we know about the story comes into question.
Harper Perennial * 9780062383259



TEXAS RISING: The Epic True Story of the Lone Star Republic and the Rise of the Texas Rangers, 1836-1846

by Stephen L. Moore (History)
Acclaimed Texas historian Stephen L. Moore's new narrative history --- the official nonfiction companion to the History Channel's dramatic series "Texas Rising" (created by the same team that made the ratings record-breaker "Hatfields & McCoys") --- tells the full, thrilling story of the Texas Revolution from its humble beginnings to its dramatic conclusion, and reveals the contributions of the fabled Texas Rangers --- both during the revolution and in the frontier Indian wars that followed.
William Morrow Paperbacks * 9780062394316



THIS IS NOT A LOVE STORY: A Memoir

by Judy Brown (Memoir)
The third of six children in a family that harks back to a gloried Hassidic dynasty, Judy Brown grew up with the legacy of centuries of religious teaching, and the faith and lore that sustained her people for generations. But her carefully constructed world begins to crumble when her "crazy" brother, Nachum, returns home after a year in Israel living with relatives. Though supposedly "cured," he is still prone to retreating into his own mind or erupting in wordless rages. If God could perform miracles for Judy's sainted ancestors, why can't He cure Nachum? And what of the other stories her family treasured?
Back Bay Books * 9780316400701



WICKED

by Joanne Fluke (Mystery/Thriller)
Paperback Original
When Eve Carrington is chosen to participate in an exclusive writers workshop, she knows it's a once-in-a-lifetime opportunity. For one month, she will live, write and share her work with nine other aspiring authors. The top three will get a chance to be published. But when the building they're staying in isn't ready and Eve sees the old mansion they'll be moved into, she starts having second thoughts. Not only is the mansion isolated but the deadlines are tight, the pressure intense, and the competition incredibly fierce. Her biggest rival, Angela, is writing a murder mystery based on the workshop and its participants. But when life begins to imitate art, death begins to knock out the competition.
Kensington * 9781617732362



YES, MY ACCENT IS REAL: And Some Other Things I Haven't Told You

by Kunal Nayyar (Humor/Essays)
In this revealing collection of essays written in his irreverent, hilarious and self-deprecating voice, Kunal Nayyar (Raj from "The Big Bang Theory") traces his journey from a little boy in New Delhi who mistakes an awkward first kiss for a sacred commitment, gets nosebleeds chugging Coca-Cola to impress other students, and excels in the sport of badminton, to the confident, successful actor on the set of TV's most-watched sitcom since "Friends."
Atria Books * 9781476761848



YOU'LL MISS ME WHEN I'M GONE

by Kevin O'Brien (Thriller)


Paperback Original


Andrea Boyle moved to Seattle to give her 17-year-old nephew, Spencer, a fresh start after the death of his parents. Andrea has found her own new beginning with Luke, a successful playwright and father of a teenage son, Damon. When a tragedy befalls Damon, it's just the beginning of a nightmare that unfolds. But the worst is yet to come once a dark secret from Spencer's past is exposed. And when Luke is brutally attacked, both of their futures are at stake. Now it's up to Andrea to prove Spencer's innocence to the police --- and to herself. Because for reasons she has revealed to no one, even Andrea can't help questioning the truth --- and fearing that she may be next to pay the ultimate price.
Pinnacle * 9780786038817

Don't forget to forward this newsletter to a friend or to visit the websites in TheBookReportNetwork.com:
Bookreporter.com, 20SomethingReads.com, ReadingGroupGuides.com, GraphicNovelReporter.com, Teenreads.com, Kidsreads.com and AuthorsOnTheWeb.com

And be sure to connect with us on Facebook, Twitter and Pinterest.

The Book Report Network
250 W. 57th Street - Suite 1228
New York, New York 10107