A Conversation with Mary Ann Blanton
Sounding Off on Audio: Interviews with Listeners About Their Love of Audiobooks
A Conversation with Mary Ann Blanton
Mary Ann Blanton is a lifelong reader and longtime listener. She also loves traveling, crafting and other lazy pursuits, so being able to multitask with an audiobook is always an added bonus. In her "Sounding Off on Audio" interview, Mary Ann talks about how audio has helped her maximize her book intake, especially because there is no escape if you're listening in the car. She also shares how audiobooks have come a long way since she started listening, and the one genre she prefers to read.
Question: How long have you been listening to audiobooks?
Mary Ann Blanton: I've been listening since 1996.
Q: What made you start listening?
MAB: I thought it would be a great way to maximize my reading time and listen to books that I may have put down after reading. You are a captive audience when you are driving or working out.
Q: When and where do you listen?
MAB: I used to listen on the way to and from work. Now that I am retired, I listen in the car on errands and when I exercise.
Q: What kinds of books do you like to listen to best?
MAB: I like a variety of books. I will listen to just about everything, except romance. I would rather read those. I would say 60 percent fiction and 40 percent nonfiction,
Q: What do you use to listen to audiobooks?
MAB: I use an mp3 player (ZEN) to download from Overdrive, my iPhone to download One Digital, and I listen to CDs in the car.
Q: Are the books that you listen to different from the kinds of print and eBooks you read?
MAB: I will listen to more nonfiction, but I tend to change it around on occasion. If I have been listening to fiction, I may pick a nonfiction book. It just depends on what piques my interest.
Q: Where do you buy/borrow audiobooks from?
MAB: I borrow most of my books from the libraries. I have access to two separate systems, so I have a variety of books to choose from. I have even bought a few audiobooks, and after I finish those, I donate them to the local library.
Q: Do you listen with anyone else, or is it a solo experience?
MAB: I find listening to be a solitary pursuit.
Q: What percentage of your reading is done via audiobooks?
MAB: Thirty percent.
Q: Do you have favorite narrators? If so, tell us about them.
MAB: I love Davina Porter, Jim Dale (the Harry Potter books), Jayne Entwistle (the Flavia de Luce series) and C.J. Critt.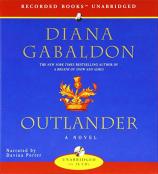 Q: What are some of the most memorable books that you've listened to and why?
MAB: The Outlander series with Davina Porter is outstanding. She made the story so much more with her narration. I listened to the first five books [of the eight-book series]. I really wanted to listen to the last three, but didn't have the time to sit and listen, so I read them instead. Jim Dale made the Harry Potter series for me. The same with Jayne Entwistle. I actually will listen to the new Flavia de Luce book. Also, I listen to all of John Grisham's books. I think the dialogue in his books needs to be heard out loud in order to really appreciate his sly humor.
Q: What is the last audiobook you listened to? Tell us about it.
MAB: I am just finishing ONE SUMMER: America 1927 by Bill Bryson. He narrates his own books. As an author that's risky, but I have listened to most of everything he has written, and he does a great job.
Q: Is there anything about the format of audiobooks that you don't like or would like to see changed or improved?
MAB: I believe that audiobooks have actually come a long way since I started listening. There are more of them, and the narration has really improved.