A Conversation with Bernadette Taylor
Sounding Off on Audio: Interviews with Listeners About Their Love of Audiobooks
A Conversation with Bernadette Taylor
Bookreporter.com reader Bernadette Taylor leads a very busy life in Lancaster, PA. Between her job and raising a teenager and preteen, she doesn't have much time to sit down and read. Luckily, she can listen to audiobooks on the go, and has been doing so for the past 10 years. Here, she shares some of her favorite narrators and titles she has enjoyed listening to.

Question: How long have you been listening to audiobooks?
Bernadette Taylor: I've been listening to audiobooks for about 10 years.
Q: What made you start listening?
BT: I have always been a reader. Before [I had] kids, it was my favorite pastime. When I had kids plus my job, I simply didn't have the time or attention span to read the traditional way. I started to have to take day trips for work, where I would be in the car for about four hours, so I thought I would try "books on tape" to make the trip go faster. I'm also a type A personality and am multitasking constantly; audiobooks give me the opportunity to do just that.
Q: When and where do you listen?
BT: Once you're an audiobook listener, it's amazing how many opportunities present themselves for listening. I listen in the car, at the gym, doing dishes, doing laundry, shopping at the grocery store, and when I'm quilting (my other hobby).
Q: What kinds of books do you like to listen to best?
BT: I prefer literary fiction and well-written thrillers.
Q: What do you use to listen to audiobooks?
BT: At this point, I use my iPhone and earbuds.
Q: Are the books that you listen to different from the kinds of print and eBooks you read?
BT: My reading tastes are the same, no matter the medium.
Q: Where do you buy/borrow audiobooks from?
BT: Now, I use Audible and the library for audiobooks. On occasion, if someone has a book [I want to listen to] on CD, I will borrow it.
Q: Do you share your audiobooks with anyone?
BT: I don't share the audiobook per se since they're downloaded onto my phone, but I love to recommend books to friends and often share my favorite titles.
Q: Do you listen with anyone else, or is it a solo experience?
BT: I listen solo unless I'm on a road trip with my husband or kids, and they are interested in the book I'm listening to or have available.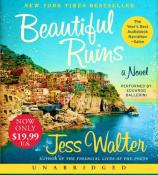 Q: What percentage of your reading is done via audiobooks?
BT: Unless I'm away on vacation, all my reading is done via audiobooks. When I'm away on vacation, I read the traditional way. So I would say my audiobook reading percentage is about 90.
Q: Do you have favorite narrators? If so, tell us about them.
BT: I have a number of favorite narrators. They include: Caroline Lee, Simon Vance, John Lee, Arthur Morey, Dennis Boutsikaris, Jim Dale, George Guidall and Bianca Amato. I enjoy many of the British narrators.
Q: What are some of the most memorable books that you've listened to and why?
BT: There are SO many! Some of my all-time favorites are: CROOKED LETTER, CROOKED LETTER by Tom Franklin; THE CASUAL VACANCY by J.K. Rowling; THE FORGOTTEN GARDEN by Kate Morton; THE HUSBAND'S SECRET by Liane Moriarty; BEAUTIFUL RUINS by Jess Walter; THE BOOK THIEF by Markus Zusak; and the first book that really launched my passion for audiobooks, INTO THIN AIR by Jon Krakauer (listened to while my husband and I were driving around Mount Hood in Oregon).
In my opinion, the best audiobooks are those with a great story and a great narrator. The combination is exponential, not just additive. A bad narrator can kill the reading experience, and I'm not sure I've actually listened to a great narrator narrate a mediocre story.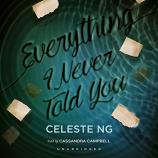 Q: What is the last audiobook you listened to? Tell us about it.
BT: Right now, I'm listening to EVERYTHING I NEVER TOLD YOU by Celeste Ng and narrated by Cassandra Campbell. So far, it's very good and Cassandra is a good narrator. The last book I finished was FAMILY LIFE by Akhil Sharma and narrated by Vikas Adam. The story was good, but the ending fell flat.
Q: Is there anything about the format of audiobooks that you don't like or would like to see changed or improved?
BT: No, not really. The only selfish wish I have is that when I borrow very long and currently popular books (for example, THE GOLDFINCH, Ken Follett's Century Trilogy) from the library, I could have more than two weeks to finish and renew them. I'm so thankful for how popular audiobooks become, because without them, I would not be able to read as much as I do given where I am in my stage of life.