A Conversation with Jen Jackson
Sounding Off on Audio: Interviews with Listeners About Their Love of Audiobooks
A Conversation with Jen Jackson
Jen Jackson has worked for Barnes & Noble for 18 years; she even met her husband there! They have two young daughters who are also avid readers. Her love for audiobooks is infectious --- recently, her 10-year-old daughter started listening as well. Here, Jen shares all the audio wisdom she's been accumulating since 1996 (when she started listening), including her favorite narrators and why audiobooks are a great way to try out books you're ambivalent about.
Question: How long have you been listening to audiobooks?

Jen Jackson: I've been listening since 1996.

Q: What made you start listening?

JJ: I was working at my small-town library and noticed several people checking out audiobooks on a regular basis. I have to admit, I used to be a bit of a snob and would wonder why they wouldn't just read "real" books. One day I decided to ask a patron who I had become friendly with how she had the time to listen to so many books. She explained to me that she lived outside of town and had to commute for work, and audiobooks made the somewhat tedious drive in from the country go so much faster. Although I didn't have a commute, I decided to take some audiobooks the next time I made the eight-hour drive to visit my sister. The library patron was right: They made the drive go by faster, and I was hooked.
Q: When and where do you listen?

JJ: I mainly listen in my car and at work when I'm at my desk.

Q: What kinds of books do you like to listen to best?

JJ: I like to listen to mysteries or thrillers best.

Q: What do you use to listen to audiobooks?

JJ: I use my iPhone and the CD player in my car. Although, I hear that they won't be included in the new models…ACK! I'll have to keep my car forever :)

Q: Are the books that you listen to different from the kinds of print and eBooks you read?

JJ: Not really; however, audio is a great way to "try" a book I'm not sure about. I am more likely to listen to a nonfiction book.

Q: Where do you buy/borrow audiobooks from?

JJ: My local library.

Q: Do you share your audiobooks with anyone?

JJ: No, but I do like to recommend them.

Q: Do you listen with anyone else, or is it a solo experience?

JJ: For me, it's really a solo experience, but because I listen in my car, I have to make sure what I'm listening to is age-appropriate for my two daughters. My youngest has actually become a fan of audiobooks, and we like to pick out some together if we're going on a car trip.

Q: What percentage of your reading is done via audiobooks?

JJ: Wow! Over 50 percent. I hadn't really thought about it before, but when I went back to my book journals and checked, I definitely listened to more books last year. I guess that's one of the benefits of audiobooks…you can be doing something else while you're listening.

Q: Do you have favorite narrators? If so, tell us about them.

JJ: I love Jim Dale, of course. Dick Hill does the Jack Reacher and also some of the Harry Bosch titles, which I really enjoy. Also, John Lee, Scott Brick, Roy Dotrice, Ruth Ann Phimister and Barbara Rosenblat.

Q: What are some of the most memorable books that you've listened to and why?


JJ: I loved THE KITE RUNNER on audio. When I first heard about the book, I didn't think it was something I would be interested in. It wasn't until it became a finalist for our One Book, One City contest and I found the audio at the library that I decided to give it a try. Right off the bat, I was concerned because it was read by the author, Khaled Hosseini. I thought that could either be really great or a disaster. As it turns out, it was amazing. I can't imagine anyone else reading that book. To hear all the terms and names in his accent really brought the whole thing to life. I've actually listened to this one more than once and purchased the book to read as well. SALEM'S LOT has stuck with me because I listened to it during the daytime at work, and it still scared the dickens out of me! Ron McLarty did a great job of reading that one.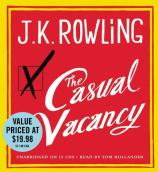 Q: What is the last audiobook you listened to? Tell us about it.

JJ: I recently finished EDGE OF ETERNITY by Ken Follett. I love "chunksters," but at this point in my life it works better for me to listen to them, and this is an outstanding trilogy. I love history, so it was very satisfying to learn more about the last century through the lives of the great characters he creates. Right now, I am listening to THE CASUAL VACANCY on my iPhone and THE KING YEARS by Taylor Branch in the car.
Q: Is there anything about the format of audiobooks that you don't like or would like to see changed or improved?

JJ: I'm actually not a big fan of the audios that announce when it's time to change the disc. I think that probably only happens on older titles that were created before everything went digital.