A Conversation with Margaret Gulick
Sounding Off on Audio: Interviews with Listeners About Their Love of Audiobooks
A Conversation with Margaret Gulick
Margaret Gulick is a semi-retired geriatric social worker, currently working part-time in a skilled nursing facility for Franciscan priests and brothers. She doesn't remember when she started listening but can't seem to get enough of audiobooks. In her "Sounding Off on Audio" interview, she shares her top titles and an invaluable roundup of her favorite narrators.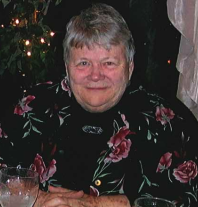 Question: How long have you been listening to audiobooks?
Margaret Gulick: I've been listening for the past several years.
Q: What made you start listening?
MG: I can't really remember…just started and got hooked.
Q: When and where do you listen?
MG: Mostly every time I'm in my car. For some reason when I try to listen in the house, I fall asleep.
Q: What kinds of books do you like to listen to best?
MG: I listen to mostly fiction.
Q: What do you use to listen to audiobooks?
MG: I use the CD player in my car.
Q: Where do you buy/borrow audiobooks from?
MG: I get my audiobooks only from the library.
Q: Do you share your audiobooks with anyone?
MG: I don't share the physical audiobooks, but the suggestions to read the book (in whatever form).
Q: Do you listen with anyone else, or is it a solo experience?
MG: It's a solo experience.
Q: What percentage of your reading is done via audiobooks?
MG: I usually am listening in the car and reading a real book in the house at the same time.
Q: Do you have favorite narrators? If so, tell us about them.
MG: Yes, I like John Lee (Ken Follett's Century trilogy), Jim Dale (THE NIGHT CIRCUS), Cassandra Campbell, who reads some of Adriana Trigiani's books --- Adriana narrates some of her books, but I don't care for her voice. Although I do like the author-narrated Bill Bryson books and also THE KITE RUNNER, narrated by Khaled Hosseini. I also like Jenna Lamia and Adepero Oduye, who narrate the two characters in Sue Monk Kidd's THE INVENTION OF WINGS. Simon Vance does a good job on the Stieg Larsson books.
Q: What are some of the most memorable books that you've listened to and why?
MG: I just love the stories SOUTH OF BROAD, THE-100-YEAR-OLD MAN WHO CLIMBED OUT THE WINDOW AND DISAPPEARED, THE LIGHT BETWEEN THE OCEANS, THE INVENTION OF WINGS, THE NIGHT CIRCUS, HOTEL ON THE CORNER OF BITTER AND SWEET, etc., etc.
Q: What is the last audiobook you listened to? Tell us about it.
MG: EDGE OF ETERNITY, the last of the Century trilogy by Ken Follett. Listening to the different accents of the characters enriches the whole experience, and for me, somehow 29 discs (one at a time) is far less daunting than holding a huge book. Currently, I'm listening to ALL THE LIGHT WE CANNOT SEE by Anthony Doerr. This book is SO beautifully written and well narrated by Zach Appelman. I feel that I am being given a special treat, a wonderful gift --- being read to is the best!!!