A Conversation with Beth Settje
Sounding Off on Audio: Interviews with Listeners About Their Love of Audiobooks
A Conversation with Beth Settje
Beth Settje lives in Somers, CT, where she's an associate director at a career center. She has always been a voracious reader and has passed on her love of books --- both print and audio --- to her children. Good readers or not, it's surprisingly hard to find audiobooks that two teenagers will enjoy, so Beth usually listens solo. Here, she shares with us where she likes to listen and bad narrator habits that are a deal breaker for her.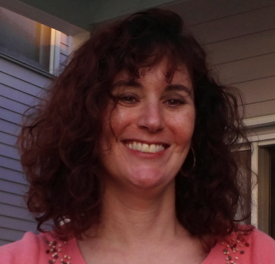 Question: How long have you been listening to audiobooks?
Beth Settje: I listened on records as a child. As an adult, I've been listening since about age 24 (I am now 47).
Q: What made you start listening?
BS: Though I like music, it can get boring at times. Plus, the car I was driving was older and the radio only worked for one or two stations. I needed something to help pass the time, especially on longer trips.
Q: When and where do you listen?
BS: More like where don't I? Seriously, I often listen in the car during my commute to and from work, any long ride, sometimes at the gym, and sometimes in the house when doing chores like washing dishes, ironing or cleaning/purging the basement. I just discovered I can download audiobooks through my library's Bibliomation system, so that is next.
Q: What kinds of books do you like to listen to best?
BS: I rotate between fiction, suspense and memoirs. It also depends on what I am reading in book form. For example, if I am reading a suspenseful mystery, I will listen to a light romance or fiction. I also like audiobooks that are at least 8-10 discs to make it worthwhile.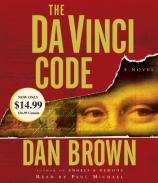 Q: What do you use to listen to audiobooks?
BS: Mostly my CD player in the car or house. A friend lent me some audiobooks she downloaded to an iPod, so that is helpful. I just got a new portable CD player, too, which I can use in the gym or in the car if someone else is driving and I want to tune out. They can play music, and I can disappear into a book. (Plus, I won't get carsick listening to a book!)

Q: Are the books that you listen to different from the kinds of print and eBooks you read?
BS: No, not usually. Though I have found I like listening to memoirs more than reading them.
Q: Where do you buy/borrow audiobooks from?
BS: I borrow from my local library or Interlibrary Loan.
Q: Do you share your audiobooks with anyone?
BS: No, because I don't typically buy them.
Q: Do you listen with anyone else, or is it a solo experience?
BS: My books are almost always solo experiences. When my husband and I would take trips, before we had children, I would find an audio he would also like. Once we had kids, we found audios the whole family could enjoy. This last part has become more challenging as the kids have grown (11-year-old daughter and 17-year-old son). It is hard to find a book that appeals to all of us, but sometimes we have great luck.

My daughter is a huge audiobook listener; she makes sure to play one every night to fall asleep. She will relisten over and over, so the words become background noise. She will also read a book and then get the audio, in order to enjoy it in a different way.
Q: What percentage of your reading is done via audiobooks?
BS: 25 to 40 percent.

Q: Do you have favorite narrators? If so, tell us about them.
BS: No, although I do have narrators who annoy me. They breathe too loudly or over-enunciate.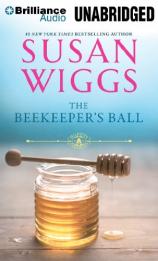 Q: What are some of the most memorable books that you've listened to and why?
BS: [Dan Brown's] THE DA VINCI CODE, [Steig Larsson's] The Girl with the Dragon Tattoo series, ME: Stories of My Life by Katherine Hepburn, [Liane Moriarty's] THE HUSBAND'S SECRET…Why? Because they are all compelling stories with twists and turns that teach me something, and often I can really use my imagination
Q: What is the last audiobook you listened to? Tell us about it.
BS: Karen Robards' most recent book, HUSH. Prior to that, THE BEEKEEPER'S BALL by Susan Wiggs. I like audios with rich, full storylines, that keep me guessing or are full of surprises. The characters have to have depth.
Q: Is there anything about the format of audiobooks that you don't like or would like to see changed or improved?
BS: It is helpful when music plays as a CD ends, so I know to get the next one ready and that the track may be repeated as well.