A Conversation with Julie Mackey
Sounding Off on Audio: Interviews with Listeners About Their Love of Audiobooks
A Conversation with Julie Mackey
Julie Mackey is a mental health therapist with a busy, full-time practice. With limited time for reading --- which, of course, she loves to do --- she relies on audiobooks to "maximize" her book intake. In our latest "Sounding Off on Audio" interview, Julie shares her personal listening preferences with us, and recommends some amazing titles --- some short, some long, but all worth the commitment.
Question: How long have you been listening to audiobooks?

Julie Mackey: I have been listening to audiobooks for four years.

Q: What made you start listening?

JM: In 2011 I first participated in Goodread's annual challenge and took it upon myself to read a whopping 150 books! I knew I would have to maximize my reading time and decided to give audiobooks a try, so I could listen while in the car and doing work around the house. I had always been hesitant to try them, but once I did, I was hooked and now love them.

Q: When and where do you listen?

JM: I mostly listen when I'm by myself in the car, which is mainly my commute to and from work. I sometimes listen at home when doing housework.

Q: What kinds of books do you like to listen to best?

JM: I like a variety of books, and this is reflected in my listening habits. My top favorites are contemporary fiction and nonfiction books that relate to my career as a therapist.

Q: What do you use to listen to audiobooks?
JM: I use the Audible app on my iPhone.

Q: Are the books that you listen to different from the kinds of print and eBooks you read?

JM: Yes, I find that I enjoy nonfiction books more as audiobooks than as print or eBooks. I do listen to fiction books, but I rarely read a nonfiction book.

Q: Where do you buy/borrow audiobooks from?

JM: I have a subscription to Audible.com.

Q: Do you share your audiobooks with anyone?

JM: No, I don't think that is possible with Audible books, and I'm not sure anyone wants to listen to what I'm listening to! I sometimes recommend audiobooks to my parents who are both audiobook fans.

Q: Do you listen with anyone else, or is it a solo experience?

JM: Generally, solo. Once in a while if we are going on a family trip, we will get a kid-friendly audiobook to help pass the time and all listen together.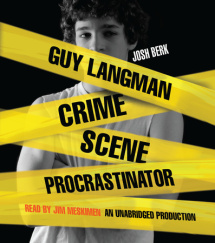 Q: What percentage of your reading is done via audiobooks?

JM: I'd say about 10 percent.

Q: Do you have favorite narrators? If so, tell us about them.

JM: Rebecca Lowman is a narrator who I've heard frequently, and I love her work! I get excited when I see she is the narrator. I also enjoy Jim Meskimen, who narrated two books by my brother [author Josh Berk]: GUY LANGMAN, CRIME SCENE PROCRASTINATOR and THE DARK DAYS OF HAMBURGER HALPIN.


Q: What are some of the most memorable books that you've listened to and why?

JM: FANGIRL by Rainbow Rowell is one of my all-time favorites. I loved the story, and the narration by Rebecca Lowman and Maxwell Caulfield was perfect. Sometimes it was hard to get out of the car while listening! Another favorite was THE TIME TRAVELER'S WIFE by Audrey Niffenegger. I love this book so much that I decided to listen to the audio by William Hope and Laurel Lefkow, and it was perfect and amazing! Another memorable book was Margaret Mitchell's classic, GONE WITH THE WIND. It was 49 HOURS long! It took me four months. A huge commitment but worth it.


Q: What is the last audiobook you listened to?Tell us about it.

JM: I just finished listening to THE HELP. I've already read it twice and seen the movie twice. I had heard good things about the audiobook, so I decided to try it. It was fabulous. I really like when there are different narrators, and this book got each character down. The book is one of my favorites, and the audio brought me to tears more than once. I'm glad I listened to it.