A Conversation with Marcia Cook
Sounding Off on Audio: Interviews with Listeners About Their Love of Audiobooks
A Conversation with Marcia Cook
Marcia Cook is currently working as the Program Coordinator for the Wayne Senior Center, where she started a reading group called WOW (Women of Wayne). She loves reading and does it every chance she gets --- preferably with a glass of wine or a cup of tea in her hand. Much easier when her hands are freed up by an audiobook! In her "Sounding Off on Audio" interview, Marcia shares a generous list of her favorite narrators. She also talks about listening in her car and her home --- even while painting a room!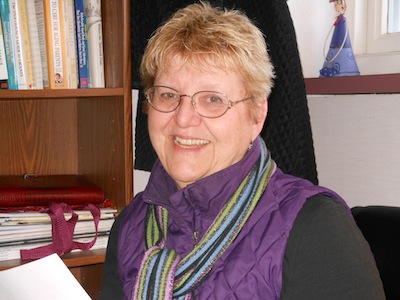 Question: How long have you been listening to audiobooks?
Marcia Cook: I'm not sure exactly when I started, but I would say that it's been more than 10 years. I was listening to audiotapes when I began.
Q: What made you start listening?
MC: My work involved a lot of travelling in my car. I was looking for something to help keep me occupied during long trips and seemingly endless traffic jams. I started listening to audiobooks and haven't stopped. Now, with all the books I want to read and so little time to read them, listening in the car helps me read many more books than I'd normally be able to.
Q: When and where do you listen?
MC: In the car, of course, but also in my home. Sometimes I listen while I'm doing chores. Oh, and once while I was painting a room.
Q: What kinds of books do you like to listen to best?
MC: Literary fiction, historical fiction, thrillers, mysteries, memoirs --- I love a great story. I don't do well listening to books that need a lot of concentration. Those I have to read.
Q: What do you use to listen to audiobooks?
MC: I use the CD player in my car or my iPod.
Q: Where do you buy/borrow audiobooks from?
MC: I borrow most of my audiobooks from the library. When I'm not able to get them from the library fast enough, I'll buy them from Audible.
Q: Do you share your audiobooks with anyone?
MC: I don't share the library books, and I'm not sure how to share the books I get from Audible.
Q: Do you listen with anyone else or is it a solo experience?
MC: A solo experience.
Q: What percentage of your reading is done via audiobooks?
MC: I'd say a good 50 percent.
Q: Do you have favorite narrators?
MC: I do. I loved Ralph Cosham's reading of Louise Penny's Inspector Gamache books, the latest being THE LONG WAY HOME. I've listened to all of them! He became Inspector Gamache for me. I was very saddened by the news of his death. I felt like I lost a friend. I heard an interview with him where he said that he never looked at the books he read ahead of time because he wanted to be as surprised as the listeners. I can't imagine going in cold and doing the caliber of work he did.
Cassandra Campbell is a long-time favorite of mine. She does a wonderful job of reading Adriana Trigiani's books. I listened to her read THE ART OF HEARING HEARTBEATS [by Jan-Philipp Sendker] and, most recently, THE WINTER PEOPLE [by Jennifer McMahon]. I've never been disappointed.
Jim Dale reading the Harry Potter books --- what a delight! The same with Jayne Entwhistle reading Alan Bradley's Flavia de Luce series. Bianca Amato, Scott Brick (although I can't imagine him reading THE STORIED LIFE OF A.J. FIKRY). There are so many good narrators now that I can't begin to remember their names.
I look for narrators who bring the story and the characters to life for me. They add an extra dimension. Narrators make or break the listening experience. There have been times when I've started an audiobook and stopped after the first disc because the narrator didn't work for me. Oftentimes, when I read a book of five, six, seven hundred pages, I read the print book and listen to the audiobook in my car. Besides allowing me to read the book in a shorter period of time, it makes for a richer experience for me. The narrator's voice stays in my head as I read the print book!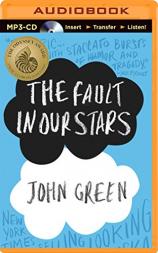 Q: What are some of the most memorable books that you've listened to?
MC: John Green's THE FAULT IN OUR STARS read by Kate Rudd. I've worked in hospice for several years so I'm no stranger to death and grief. I thought that Green's portrayal of terminally ill teenagers was spot on, and I felt that Rudd's delivery really captured the poignancy of the story. I can remember listening in my room and having to stop what I was doing to sit and listen and cry.
Zach Appelman read Anthony Doerr's ALL THE LIGHT WE CANNOT SEE. His interpretation of the author's words transported me into the lives of Marie-Laure and Werner and how the war wreaked havoc on their lives. This is a great book. Being able to listen to it made it even greater.
Q: What is the last audiobook you listened to?
MC: It was Harlen Coben's MISSING YOU read by January LaVoy --- a new narrator for me. I liked her delivery. She was upbeat and energetic and kept the pace of the story moving. There was a lot going on: NYPD officer Kat Donovan's ex-fiancé turns up on a dating site after having disappeared for 18 years; never satisfied that the man who was arrested for her father's death really killed him, she steps up her search for his true killer; and Kat stumbles into a kidnapping ring that involves victims in several different states. It all comes together with some totally unexpected twists and turns --- all of which make it a very satisfying listening experience.