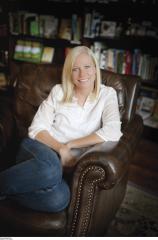 Heather Gudenkauf is the author of the New York Times and USA TODAY bestselling novels THE WEIGHT OF SILENCE, THESE THINGS HIDDEN and ONE BREATH AWAY. Her latest book, LITTLE MERCIES, is a searing portrait of the tenuous grasp we have on the things we love the most, and of the ties that unexpectedly bring us together. This Father's Day, Heather is celebrating her own father's love --- for his family and also for books. She learned from her dad to enjoy a good mystery, and also to know the importance of being able to put a good book down and spend time with family.
---
On this upcoming Father's Day, I have so many gifts to celebrate that my father has passed on to me. His love for kids and his work as a teacher, school counselor, director of a home for exceptional children and child psychologist influenced my decision to become a teacher. The way he treats his wife, my mother, taught me what a loving, respectful relationship looks like. His gentle patience as the father of six very different children taught me unforgettable lessons in parenting. And his love of books, along with my mother's, made me into first a reader and then a writer.
There were always books in our home, shelves of hardcovers with slick, brightly colored jackets and neatly piled stacks of dog-eared paperbacks. My father's taste in books leaned toward mysteries and spy thrillers like Ian Fleming's James Bond series and westerns by Louis L'Amour. As a young child, I was immensely impressed at the thickness of the novels my parents read. All of my books had pictures, and I could count the number of words on each page on one hand. I couldn't wait for the day when I, too, could untangle the strings of letters and words that so raptly held their attention.
When I finally graduated to chapter books, I followed my father's lead, often choosing mysteries and suspense like the Boxcar Children series, HARRIET THE SPY, and the Nancy Drew mysteries. Eventually, I started picking up the books my father read: Stephen King's deliciously frightening novels, Jonathan Kellerman's Alex Delaware series, Tom Clancy's world of intrigue. It's no wonder that the novels I write include an aspect of mystery and suspense.
As an adult, phone conversations with my dad consistently turn to what books we are currently reading. I tell him about the newest Craig Johnson book in the Longmire series, and he fills me in on the latest C.J. Box title. We toss authors back and forth like a baseball: John Sanford, Robert Crais, Lee Child, James Patterson. When I go to visit my parents, I take tote bags filled with books to share and end up returning home with an equal number from the hundreds (thousands?) of books that fill their home.
Looking back, one of the most important lessons that my father taught me about books and reading was when to put the book down. After a long day or after a busy week at work, when I'm sure all he really would have liked to do was have some quiet time and read, my dad would set aside whatever novel he was buried in and come outside and shoot hoops with us, take us fishing or drive us to the Kmart Grill for a Coke and fries, pressing a quarter into each of our palms so we could buy anything we wanted (yes, there was a time when a quarter could buy quite a lot). He would chauffeur us to our sports events, to our friends' homes, to the public library and, inevitably, to the bus barn to look for my hearing aids that I unfailingly (accidentally?) left on the bus.
My newest novel, LITTLE MERCIES, explores the importance of recognizing and appreciating the small things (that turn out to be not so small, after all) in life. On this Father's Day, any day, or every day for that matter, take some time to thank that special dad for all that he has done for you and for all that he is to you. I know I'm going to, and most likely there will be a book involved. Little mercies, one and all.