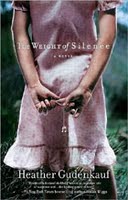 Heather Gudenkauf --- author of THE WEIGHT OF SILENCE --- thinks back to one holiday from her childhood, when she learned a valuable lesson from a hasty decision and the help of a favorite book.
The holiday season was always a wonderfully chaotic time in my childhood home. With six children, two adults, a dog, a finch, two gerbils, and several hermit crabs all living under one roof, we had our share of adventures and misadventures. But unmistakably, we always had each other.
One of the most wonderful gifts I received the Christmas I was nine wasn't from Santa Claus, but from my mom and dad. I could tell by its shape and heft that inside was a box of books. Books were highly valued in our home, but being the youngest of six, I rarely had a brand new, unmarred book of my own. I always received the chocolate-smeared, doodled-on books they didn't want anymore. On Christmas Eve, with anticipation, I tore into the package and found a box set of Beverly Cleary books including one of my all-time favorites, RAMONA AND HER FATHER. Growing up, I wanted to be Ramona Quimby. I loved her sassiness, I loved her wonderful imagination, and I loved all the predicaments she got herself into and out of. Unfortunately, my personality was more akin to Ramona's mild-mannered, best friend Howie than to Ramona's free-spiritedness. While the snow swirled and the wind blew, I spent the remainder of my holiday break ensconced in my toy box, wrapped in a sleeping bag, holding a flashlight and reading my Beverly Cleary books. In RAMONA AND HER FATHER, Ramona managed to get a crown of burs stuck on her head, accused her teacher of having wrinkly elephant ankles, and called the elderly neighbor lady pie face. But in that same book Ramona also managed to convince her father to quit smoking, taught the reader how to make tin can stilts, was the best lamb in the Christmas play even though her costume was made up of old pajamas with faded bunnies on them, and taught me the lesson that family is what is most important.
In a matter of days, I had finished reading my books. Even at the age of nine, I was always on the search for something new to read, so I braved the cold and walked to a local used book store where I could trade my books in for credit toward more books. As I handed over my box of Beverly Cleary novels that my parents had just given me for Christmas, I knew I was doing the wrong thing, but that didn't stop me. As I went to bed that night, my new books piled by my bedside, I found no joy in the adventures within their pages. I knew how hard my parents worked, I knew how carefully they picked out those books for me, but still I had given them away with little thought. And for what? A few used books, which on closer inspection, had stained pages that smelled liked mildew. I couldn't sleep that night knowing that my actions hurt my parents' feelings. The next morning, still feeling guilty, I asked my sister what I should do. "Go back and get them," she told me simply. And not for the first time, and certainly not the last, I understood the wisdom in my sister's advice.
I dug into my earnings from shoveling snow and tromped back to the bookstore. After a few frantic moments scanning the shelves in hopes of finding my box of books, I saw them, still within their case, still shiny and new looking. I paid for my books and brought them home with me, where they belonged. Now that was just the thing Ramona Quimby would have done.
I still have that copy of RAMONA AND HER FATHER. The pages are stained and smell a little like mildew, but no matter, I wouldn't trade it for the world. I have shared my love for Ramona and the other characters that live on Beverly Cleary's Klickitat Street with my own children. We have laughed over Ramona's feistiness, groaned over the dilemmas she gets herself into, and pondered over the lesson that Ramona always manages to teach us… that family is the gift to be valued most.
-- Heather Gudenkauf
Tomorrow, Lauren Grodstein joins us on the first day of Hanukkah with memories of eight nights of books.