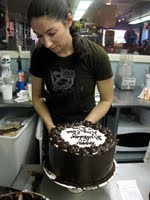 Gesine Bullock-Prado --- owner of Gesine Confectionary in Montpelier VT, and author of the memoir, CONFECTIONS OF A CLOSET MASTER BAKER --- shares memories of the extraordinary Christmases of her childhood, and the very special person responsible for bringing such joy to the holidays.
My mother, I'm convinced to this day, was part elf, imbued by the holiday spirits with the gift of conjuring joy from the seasons. She was German, a woman from the old world, where fairy tales were most often gruesome and fraught with danger but never without boatloads of magic. Even St. Nick --- he was a menacing wraith and not the jolly Saint we know, love, and never fear Stateside. But my mother, she harnessed these elements from her homeland, the scary Santa and the uncensored and bloody Grimm's tales, and dressed them in fairy dust and celebration.
On December 6th, she pulled all the stops. It's on this day that Santa comes, not on the 25th. And not only does he come early, he brings a ghoulish friend named Krampus. If you thought a scrawny, red velvet robe-wearing, scrappy bearded saint was scary, wait until you catch sight of his hell-hound helper. He's one stinky demon, that guy. In many a German household, the matriarchs and patriarchs will enlist some poor schlubs to visit their homes on the 6th dressed as the aforementioned St. Nikolaus and Krampus and scare the hell out of their children. I've witnessed it firsthand, both as a child and as an adult.
As a matter of fact, I took my husband Ray to a small hamlet called Traunreuth in the deepest reaches of Bavaria so that he might partake in the fear fest that is St. Nikolaustag. We sat and watched as my cousin invited the dank twosome into her home, her gaggle of children waiting in horror. Each child was made to approach the Yuletide Freddie Kruger and atone for their myriad sins of the past year and maybe, just maybe, get a sack of treats in return. You see, St. Nikolaus brought with him a ledger and there was an accounting for each child's actions written upon it. "Barbara! On August 16th of this year you promised to make your bed. Yet you left the house to play with your bed still a mess! What do you have to say for yourself!?!?!?!?" You can imagine that for a good week after this kind of intervention, German children everywhere keep their rooms spotless. Ray was suitably horrified.
But my mother, she kept the magic of the moment and took out the terror. She'd never go so far as to enlist a carny to dress in Santa's rags and scare the bejeezus out of us. Instead, she gave us hints of the bearded one's presence, exclaiming on cue at 7pm on the 6th that she might have heard something peculiar outside and shouldn't we go take a look? Lo and behold, a flash of red cloak would round the corner of the house, and before we could take flight and catch whomever the creature was, we'd stop short just outside the door's threshold in awe. There would be two glorious red stockings overflowing with a sweet bounty that would keep any kid glued in place.
To this day, I've never figured out how she stage-directed all her holiday surprises so beautifully. On Easter, the baskets jam-packed with German sweet delicacies would find themselves precariously perched atop the highest tree limb in the back yard. On Christmas Eve, we come home from a last-minute shopping jag to find a Christmas tree miraculously standing in the living room, festooned with small candles and brimming with hand-carved wooden ornaments where just a few hours before, there had been nothing.
These days, it appears that 'tis the season primarily for presents and material things. But no matter the hoopla around Black Friday and Cyber Monday and all that stuff we end up taking home and in debt over, it's the moments of pure delight and innocent wonder that make this time of year singularly revered. So to all of you elves out there who eschew the easy route of using your credit card to make the season bright and instead take it upon yourselves to
cultivate divine moments for those you love, I say thank you because like my mother, you're one of those rare magic creatures that make the holiday season truly joyful.
-- Gesine Prado Bullock
Later this afternoon, Heather Gudenkauf thinks back to some treasured childhood possessions and how close she came to losing them after a rash decision.