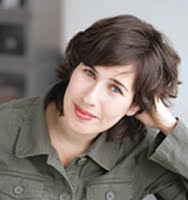 Lauren Grodstein, author of A FRIEND OF THE FAMILY, describes the thrilling experience of receiving her first "grown-up book" for Hannukah one year, knowing --- even at the age of ten --- that it was one of the best presents she could possibly receive.
Hannukah gifts in the neighborhood where I grew up ranged from the merely elaborate to the cruelly baroque. I remember friends bragging about the four-story dollhouses Hannukah Harry left under the menorah, the bichon frises and the color televisions and the trips to Aruba. In my house, however, the eight nights of Hanukkah were more sedate: latkes and dreidels, songs and candles, and, after dinner, a single, compact, pleasant but restrained present. For me, that present was almost always a book.
Now, it's not like I didn't wish for a bichon frise of my very own, but in truth I loved my eight nights of books. My mom (and I knew it was my mom --- there was no Hannukah Harry crap in the Grodstein house) had a way of picking out something I would never have thought to pick for myself but was always precisely what I wanted. She bought me Lois Lowry's Anastasia books and Paul Zindel's THE PIGMAN, Ellen Raskin's THE WESTING GAME, and Jo
hn Bellairs's THE HOUSE WITH A CLOCK IN ITS WALLS. But the book I remember enjoying the most was EIGHT MEN OUT by Eliot Asinof, which I got for the first night of my tenth Hannukah, and which took me longer to read than any book I'd previously encountered.
Now, it might seem odd that a book about the Chicago White Sox scandal of 1919 would speak so loudly to a 10 year old in New Jersey in 1986, but I was learning to love baseball at the time --- our house team, the New York Mets, had just won the World Series --- and so everything about baseball seemed crucial to me then. Further, the character of Shoeless Joe Jackson appealed to me the same way Mets left-fielder Darryl Strawberry did --- they were both power hitters with the ability to change the direction of any single game, or even an entire season. But still, EIGHT MEN OUT was about a scandal as much as it was a sport, and it involved all sorts of laws I didn't quite understand, and people with crazy names like "Kenesaw Mountain Landis." Reading it, I needed to use a dictionary --- a lot. And I needed to ask my dad a lot of questions.
And this, I suppose, was what I loved most of all about the book: it was the first book anyone ever gave me that treated me like a grown up. It was an adult nonfiction book, about an adult, nonfiction topic, but my mom didn't give it to me because she had an agenda or because I told her I was up to the challenge. She gave it to me because she thought I'd like it. I did like it. I carried it with me everywhere, and when one fifth-grade classmate brought her new golden hairclips to school, studded with --- I'm not kidding --- real tiny diamonds and pearls, I thought about the book in my bag, the weight of it, its total lack of illustrations. I remember thinking about how I was officially a grown-up now, because I was reading grown-up books. I remember thinking that the library was suddenly a much bigger place. And I remember regarding the hairclips and feeling glad that this time, I'd gotten what was, unmistakably, the better gift.
-- Lauren Grodstein
Check back tomorrow, as Laura Kasischke and Sally Koslow list some of their favorite and most memorable holiday reads.