We wrap up this year's Mother's Day Author Blog series with a touching piece from Stephanie Scott, whose first novel, WHAT'S LEFT OF ME IS YOURS, releases on June 23rd. This gripping debut revolves around a young woman's search for the truth about her mother's life --- and her murder. Stephanie has dedicated the book to her own mother, who read to her constantly as a child and gave her plenty of book and author recommendations. She also has fond memories of their weekly trips to the library, which is still open to this day. As soon as she is allowed to travel again, Stephanie would love to return home to Singapore and give a reading at that same library. She hopes her mother will be able to join her.
---
My grandmother liked to tell me a story. It was about my mother as a baby, when they were living in Malaya under the Japanese Occupation. As a family we have many stories from that time, a turbulent period of inter-layered cultures and conquest, but this story had nothing to do with the war or wider world events; it was set in our home. My grandmother loved to read. She was rarely without a book in her hand, and as a toddler my mother took a great fancy to one of these. She played with it constantly, would pick it up before nap time and fall asleep with it in her crib. If anyone tried to remove the book from her sleeping grasp, she would wake up and scream. If ever the book disappeared, my mother would refuse to go to sleep until it was found and returned to her.
I adored this story and would listen over and over as my grandmother told me about the fabled book. My mother sat with us, rolling her eyes in mortification at the teasing and affection so often visited on beloved daughters, and then she would smile at me. My mother is the most important person in my life. She is at the centre of so many of the things I love, particularly the main pursuit that has shaped my life: reading.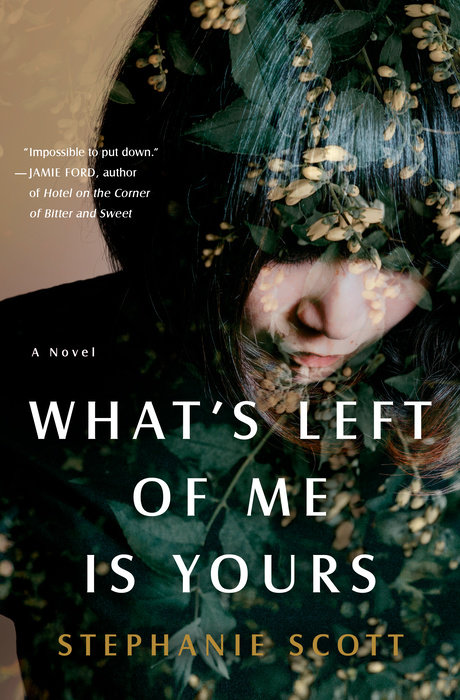 As I grew up, Mum read to me constantly and then recommended her favourite books and writers, everything from the Brontës to E.M. Forster, Ernest Hemingway, Daphne du Maurier, Michael Ondaatje, Amy Tan, and the poetry of Rabindranath Tagore and Kahlil Gibran. Every week we would go to the library --- a library that is still open today --- and when I return home to Singapore, it is the smell of that library, the dust-laden quiet, the whir of the air conditioning system that cements the reality of being home for me.
When researching and writing my debut novel in Japan, I was lucky enough to be invited to speak at a school. After the talk, the students showed me around their library and asked me what I was reading (at that time it was Yukio Mishima's THE TEMPLE OF THE GOLDEN PAVILION). They showed me their favourite books, too, and to my delight one of the girls brought out WUTHERING HEIGHTS by Emily Brontë, a title dear to my mother and to me.
My novel, WHAT'S LEFT OF ME IS YOURS, is set in Japan, and though it owes much to both Mishima and Brontë and all the many forms of love, it is also about mothers and daughters. My protagonist, Sumiko, grows up without her mother, who died when she was just seven years old. Sumiko spends the novel in search of her, of the truth about how she really lived and died, sifting through memory to create a figure of who might fill the void of absence.
When I first started writing the novel, the prospect of this absence terrified me, and it still does. I owe so much to my own mother. The fear of living without her is a powerful one, which I hope not to have to confront for some time. Before we went into lockdown, I was able to give Mum a printed first edition of WHAT'S LEFT OF ME IS YOURS, and I have dedicated the novel to her. When lockdown lifts and we are allowed to travel again, I would like to go home to Singapore. I hope to visit our library and give a reading there, and that my mother can come with me.