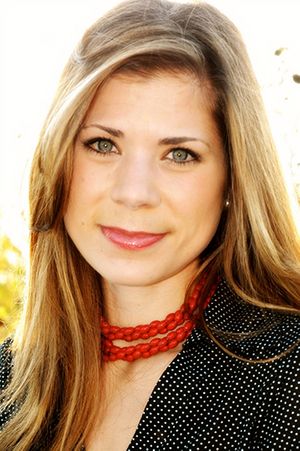 Sarah McCoy is the bestselling author of such novels as THE BAKER'S DAUGHTER, THE MAPMAKER'S CHILDREN and MARILLA OF GREEN GABLES, the latter of which recently released in paperback. A few years ago, Sarah flew out to Denver with her husband to visit his family for Christmas. While there, her sister-in-law suggested that they each think of an "experience gift" to give: "an activity wherein the presents were memories." Sarah's very special gift for her niece and two nephews was a trip to Tattered Cover Bookstore on Christmas Eve --- and what a fun, festive and memorable experience it turned out to be!
---
A few years back, my husband (Doc B) and I flew out to his family in Denver for Christmas. We were living in El Paso, Texas, at the time, so the geographic change was as magical as the season. We got on a plane in the high desert and got off feeling the Rocky Mountain high. Meeting us there were our nieces and nephews --- young, starry-eyed believers that reindeer hooves could take flight and wishes came true in a night.
That particular Christmas, my sister-in-law decided to buck tradition with a family-wide edict: no more stuff. She wanted her kids to understand quality over quantity. We were asked to please give an "experience gift." This could be as simple as going to the mall for a cinnamon bun or as elaborate as a neighborhood scavenger hunt. The only condition was that it had to be an activity wherein the presents were memories. I, personally, thought it was brilliant.
Sure, it made the gift givers have to think a little harder. No easy store-bought toy car or Barbie doll would do. But I love a creative challenge and championed my sister-in-law's conviction that it was better to give/receive something of significance or not give/receive at all. Some might find that harsh, but I understood that it came from a place of loving reciprocation. Wouldn't we all rather receive something of value or nothing rather than feign excitement over another pair of socks? It's refreshing and truer to the season's spirit --- when giving isn't a duty but a meaningful sharing.
So I put on my thinking cap: What experience might Auntie Sarah give? There's nothing more extraordinary in my mind than a literary journey.
Our gift would be given on Christmas Eve because it was nothing Santa's elves could manufacture in their workshop. They were instructed to bundle up for Denver's arctic chill and meet us by the sleigh-car. Then off we flew! To Tattered Cover Bookstore.
A lauded and historic independent bookstore in downtown Denver, the shop's lights twinkled bright as winter stars. Christmas carols played overhead. Tattered Cover staffers wore festive costumes. The building was bubbling over with merrymaking readers, shopping, laughing, browsing the stacks, and cuddling into cozy reading corners. Never before have I felt such holiday comradery in such a large crowd as I did that Christmas Eve.
"The store is yours," I told the kids. "Whatever book you wish. You each get one."
Their eyes lit up like, well, Christmas morning. My youngest nephew was not but five years old, and the idea that the entire store --- hundreds of people and thousands of books --- was his playground nearly sent him over the giddy edge. To fuel their book hunt, we bought everyone hot chocolate and sugar cookies from the bookstore café, then set them loose on the stacks.
Doc B took the littlest to the Children's Picture Book section, while I escorted the older kids to the Young Adult. An hour later, they came to us with hands full of books, conflicted and debating the merits of each.
Finally, my niece (the eldest, who knows my occupation) asked, "Which would you choose, Aunt Sarah?"
It was a difficult decision. Every bookworm can empathize. I pulled a novel from her stack based solely on my subjectivity, THE THING ABOUT JELLYFISH by Ali Benjamin.
"I know this author," I told her. "She's a great person and a great writer."
Because it's more than paper and ink, more than sentence structure and factual transference. Literature is an intangible emotional symbiosis. A word-by-word experience shared between author and reader. It's about the characters, the setting, narrative action and the imaginary journey. However, all of those hang lifeless without the story giver and the story receiver.
My niece took my recommendation. My nephew chose THE WITCH'S BOY by Kelly Barnhill, and the littlest picked a picture book on the constellations. While the clerk tallied the purchases, I inscribed each with our love and a Happy Christmas message.
The bell over the door jingled when we left, and the frosty night stole our breaths. So we skipped to the car to keep warm, each with a book in hand. I'll never forget the sight of them in the backseat, console light on, gazes cast down as they turned the first pages.
It's one of my favorite Christmas memories. An experience gift for me as much as them. In truth, the essence of literature has the same ingredients as the holiday spirit. Joy, love, peace, understanding --- all attributes that a great book seeks to impart, no matter the season. I'm grateful to live in a world where bookstore magic really does exist and helps us believe in the power of story.