On Saturday, May 18th, the city of Gaithersburg, MD (suburban DC) hosted its TENTH annual book festival; I can hardly wait until next year.
The festival is a little bit of Americana. Here's a little about its history. It is great every year, and it gets better every year: that is a good trick!
Book tents featuring fabulous authors "compete" with local vendors, new and used book sales, author signings, writing workshops for kids and adults, food trucks and so much more. It is great for people attending alone, for families and for everyone in between.
I "worked" the Friends of Montgomery County Library's used book sale on the festival fair grounds for a few hours in the morning. I loved seeing people finding treasures, like a signed Willie Nelson book, and watching featured authors like James Swanson scoring used books. I was SHOCKED to learn that the sale raised nearly $8,000 --- that money will help the Friends help the county libraries.
(NOTE TO EVERYONE READING THIS: As hard as used book sales are just as an attendee, imagine having backstage access to the books. It turned out to be an expensive volunteer morning.)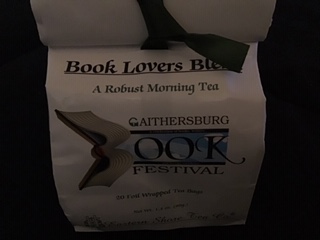 Who knows how much the festival raised for the local businesses involved? (Pictured is some GBF Book Lovers Blend Tea. Did they know their audience or what?)
The Politics and Prose tent, selling all of the featured authors' books and more, was buzzing with activity.
I spent the afternoon wandering the tents, dropping in on snippets of the incredible authors assembled.
It is hard to pick a favorite since all the programs were so good, but it may have been Mayor (and festival mastermind) Jud Ashman interviewing the inspirational Chris Wilson, who spoke about THE MASTER PLAN. Imagine being in prison and determining how you were going to turn your life around. Wilson did it; I was honored listening to him tell his story.
Join us in 2020!