On Monday, April 1st, one of our longtime readers, Annmarie Puleio (along with some of her book-loving friends), attended William Morrow's third Book Club Girls' Night Out at the HarperCollins offices in New York City. The featured guests were New York Times bestselling author Taya Kyle, who talked about her latest book, AMERICAN SPIRIT, and Claire Gibson, who discussed her debut novel, BEYOND THE POINT. Read on as Annmarie shares her insights on the evening, which she describes as fast-paced, enthusiastic and upbeat. And many thanks to Kate Hudkins from William Morrow for providing us with the photos that you see throughout this blog.
---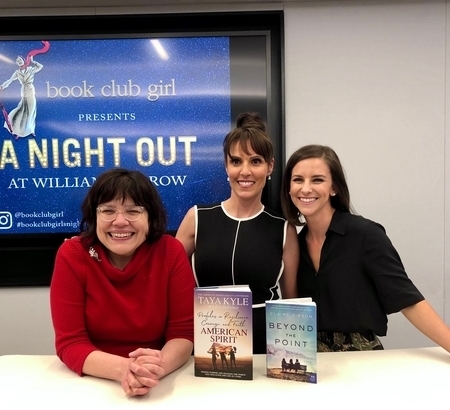 It was a beautiful day to head into New York with friends from my College Woman's Book Club to see the Macy's Flower Show, climb the Vessel at Hudson Yards and enjoy lunch, of course. But the main event of the day was Book Club Girls' Night Out at William Morrow where Donna, Julie and I met up with our fellow book lover, Maria. This third "Night Out" featured Taya Kyle and first-time author Claire Gibson being interviewed by William Morrow editor Lucia Macro (pictured here). The emergent theme of the evening seemed to be "ordinary people called to do extraordinary things."
You will recall Taya's husband, Chris Kyle, from his book, AMERICAN SNIPER, which then became a movie. After an extraordinary military career, Chris was tragically killed while mentoring a fellow veteran, leaving behind Taya and his children. Taya talked about moving through that tragedy with her children in AMERICAN WIFE. Her new book, AMERICAN SPIRIT, recounts the stories of other ordinary people who have faced challenges and found their strength and goodness within, not just to survive, but to use their experience and help others in a profound and enduring way. Taya shared that her faith guides her life and she feels called to urge us to focus on our neighbors to search for the goodness around us.
Claire Gibson grew up at the West Point Military Academy where her father was a professor. She did not attend West Point herself, but instead pursued a successful career as a writer for a magazine when she received a call from someone at West Point inviting her to tell the story of three women. BEYOND THE POINT recounts the story of Dani, Hannah and Avery --- three cadets, three heroines --- who, though each very different, bond together to face the challenges of West Point and, post-9/11, rely on friendship, family and patriotism.
The Q&A had some surprises.
Taya shared a hopeful and inspiring picture of what life with her children is like without her husband. In a most gracious gesture, she introduced Jim DeFelice, her co-author. She credited him with helping her get through her worst moments and invited him to join her in signing books. Taya is hoping that an ABC series, "American Wife," will make it to the screen and that a podcast develops. She is working on a faith-based children's series and is 50 days into a daily devotional book. And yes, Bradley Cooper, who played her husband in American Sniper, has the bluest eyes!
Claire introduced two of the women featured in BEYOND THE POINT to the delight of the audience and an appreciative round of applause. She shared some of the challenges that she and her husband, Patrick (no, he did not graduate from West Point), have faced with fertility and their subsequent decision to adopt their son, Sam. She is exploring adoption stories and their connections to biological families in a post-DNA testing world for her next book, which she said will be "This Is Us" meets The Sound of Music.
Lucia Macro, Claire's editor, led an insightful discussion that never lagged for a moment. Her enthusiasm was infectious, and the night was quite upbeat.
The next "Night Out" will be on June 19th. It will feature Joshilyn Jackson (NEVER HAVE I EVER) and Meg Mitchell Moore (THE ISLANDERS), and maybe someone we know as moderator.