Last Saturday, over 200 fans and readers were invited into Hachette's offices for their annual Book Club Brunch. Boasting a variety of authors, books and snacks, this event is highly anticipated by readers and sells out nearly every year. I had the pleasure of attending with Carol Fitzgerald, former intern Matthew Burbridge, reviewer Vivian Payton, and her friends Mary, Cheryl and Donna. Featured authors included actress Kate Mulgrew, Maria Semple and Elizabeth Poliner, whose forthcoming novel, AS CLOSE TO US AS BREATHING, was featured in a book club discussion at the end of the day. But more on that later.
As last year's event was held at Lighthouse International, this was the first time Matt, Vivian and I had visited Hachette's beautiful offices. Upon arriving, we were greeted with mimosas, breakfast goodies and a printed program for the day. We used the time before the first panel to mingle, which allowed me to run into Matt Hooban from Hachette's social media team, who I met at last year's brunch.
Master of Ceremonies Karen Torres, Vice President of Field Sales and Account Marketing, kicked off the day with a quick speech, thanking readers for coming and wishing them a fun day. The narrative nonfiction panel followed, featuring poet Elizabeth Alexander, author of THE LIGHT OF THE WORLD, the aformentioned Kate Mulgrew, author of BORN WITH TEETH, and Stefany Shaheen, author of ELLE & COACH. To begin, moderator Gretchen Young asked each woman to summarize her book.
As they spoke, it quickly became evident why they were selected as panelists, as each woman had suffered challenges and turned their pain into art. From the sudden death of Alexander's husband to Mulgrew's loss of a child to adoption and Shaheen's daughter being diagnosed with Type 1 diabetes at age eight, each woman faced her task head-on. For Shaheen, this meant welcoming Coach, the diabetes alert dog, into her home to monitor her daughter's insulin levels. Although she was initially skeptical, Shaheen came to love and respect Coach, resulting in a book about her experience.
In the short span of an hour, the authors covered a multitude of topics from art to motherhood, bouncing off one another's ideas and answering Young's questions thoughtfully and with great empathy. I was particularly in awe of the way the women discussed motherhood, explaining how they balanced the demands of parenting with their careers. Alexander explained that her son was the one to help her write when her grief was too strong, with his humor and good nature propeling her to power through her despair. Shaheen bravely admitted that her daughter is the "epitome of inspiration." In a humorous twist, Mulgrew revealed that her sons hated her "Star Trek" character, explaining, "To [my sons] Captain Janeway was anathema. Where was mom?" Carol and I agreed it was one of the best book panels we had ever seen.
Immediately following the narrative nonfiction panel, author Maria Semple took the stage to discuss her professional background and 2012 novel, WHERE'D YOU GO, BERNADETTE. Semple idolized the written word from a young age and dreamed of becoming a novelist. Shortly after graduation, however, she sold a movie script to 20th Century Fox, derailing her dream and pushing her into television writing. She has since written for numerous shows, including "Ellen," "Mad About You" and cult favorite "Arrested Development." WHERE'D YOU GO, BERNADETTE came after she quit television and tells the story of an agoraphobic wife and mother who disappears and the daughter who must piece together clues to find her. Maria was a hilarious speaker, sharing both comic insight and embarrassing personal stories to an engrossed audience. She humorously admitted that her own psychiatrist told her, "Maria, writers must write. If you don't write, you'll become a menace to society." Semple also stressed the importance in finding the humor in even the darkest of situations, for it is the absurdities of life that equalize us.
After Semple's panel, we took a lunch break catered by Hachette. Matt, Vivian and I used this time to discuss the panels we had seen and purchase books. Although I already own BORN WITH TEETH, THE LIGHT OF THE WORLD and WHERE'D YOU GO, BERNADETTE, I raced to the pop-up bookstore to buy ELLE & COACH. I simply could not resist the inspirational story of a dog saving a young girl's life.
After lunch, we returned to our seats for the literary fiction panel featuring Susan Jane Gilman, author of THE ICE CREAM QUEEN OF ORCHARD STREET, N. K. Jemisin, author of THE FIFTH SEASON, and Jennifer E. Smith, author of the young adult book HELLO, GOODBYE, AND EVERYTHING IN BETWEEN. Author Chigozie Obioma was also scheduled to attend, but could not make it as his book, THE FISHERMEN, was shortlisted for the Man Booker Prize and he was overseas.
Roxanne Coady, the legendary bookseller who owns RJ Julia in Madision,CT (the bookseller for the event who also brought a busload of readers with her), moderated the panel, leading the authors in a discussion both of their individual works and fiction trends in general. Gilman explained that she enjoys characters with unusual stories, resulting in her choice to write about an antihero. She delighted in taking the popular myth of the American dream and turning it inside out to create her main character.
Smith explained the appeal of young adult books, inviting readers to test their boundaries by reading different genres. To me, N. K. Jemisin was the star of the literary fiction panel. Her process as a fantasy author, she explained, is a bit more difficult than the average person may expect, as she must do tons of research to make her invented worlds believable. She believes the payoff is worth it, however, as speculative fiction distances her readers from their stereotypes and prejudices, allowing them to explore their own perspectives in new scenarios. Jemisin was incredibly insightful and quite dynamic. Needless to say, I rushed out to buy her book before the panel was even over.
She also spoke about the challenges of being a woman of color writing in the white male-dominated world of fantasy. She detailed what has been going on behind the scenes with awards to ensure the "old guard" continues to thrive. It gave the audience insight into a world that they most likely were not privvy to.
The day culminated with the book club discussion of Elizabeth Poliner's AS CLOSE TO US AS BREATHING, which releases in March 2016. Everyone who bought a ticket to Hachette's brunch received an advance copy of the book to prepare for the discussion, which was moderated by Lee Boudreaux, Poliner's editor. I always find it fascinating to watch authors speak with their editors, as they are the people closest to the book who helped make it a reality. Boudreaux's love of the book was immediately evident as she spoke with Poliner, who was lovely and very gracious.
Set in Connecticut in 1948, Poliner's multigenerational story recounts the tragic summer that changes one family's future, affecting each member in profound ways. Poliner explained that she was inspired to write AS CLOSE TO US AS BREATHING after learning about the summers her grandmother spent in Woodmont, a beach town where everything is within walking distance. Although her grandmother could not drive and often depended on her husband, she gained autonomy in Woodmont as she could go grocery shopping, swimming and visiting by herself. Poliner recreates this independence in several of her female characters, highlighting the differences between a patriarchal and matriarchal home.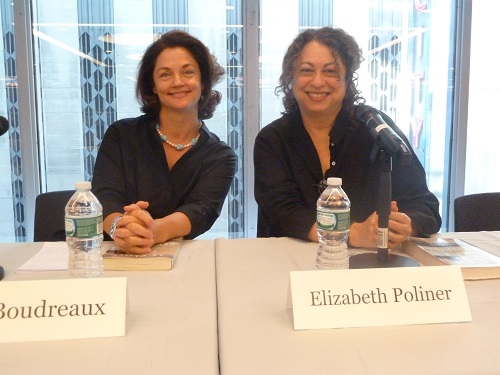 Regarding structure, she explained that she initially wrote the book over the course of a day and a half, but that did not allow her enough time to make her characters detailed and dynamic, so she began to dramatize them, allowing the structure to grow organically. This process, the audience was surprised to learn, took six years. Poliner also took audience questions, with many people praising her book and asking truly thoughtful questions. One audience member noted the similarities between the cover of the book and the book's structure, a point that had not occurred to Poliner, who was delighted to learn something new about her own work. She then signed our copies, taking the time to talk to each person and respond to their thoughts.
All in all it was a lovely day, with Hachette's dedicated staff making every panel, discussion and detail seamless and fun. On the way out, we were all gifted with complimentary tote bags filled with six books, three of which were advance copies of books releasing in 2016. Now I just need to decide which book to read first! Carol's suggestion was AFTER THE CRASH by Michael Bussi, which publishes on January 5th. She already has read it and has it noted to be a Bookreporter.com Bets On selection!