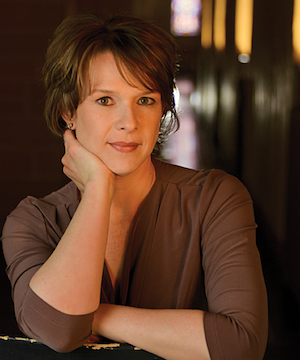 Erin Healy has written nine books, most recently MOTHERLESS, a haunting tale of a mother's struggle to rekindle a connection with her estranged children. Not only is Erin a talented author and an award-winning fiction editor, she also happens to be an expert gift giver. Whether it's THIS BOOK JUST ATE MY DOG! for her four-year-old niece or ARE YOU MY MOTHER? for her own mother, Erin knows how to choose the perfect book for every person on her list. If only they could figure out what to give her!

---

As a novelist and book editor, I should be the easiest person in the world to buy gifts for. If it is made of paper and ink and words and magic, I will like it. Alas, no one ever gives me books for Christmas. Or even my birthday. It's as if they fear that to give me a book is to give me work. Something too mundane, too close to my day job. They just don't understand.
So I compensate by buying books for others. For my daughter and husband, who hate to read but love to listen: audiobooks of dystopian and fantasy lands. For my son, who is only just learning to read: sticker and picture books. For my mother: poetry, art, spirituality and mystery. My retired-veteran father: military suspense or, this year, REDEPLOYMENT, which just won the National Book Award for fiction.
I have to pace the book presents, though. If I always gift books, the recipients start to question whether I'm truly buying for them...or for my own selfish, wishful thrills.
So when my niece was born, I pounced on the perfect chance to give at least one book every Christmas. In our family, we do such annual gifts for the children: son gets a hat, daughter gets a bracelet, grandchildren get a plush toy, nephew gets a t-shirt, niece gets an ornament, and so on. But when my first niece came along, I announced to her mother that her Annual Auntie Advent gift would be a book.
(It's almost as much fun as picking out a picture book for my mother every Mother's Day, a tradition I started about 25 years ago with her enthusiastic approval and a personalized, marked-up --- à la fan fiction --- copy of ARE YOU MY MOTHER?)
This year, my niece is getting THIS BOOK JUST ATE MY DOG! because she is four and I am 44, and at such ages, the clever humor of a dog being gobbled up by a book gutter can be maximized.
For four years now, I have given books to her with crossed fingers, hoping that as time zooms ahead, her present love for words will hang onto her. That maybe someday we'll share Laura Ingalls Wilder and Frances Hodgson Burnett and Madeleine L'Engle and the Brontës. That I'll pay enough attention to find the writers, old and new, who speak of the things that are most important to her. That her own interests will lead me to poets and storytellers and thinkers I have yet to meet. That even when I start buying books in formats that haven't been invented yet by authors who haven't been born yet, the power of a good story and a well-written sentence will not be lost on her.
Perhaps that's what I really want for Christmas after all. Not another book, but another person to love them with me.