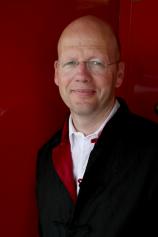 Jan-Philipp Sendker published his first novel, the international bestseller THE ART OF HEARING HEARTBEATS, in 2012. The sequel, A WELL-TEMPERED HEART, releases on January 21st and finds successful Manhattan lawyer Julia Win at a crossroads in her personal life. She is lost and exhausted, until one day she starts hearing a voice in her head, asking her exactly the questions she's been avoiding and making her seriously reconsider her life. In his Holiday Author Blog, Jan-Philipp admits that while he might not be the biggest fan of Christmas, having children of his own has helped him remember the anticipation and excitement the holiday inspired when he was a kid.
---

I have to admit, I am very ambivalent about Christmas. I have never been a great fan of this particular time of year. Even as a teenager I found the shopping, the gifts, the total commercialization of this holy day appalling. I dreamt of nailing the Christmas tree upside down on the ceiling and donating all the money we spent on gifts to charities, but could never get my family to agree. Later on, I hated the pressure to buy gifts for a day I did not really care about. Only after the birth of my kids did I begin to remember how special this day once was for me.
I remember the afternoons of Christmas Eve --- a few very precious hours my little sister and I still talk about, almost 50 years later. Everything was so quiet. The usually busy streets were empty. My sister and I had to spend a few hours in our tiny room. We were allowed to watch TV on our small black-and-white TV set. On air was "Wir warten aufs Christkind" ("We Wait for Santa Claus"), a classic broadcast whose only aim was to help children around the country pass the time before gift giving. We watched it patiently, but with every minute our excitement grew.
Meanwhile, my parents were very busy. We heard them moving around, whispering, but we were not allowed to leave our room. We had been exiled from our living room for days. We had tried to get a glance through the keyhole, to no avail.
This special afternoon was the only time of year when my little sister and I did not argue or fight. We were in it together, anxiously waiting. There was such an innocent sense of excitement and joy in the air --- I can still feel it all these years later.
Finally, we heard our mom's voice. We left our room and waited in front of the closed living-room door, all dressed up. I was wearing my only suit; my sister, her best dress. I was so anxious I thought I had to pee. And then we heard a bell chime. My mother opened the door, and a record was playing: "Silent night, holy night." The Christmas tree was lit with real candles, the smell of cookies and gingerbread in the air. Wrapped gifts were under the tree and my father was waiting for us. Before we could touch anything, we had to sit down and listen as he read the story of Jesus from the Bible. It was a story I didn't really understand --- its meaning revealed to me only much later in life. I don't know how long my father talked; it certainly felt like an eternity. After he finished, we were allowed to open our presents. We unwrapped them quietly under the watchful eyes of our adoring parents. Again, they had fulfilled our wishes and little dreams.
Later on my father moved out, and things got complicated. Even though the four of us still celebrated Christmas together, it never was the same.