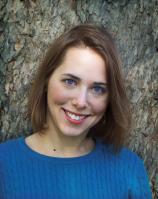 In addition to her debut novel, REAL LIFE & LIARS, Kristina Riggle has published short stories in the Cimarron Review, Literary Mama, Espresso Fiction and elsewhere. Her most recent book, THE WHOLE GOLDEN WORLD, is about a 17-year-old who shocks her parents and her community with one simple act: She chooses to stand by her high school teacher, who everyone else believes has exploited her. In her Holiday Author Blog, Kristina remembers the best book she ever received --- a gorgeous, blood-red, leather-bound copy of ALICE IN WONDERLAND AND THROUGH THE LOOKING GLASS --- and how sometimes books make very delightful objects.
---
I knew just which book to write about, and I walked right downstairs to my bookshelf to find it. I'd hoped to open it and find an inscription, but there isn't one. Not even a date.
But it's just as gorgeous as I remember. It's a Simon and Schuster Classics edition of ALICE IN WONDERLAND AND THROUGH THE LOOKING GLASS.
It has a blood-red cover, and the spine is chocolate brown. There's an oval color illustration of Alice in her blue dress chasing the white rabbit, and the title is gold-embossed. The pages are gold at the edge, too, and the inside is populated with stunning pen and ink illustrations. But the best part of this book, to my little-kid self, was the attached ribbon bookmark. I'd never seen such a thing before.
This book was a gift from my Uncle Jim, my dad's brother, who didn't have kids of his own. My uncle is not a gushy person by nature, so I guess it's not surprising there's no "For my darling niece"-type inscription. But that's okay, because the gift spoke for itself.
I don't know for sure how old I was. The front matter includes a copyright date for the illustrations of 1982, which meant I was eight years old, if this book had been recently published when it was given to me. That seems about right.
I just now opened the book to where the ribbon bookmark rests, and I smiled. Of course: the Jabberwocky poem. Always my favorite part. Years ago, I decided to read this book aloud to my son, but he got bored right away. I remember trying to at least interest him in the Jabberwocky. Who wouldn't want to hear about "The Jabberwock, with eyes of flame"?
The book rests open easily at those pages. I'm sure I read that passage many times over. In fact, there are food stains on each facing page approximately where my thumbs would be if I held the book in two hands. I always did like to read and eat. Still do.
You know, I'm not an eBook snob. I own a Kobo reader myself, and I think all reading is terrific, however you choose to do it.
But I'm so glad I have this gorgeous, physical object. And I hope my son --- older now, with more attention span --- and my daughter will stain this book with their own food, and leave the ribbon bookmark at their own favorite parts.