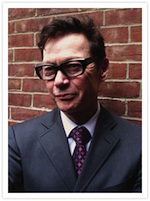 Jack Gantos has written novels for adults, young adults and middle-grade readers, as well as over 20 books for primary readers, including 12 titles chronicling the misadventures of Rotten Ralph. FROM NORVELT TO NOWHERE, the sequel to his Newbery Award-winning DEAD END IN NORVELT, will be published in September. In this interview, Gantos shares some of his favorite audiobooks and explains the terrifying art of narrating his own work.

Question: What does a great narrator add to an audiobook?
Jack Gantos: The narrator --- which in my case is me --- should try to create an emotional profile of the character, a voice profile that parallels the character's dialogue, inner thoughts and observations (though I personally am not very strong at imitations, accents and other voice associations). I also hope to add the landscape of the book --- the changing sky under which the characters perform. And certainly I want to provide a narration that is seamless and allows the listener to stay in the moment of the story and fully engage them in the artifice of the imaginary performance.
Q: What types of books do you like to listen to on audio?
JG: Almost always novels or poetry (because then I try to remember and recite it). But soon I plan to move more into history. There are so many holes in my education and I'd like to narrow them a bit.
Q: What do you do while you listen?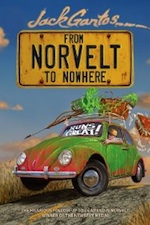 JG: Drive very fast.
Q: What is the first audiobook you ever listened to? What prompted you to choose that title and to listen vs. read it?
JG: CRIME AND PUNISHMENT by Dostoevsky. I had read it before and thought it would refresh the book in a unique way if I then listened to it.
Q: If you are listening to any audiobooks now, tell us about it.
JG: I just listened to an oddly narrated METAMORPHOSIS by Kafka. The voice was one you might have heard while listening slowly and deliberately to a children's picture book --- a crossover voice so that Gregor Samsa was as sympathetic as poor Corduroy who was perplexed that he did not have a button and was placed on the hurt toy shelf of the store.
Q: What is your all-time favorite audiobook and why?
JG: CHARLOTTE'S WEB. Because E.B. White read it with such joyous zest, and such heartache.
Q: Do you have a favorite narrator? Tell us what makes his/her work so enjoyable for you.
JG: I don't have a favorite. But I do favor narrators who speak somewhat quickly and enliven the dialogue and enjoy cracking the jokes and making a party of the work. Some of the narrators are so monotonous you would think they were narrating a round of golf.
Q: Have you ever narrated your own audiobooks? If so, tell us about your experience.
JG: It is pure terror. The hardest work I can think of. I record the novels over the course of two days and each day I leave the studio as limp as an asparagus that has been steamed for eight hours. I have the utmost respect for the audio engineer who works so keenly to make the pace seamless even when I have been far less. And I thank the directors who instill in me the desire to do my best work. It is a team effort.