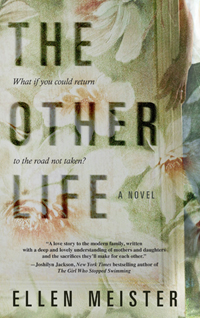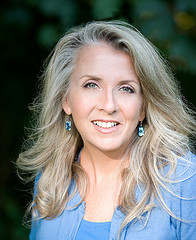 Ellen Meister is the author of three novels. Her most recent book, THE OTHER LIFE (Putnam/Berkley), appears on several Best Fiction of the Year lists, was singled out by the American Booksellers Association for the prestigious Indie Next List, and is under option with HBO for a television series. She currently edits manuscripts for published and aspiring authors, teaches creative writing at Hofstra University Continuing Education, does public speaking about writing-related issues, and is at work on her fourth novel FAREWELL, DOROTHY PARKER (Putnam, 2013). Here she talks about gifting books in harder times during the holidays.
It's a lean year for us, which makes the holidays a difficult time. My three children are all teenagers now, so their tastes are more sophisticated than when they were small and the tradition of opening presents for eight straight nights mattered more than the gift itself. Back then, they were as just as excited to open a wrapped candy bar as they were to get a new toy.
On some evenings, we gave each kid a paperback. These were my favorite nights, as the children knew before tearing off the paper that a book was inside, but were still eager to see what it might be. MAGIC TREE HOUSE? HARRY POTTER? The latest Alex Rider? As far as I could tell, they were never disappointed.
Once, during another especially lean year, I stretched the budget by finding a book all three kids could share—Charlotte's Web. I thought they might be disappointed, but they snuggled happily in bed with me as I read from this beloved classic.
Of course, I had read it before. (Haven't we all?) Still, on that particular night, as I read aloud, I got so caught up in the story about a girl, a pig and a very special spider that I forgot for a moment how beautifully written it was.
And then I remembered.
"Are you okay, Mom?" one of the kids asked.
I was, but for a moment I couldn't speak. I was choked on a sentence so lovely I couldn't go on. It wasn't heavy, or world-changing, or even particularly quotable --- just a simple, beautiful, perfect sentence. And that made me weep, because the very thought of a writer caring enough to craft such an exquisite sentence for young readers touched the tenderest part of my heart.
My children didn't understand why I was too affected to continue reading, and didn't quite grasp what was so beautiful about the passage. That, of course, only made it more touching. E.B. White had to know that the art of his writing wouldn't necessarily impress his young readers. It was enough to simply offer it and let the beauty seep in or not.
I like to think that it did. I like to think that on some level, my children absorbed all the gifts of this lovely little book, and all the other lovely books before and after. And maybe that's enough to get us through this year's holiday with joy and hope ... and the gift of words. After all, I still remember how to wrap a book.
For more information on Ellen Meister, visit her website at ellenmeister.com.