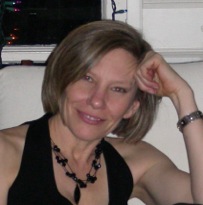 Donna M. Johnson is the author of HOLY GHOST GIRL, a new memoir that has been acclaimed by numerous publications and blogs, including the New York Times, O Magazine, The New York Review of Books, and People Magazine. She writes about religion for the Psychology Today blog, the Dallas Morning News, and the Austin American Statesman. Donna was awarded a writing residency by the Ragdale Foundation (Lake Forest, IL) in Spring 2009 and won the Mayborn Creative Nonfiction Prize for the Holy Ghost Girl manuscript in progress in 2007. She lives in Austin with her husband, the poet and author Kirk Wilson. Here she talks about THE LITTLE LAME PRINCE AND HIS TRAVELING CLOAK, one of the only things she has retained from when she was a little girl.
It's a scene out of an old fashioned storybook. The living room is strewn with gold edged ribbon and piles of wrapping paper left over from Christmas Eve the night before. Red, yellow, blue and green lights twinkle from the nine-foot-tall tree in the corner. My husband and I curl up together on our long, slightly ratty couch and sip coffee. Two stacks of wrapped books sit beside us. Our presents to each other. Each volume comes with a story of how and why we came to choose it. The unwrapping can take hours.
These books, and all the ones that came before, are a one way bullet train bearing me from the past to the present, from there to here. At least, that's what I like to think. There are things you never stop leaving behind, no matter how far you travel.
There were no holidays in my formative years. My family believed that most holidays were pagan, as opposed to Christian, in origin. As leaders of a nomadic fundamentalist sect (complete with end-time prophet and our own set of signs and wonders), we were above all that. My mother had found references in the Bible to a Babylonian Queen named Ishtar (Sounds like Easter, doesn't it?), as well as to the heathen who decked trees with gold and silver and worshipped them. A direct reference to Christmas trees, my mother said. End of story.
The nature of the life we lived, moving constantly from town to town, and the disdain of the hyper spiritual for the material world made it impossible for me to hold on to the childhood memorabilia that others take for granted. I was reminded of this recently when editors repeatedly asked for photos of me as a young child to accompany reviews of my memoir, HOLY GHOST GIRL. The few pictures that existed are long gone.
The sole relic from my childhood is, fittingly, a book. Its stands on the bottom shelf of my small library alongside books I've collected to read aloud to my grandchildren. Its peeling cardboard spine reveals a web of bindery threads splotched with dark mold.
If a child were to pull the book out, and none ever has, they would see an illustration of a young boy with hair that flips up like a girl's at his neck. He is weirdly truncated from the chest down. His fingers clutch a flat disc of fabric, and he and the disk float against a fading sky. Written across the top of the book in an old fashioned typeface are the title and author: THE LITTLE LAME PRINCE AND HIS TRAVELING CLOAK by Miss Mulock. Curlicues abound.
When I set out to write this blog, this was the volume I pulled off the shelf. It was the first of four books I would eventually own as child. I opened the book and saw how I, as an eight-year-old, had carefully formed the curved letters of my name and drawn a circle around it. There she was, that skinny, mouthy child who longed to be someplace, anyplace, other than the world in which she found herself.
I reread the story of the unlucky child-prince Dolor. Crippled in an accident as a baby, the prince is imprisoned in a tower in a far-off land by an uncle who has usurped his kingdom. His only relief is a magic cloak upon which he travels out into the world. He is entranced by the softness of the breeze, the barren beauty of the plain, the bewildering numbers of stars. There is nothing original here. Just a story with a little magic. But it was enough, more than enough. From THE LITTLE LAME PRINCE I learned the urgent necessity of story. It is the reason I give books. It is the reason I write. And it has carried me all these years.