Sally Gunning has written three historical novels set in New England; her most recent --- THE REBELLION OF JANE CLARK --- was released last year. Below, her mother shares Sally's first poem, and the authors who shaped her early life.
Photo: Nancy and Sally size up the day's catch!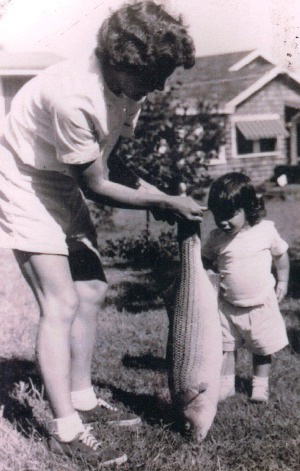 Did you read to your daughter as a child? What did you read?
I read to them from the time they could look at a book. We read A.A. Milne, Beatrix Potter, Robert Louis Stevenson, Louisa May Alcott, Dr. Seuss, Mark Twain, E.B. White and others.
Did Sally have a favorite author/series growing up?
It was A.A. Milne for a long time and, later on, many others as her reading habits evolved with age.
Did you have any reading rituals?
We always had bedtime stories, but there were many other times we'd curl up with a book together. We went to the library often and occasionally a bookstore.
When did you know Sally was going to become a writer?
When Sally was a young child she came to me one day and read a poem she'd written: "One morning to my Mom I said/ Mom, I don't want to make my bed/ What would the
world be like, she said/ If nobody wanted to make their bed? After that I used my head/ I
used my head and made my bed." And after that she continued writing all through high school...and beyond!
Do you read advance copies of her work?
Yes, Sally allows me to read advance copies of her work as her manuscripts progress, and it is a privilege for me to follow the plots along. (I am always eager for more!)
Do you have a favorite?
I loved them all (no surprise there), but I think THE WIDOW'S WAR is my favorite.
What kinds of books do you enjoy reading?

I think my taste is rather eclectic...I like historical fiction, biographies, contemporary fiction (relationship books), history, mysteries.
What authors, beside your daughter, do you read?
Oh, there are so many! Anne Tyler, Joanna Trollope, Ian McEwan, Stewart O'Nan, Richard Russo, David McCullough, John McPhee, Kate Grenville, Penelope Lively, Helen Simonson, the Patrick O'Brian series, and many many more.
NOTE: My two other children read constantly, as do my grandchildren and great grandchildren down to age 6, so you see our blood is made partially of newsprint!