When Darien Gee's daughter brought home a bag of Amish Friendship Bread starter, inspiration hit. Soon, Darien wrote and published FRIENDSHIP BREAD, in which the act of passing on this recipe opens doors across a community. Below, Darien not only reveals how she's managed to juggle motherhood with a writing career, but how her three children --- once assumed to "get in the way" of writing --- have become an integral part of the process.
Photo: Darien and her daughter, Maya.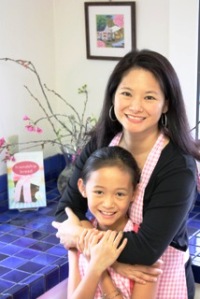 I'll never forget the advice several well-meaning author friends had given me when I first started writing.
"Wait," they had advised. "It's easier to write before or after you have kids. Not during. It's too hard."
I had a four-year-old child at the time with another on the way. My husband and I were stretched financially and sleep-deprived. But I wanted to be a published author. I obviously couldn't turn back the clock nor did I want to wait for my kids to graduate from high school. So I did what many of us do when we have young children --- we did the best we could, and we somehow made it through.
But three children and three books later, I was feeling the toll that comes with feeling like you're not doing anything well. I'd watch other authors who were able to plan whole days (whole days!) around writing or editing their manuscript, pondering possible plot turns, exploring their characters in depth. I, on the other hand, still had trouble fitting in a shower. I often
held a baby in my arms while I typed with one hand. I'd listen with envy as friends talked about writing retreats or living abroad to work on their book. My husband and I couldn't even find a babysitter so we could go to dinner on our anniversary.
And then one spring afternoon, my daughter Maya brought home a bag of Amish Friendship Bread starter and some slices of the sugar-cinnamon bread. It came with a page of instructions telling us to divide and share the starter with others, oh, and we were expected to bake on top of that! And this whole thing would take ten days! I told Maya sorry, but there was no way we were going to do it.
But she begged me to at least try the bread, which I did. Inspiration hit right around the time the sugar entered my bloodstream. I saw my protagonist and started writing that night. A year later, that book sold at auction to Ballantine Books, along with foreign, audio, and book club rights. I launched the Friendship Bread Kitchen, a website with over 100 Amish Friendship Bread recipes, tips, and community. Our Facebook page has over 25,000 fans.
In the past two years it's become clear to me that my children have not gotten in the way of my writing career, but have actually been an integral part in helping me move forward with each book. I had actually written my first novel in 1998, when I was 30 and single, and I had taken a whole year off to write it. That book was never published. But now, with three children ages 2, 5 and 10, I have four books under my belt. I don't know a writing life without having my kids around (and often underfoot). Whenever an aspiring author who also happens to be a mother asks me if she can do it, too, the answer isn't a no, but a resounding YES!
Darien's Tips for Baking with Your Kids

Amish Friendship Bread is a fun activity for the whole family. If you don't have an Amish Friendship Bread starter, visit our website (www.friendshipbreadkitchen.com) for the recipe and the full instructions for how to make Amish Friendship Bread. Here are some suggestions to make the most of your time together in the kitchen:
Younger children can help mash the bag daily, and can help with simple pouring and measuring on Days 6 and 10. Circle your baking day on the calendar and let them help you count the days until it's time to bake.

Kids ages 8 and up can read instructions and ready all the necessary ingredients. They can also prepare the Ziploc bags of starter to give away as well as make small gift cards to accompany the bags, instructions, and bread.

Older children can peruse our Recipe Box where we have over 100 Amish Friendship Bread recipes to choose from and help shop for ingredients. The whole family can discuss possible flavor variations and who to gift the extra bags of starter and bread to.
Darien Gee is the author of FRIENDSHIP BREAD. She's also the national bestselling author of three novels under the name Mia King (GOOD THINGS, SWEET LIFE, and TABLE MANNERS). To learn more about Darien and her books, find her in her virtual kitchen, Friendship Bread Kitchen, or on Facebook.