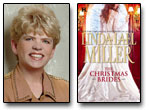 "First Lady of the West" Linda Lael Miller is a self-described barn goddess and the New York Times bestselling author of over 80 western-themed novels, including the recently released holiday romance,
THE CHRISTMAS BRIDES
. On this incredibly special day, Linda recalls her favorite Christmas Eve memory --- and lets readers know what they can do to help others, while making more of their own.
One of my favorite memories is of hearing my mom read 'TWAS THE NIGHT BEFORE CHRISTMAS aloud. For my brother and me, the reading of that story meant it was, at long last, Christmas Eve. I remember the book clearly --- it had beautiful illustrations and red, velvet-like paper on the Santa Claus figure. I can close my eyes and see the man in his nightcap, just awakened from his long winter's nap by all that clatter up on the roof! Just to let you know how long ago this was, I also recall the price on the book's cover --- 29 cents! In turn, I read the story to my daughter, Wendy, every Christmas Eve.
This year, I went to Hallmark and bought their recordable storybook, and Mom is going to read it aloud, so we'll always have it in her voice. Hallmark has a promotion going on right now: You can buy a recordable storybook (there are several choices) and have it sent to a soldier, so that his or her children will hear that special voice, too. You can make a donation, or just buy a book or books outright.
Tomorrow, the Bookreporter.com Holiday Author Blogs will be celebrating Christmas Day with Nelson DeMille, as he remembers a somber holiday season spent far away from home…and the simple gift from his father that brought him through it.