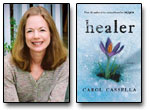 On this Christmas Eve morning, Carol Cassella --- anesthesiologist, global health expert and the awarding-winning author of
OXYGEN
and
HEALER
--- spreads the joy of holiday gift-giving by reflecting on her life-long love of bestowing and receiving books…and on the one elusive gift she'll never get.
I grew up in a family of readers. It was a given that every Christmas all five of us would be unwrapping books. My mother reliably gave me the latest Newbery medal winner, along with one or two of the classics she thought I was ready for. 45 years later, I've forgotten many of the titles and authors, but I still vividly remember the stories, the characters and the settings. They wove themselves into the fabric of my childhood as enduringly as memories of my tree fort and the field across the alley, where I buried my broken dolls, secret diaries and several dead gerbils. I remember these books so vividly because I read my favorites again and again. There were few children in my neighborhood, and my sisters were older, so my books became my only dependable playmates. One, a collection of fables from China, had a story about a young girl who grew up in a rainy climate, loathing her dreary, wet world, and she was determined to find an escape. Her father married her off to a prince who lived in a place of eternal summer sunshine, but soon she discovered how much she missed the rain. To placate his young bride, the prince forced his servants to pour water night and day outside her window and sew pink blossoms to the trees. I sat under a boiling Texas sun and smelled that cool, spring rain and heard it rustling the silk flowers.
As I got older, my mother chose books to match my ever-shifting interests. The year I was passionate about horses, I begged for only cash to put towards riding lessons, so she bought me two books on horsemanship and hid ten dollar bills in between the chapters. When I was a teenager and Erich Segal's LOVE STORY was practically required reading, I got multiple copies --- two from my family and several from friends. That was fine, though, as I read the book so many times I would've worn out a single paperback. The rest of the world may remember that book and movie for the line, "Love means never having to say you're sorry," a platitude surely only a teenager would swallow. But the line that stayed with me came from the scene where Ryan O'Neal surprises Ali MacGraw with tickets to Paris after discovering that she has leukemia. Ali, stubborn and wildly romantic, stares death in the face when she answers, "Screw Paris! What I want is time, and you can't give me that." Sigh. I went straight home and read the book again.
Book-giving is still a huge tradition in our family. We've gotten to know each other's tastes so well that my sisters and I have to screen out duplicates, a task stemming from the Christmas when my father unwrapped three copies of A DAY IN THE LIFE OF THE SOVIET UNION. I stood in my own library the other day and looked at the floor-to-ceiling shelves stuffed with books. I've read a few of them more than once, but I'm embarrassed by the number I have only skimmed --- and in the bookstore! That isn't a reflection of any waning passion for books; it's a reflection of time. As my life has gotten busier, even if more entrenched in the publishing world, I have less time than ever to read. Worse yet, I sometimes worry that our lightening-blitz race into the digital age is eroding my ability to sit quietly with a book for three or four hours, to lose myself in its slow language. If I retired tomorrow and read 10 hours every day, I couldn't finish all the books I currently own, much less reread the best over and over --- which is a loss because, much like a piece of music, it is easy to get caught up in the lyrics of a book that first time through and miss all the brilliant, more elusive bass notes and harmonies playing under the surface. My illogical way of coping with this disappointment is to buy another bookshelf and start filling it up.
Now I am certainly old enough, and a competent enough breadwinner, to buy my own presents for Christmas if they don't land under the tree. So if I choose to fill my rooms with all the novels I lust for, everybody I live with can keep their traps shut (though they're welcome to read them). Alas, there is still that gift I can't buy for myself, and neither can anyone else: time. Time to read the books not just once, but over and over again until, 40 years from now, I can still see the pink silk blossoms sewn onto the tree, and smell the scent of the rain
.
Celebrate Christmas Eve again this afternoon, as Linda Lael Miller muses on her favorite holiday memory…and urges readers to make more of their own.