Last week I mentioned that you could tell it's summer simply by looking at the bestseller lists and seeing all the mystery/suspense/thriller titles throughout. Be they spies, sleuths, lawyers, thugs or a crusading journalist from Sweden and his cyber-hacking sidekick, they're all on the list.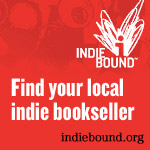 However, I was remiss not to mention the "literary" titles holding steady. Not to say the above-mentioned titles aren't literary, just perhaps more plot driven where titles such as David Mitchell's THE THOUSAND AUTUMNS OF JACOB DE ZOET and Tom Rachman's THE IMPERFECTIONISTS are more character studies wrapped in delicate prose. THE THOUSAND AUTUMNS OF JACOB DE ZOET is hovering in the top 5 on most lists, reaching as high as No. 2 on the Southern California list.
Rachman's debut, about a jaded newspaper staff in Rome, arrived with much fanfare thanks to Brad Pitt's production company making a preemptive bid to purchase the rights. Critical acclaim followed, and now so are the sales. THE IMPERFECTIONISTS is in the teens on most lists, reaching No. 8 on the New Atlantic bestseller list.

Here are the eight regional IndieBound bestseller lists:

New England Independent Booksellers Association (NEIBA)
Southern Independent Booksellers Alliance (SIBA)
Mountains & Plains Independent Booksellers Association (MPIBA)
Pacific Northwest Booksellers Association (PNBA)
The Heartland Independent Bestseller List (GLIBA and MBA combined)
Southern California Independent Booksellers Association (SCIBA)
Northern California Independent Booksellers Association (NCIBA)
New Atlantic Independent Booksellers Association (NAIBA)
Click here to find an Indie near you!