Sti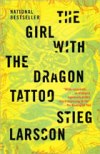 eg Larsson's Millennium books are EVERYWHERE, including the Bookreporter.com Facebook wall. Here's a roundup of Stieg links:
-An interesting article from the Wall Street Journal on the many designs of the cover for THE GIRL WITH THE DRAGON TATTOO...
-Stieg's books have led to a tourism boom for Sweden...
-Details are beginning to surface about a nearly complete fourth novel Stieg left behind...
A panel of thriller writers have named their favorites, now you can vote for 10 to determine the Top 100 Thrillers of All-Time...
Duran Duran frontman Simon Le Bon reads excerpts from Rolling Stone editor Rob Sheffield's memoir TALKING TO GIRLS ABOUT DURAN DURAN. It's no "Hungry Like the Wolf," but we'll take it...
Five of America's bestselling thriller writers will travel to the Persian Gulf for a week-long USO tour. As part of Operation Thriller, Steve Berry, David Morrell, Doug Preston, James Rollins and Andy Harp will visit U.S. troops to "talk fiction, inspire, spread cheer and, most importantly, show their heartfelt gratitude," according to organizers.
Tess Ger
ritsen's Rizzoli & Isles characters are now a hit tv show! TNT's "Rizzoli & Isles" was one of the biggest cable debuts ever! Hooray, Tess! Check it out on Monday nights!
Chevy Stevens (STILL MISSING) and Dana Haynes (CRASHERS) were interviewed on Bookreporter.com and in Shelf Awareness about their excellent debuts. Read Chevy's Bookreporter interview here and Shelf interview here. Read Dana's Bookreporter interview here and Shelf interview here.