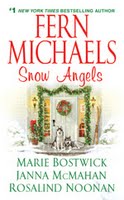 Rosalind Noonan, co-author of SNOW ANGELS, fondly looks back on one Christmas, when her young daughter's only holiday wish was to be able to grant someone else's.
You don't spend half a century on Earth without acquiring a sleigh chock-full of Christmas memories, but when I sat down and thought about it, sorted through the caroling adventures, dramatic homecomings and sparkling toys, I realized that the fondest memories are those that warm the heart.
One Sunday in early December, my children noticed that a pine tree decorated with paper ornaments had been placed at the front of the church. Being huge fans of Christmas, they asked if we could take a closer look after the service, and we found that each paper ornament contained a name and a desired gift from their Christmas wish list. A woman from the church staff explained that the intended gifts were being collected for elderly and developmentally challenged people the church worked with.
My daughter, Carly, was fascinated by these paper "wishes." At the time she had just learned to read, and she was intrigued by the secrets each ornament revealed. An elderly woman wanted a soft blanket in white or blue. A single parent was looking for age-appropriate blocks or games for their 18 month old. A woman of 23 asked for warm slippers, size 8. Some wish lists revealed other personal information like size, favorite color or hobby. Carly read every ornament within her reach, gobbling them up like candy.
I was still explaining how this gift fulfillment system worked to my five-year-old son when Carly showed me Bob's ornament.
"Look at this, Mom. He likes basketball, too, and he needs a warm sweater. Can we get him one?"
According to the card, Bob was a male of undetermined age whose hobbies were basketball and watching TV. His desired item was a warm sweater, size extra-large.
"Each of you can get a gift," I said. "Is this the one you want?
She nodded. "All these people want something, but Bob needs a sweater. I really want to find him something warm and comfy."
We went shopping that afternoon, and the questions began: "Cardigan or pullover? Wool was warm, but would it be too itchy for Bob? Fleece okay?"
"I wish we could ask Bob," Carly said as we decided against a wool and acrylic blend in a color that made my eyes water. One of the department stores was having a sale, but there wasn't much variety in size XL, and Carly would not settle. When I showed her a stylish but thin sweater, she shook her head. "It needs to be warm," she said, and we moved on.
When at last we found the right sweater --- a soft pullover in a blue and turquoise pattern --- Carly hugged it all the way to the register. "It's so soft." She smiled. "And it will keep Bob warm."
Through her eyes, I could imagine Extra Large Bob opening his gift on Christmas morning. I could see him shrugging it on, rubbing the sleeves. I wondered if he would sense the philanthropic connection he'd stirred in my daughter. If only Bob could see the six-year-old girl smoothing the sweater on the counter, instilling love in it.
Years later, I like to think Bob felt the love, part of the magic of Christmas.
Good will toward men.
-- Rosalind Noonan
Check back tomorrow, as Ad Hudler recounts how getting one gift for Christmas led to an even better one, and Kate Jacobs describes a book that she felt was just too pretty to read (but only temporarily, of course).