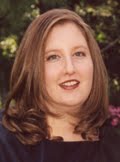 Kate Jacobs --- author of the bestselling FRIDAY NIGHT KNITTING CLUB, KNIT TWO, and the newly released holiday-themed KNIT THE SEASON --- reminisces about one of the one most beautiful presents she's ever received, one that was (almost) too precious to touch for many years.
My mother and I shared a favorite ritual when I was young of sitting in the family room after lunch to read. I should be clear: we read our own books, separately, silently, side by side on the couch (I thought this activity so fun that I often tried to convince my friends, over for a playdate, that we should play the "be quiet and read" game). My mother and I found all of our books on our regular expeditions to the town library, where we went once and sometimes twice a week. But in spite of our love of books, I owned just a few tattered Dr. Seusses and Barney Beagles (and my favorite, Sesame Street's ERNIE AND THE INVENTION OF PAPER). My mother had her own bookshelf of favorites in her bedroom, but rarely did she bring home something to add to it permanently. We were library girls and that was just fine.
And then, the Christmas when I was about seven, my cousin Mike and his parents gave me a gift that I'll never forget: A hardback copy of ALICE IN WONDERLAND, its dust jacket a deep green, the printing small as in an adult book. There was even a laminated bookmark, complete with yarn tassel, resting inside. This was beyond exciting, the idea that no one else had ever touched, let alone read, this very copy. It was simply mine. Even the pages smelled magical, kind of fresh and woodsy. I did not put that book with the others, but placed it carefully on my display shelf, right next to my Strawberry Shortcake figurines, pushing it against the wall and using my clown piggy bank as a makeshift book end. I admired the book often. And yet it was years before I could bring myself to read that copy of ALICE, deeming it to be "too good," instead signing out a copy from the library as usual. But that was all right, I decided, because I knew ALICE was just the first book of many I would grow to love, cherish, and, yes, to keep.
-- Kate Jacobs
Join us this afternoon as Ad Hudler learns a few tips on managing from a self-help book gifted by his wife.