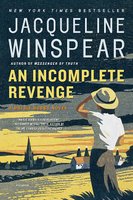 Today's guest blogger is Jacqueline Winspear, author of the Maisie Dobbs novels, including AN INCOMPLETE REVENGE. Here, she describes a very special tradition she shares with her friends each holiday season, and reminisces on the very first book she ever owned.
"We must teach our children to dream with their eyes open. " -- Harry Edwards
As a book lover, whenever it's time to give a gift, I turn to books, and I'm just as delighted when I see the tell-tale shape of a book gift --- wrapped with my name on it. But, I have felt most joy in giving books to children. One of my friends, writer and teacher, Barbara Abercrombie, organizes a party at her house in early December each year, and it's a very special party: each guest is asked to bring a book for a child who might not otherwise ever receive a book as a gift. One table is set aside for gift wrap, with ribbons and everything you might want to decorate a gift for a child, and at the same time Barbara's kitchen table groans with yummy holiday fare for the partygoers.
The invitation offers pointers as to age-appropriate reading, and guests label their gifts accordingly. It is such a joyous task to choose a book or two for a child you've never met, imagining their eyes as they open THE TALE OF MISS TIGGYWINKLE, or perhaps cracking open the latest Harry Potter. How enchanting to visit again the favorites of one's own childhood, those perennials that stand the test of time and fashion and can still capture the imagination of a child; or to be excited by new authors and innovative illustrators.
I remember, when I was a child, my aunt bought me an illustrated ALICE THROUGH THE LOOKING GLASS. It was the first book I ever owned (we were instead enthusiastic patrons of our local library, and I'd had my library card from age two). How I loved that book. I would open the pages as if unearthing buried treasure, and as I touched each color plate, my fingers tingled with excitement. I had a lair to which I always escaped to read, behind the door at the top of the stairs leading from the dining room down into the kitchen. I'd spend ages cocooned there with my library books, but it was also the place where ALICE THROUGH THE LOOKING GLASS lived, held safe in the original wrapping paper. I think of the wonderful sense of belonging I felt upon taking ownership of my first book, and find it heartwarming to rekindle that feeling when I choose a book to send to a child I will never know, but am connected to through the gift of story.
Tomorrow, M. J. Rose recalls the lavish Christmases of her childhood, and the one special present that stood out amongst the rest.