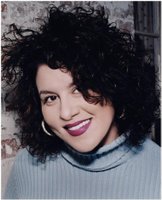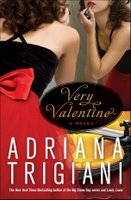 Adriana Trigiani's upcoming book, VERY VALENTINE (to be released this February), may be named for a different holiday, but she still knows how to jump right into the Christmas spirit. Here, she recalls fond memories of her grandparents, and how she shares them with her young daughter through the pages of a favorite book.
Anyone who knows me well, knows that I'm a huge fan of old movies. I especially love the movies of the 1930s --- probably because I heard so many stories about them from my grandmother, who was dating my grandfather then. Every Saturday night, he would drive her from her farm in Delabole, Pennsylvania over to Easton, to see "the show". When I was a girl in the 1970s and 80s in Big Stone Gap, Virginia, I checked a large book about the movie stars of the 1930s out of the library: it was called THEY HAD FACES THEN, written by John Springer and Jack Hamilton. I would check the book out every week, take it home, and pore over it. I knew of financial struggle and want, so the Great Depression held a sort of allure for me --- a time of suffering gave way to stories on film about runaway heiresses and cards sharps. And there, in THEY HAD FACES THEN, the stories behind the stars and their movies were written with spunk and insight.
This Christmas, I received an early gift from my good friend, the great actor/entertainer Mario Cantone. I had spoken of the book so often that he went on a hunt to find it for me. He gave it to me this week, so I might have it before the Christmas rush. My husband put up the tree, and my daughter and I decorated it, and as we snuggled on the couch, I opened the book and showed her pictures of Claudette Colbert, Myrna Loy, Rosalind Russell and working actresses like Virginia Grey. The best books to receive are ones that you long for --- that somehow, along the way got lost --- and then a good friend, thinking of you, finds it in a stack somewhere and remembers you. THEY HAD FACES THEN is that book for me; it conjures my grandmothers, my childhood, and the innocence of a time gone by. For me, it's the perfect Christmas present from a perfect friend.
Tomorrow, Jacqueline Winspear ruminates on the wondrous experience of giving a book to a child.