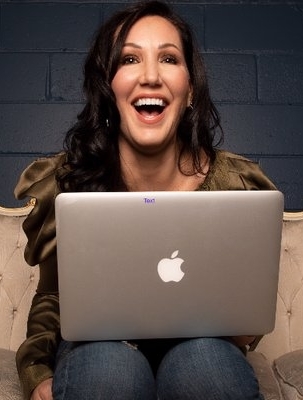 Kimberly Belle is the USA Today and internationally bestselling author of seven novels, including her upcoming domestic thriller, MY DARLING HUSBAND, which releases as an e-book and audiobook on December 28th and in paperback on March 8th. Books played a major role in Kimberly's life starting at a very young age, so it was only natural that she would pass on her love of reading to her two children. In her holiday blog post, Kimberly recalls a visit she received one Christmas from her parents, who brought along a suitcase of books from her childhood. There was one title in particular that she had forgotten all about, but she will never forget the impact it had on her and the important lessons she learned from it.
---
I don't remember that moment when I received my first book, or even my most beloved ones, because there were always books in our home. Everywhere. On shelves, piled high on tables and next to beds, flipped open on side tables and on the floor. My parents were strict with a lot of things, but they never said no when I'd drop a book in the grocery cart or disappear into the bookstore at the mall, reemerging hours later with a giant stack hugged to my chest. The most they ever asked was that I narrow my choices down to two or three, never just one. I guess you could say they spoiled me with books.
It's a tradition I carried on to my two children. Books were part of their playtimes and bedtimes before they could read, before they could understand the words, even. My children are half Dutch, their childhoods spent in the Netherlands, and I remember feeling genuine jealousy at the opportunity I never had. Two languages, two cultures meant double the books. Annie M.G. Schmidt, Thea Beckman, Max Velthuijs, Dick Bruna. I read the stories for them, but I paid attention to the words, analyzing the conjugations and sentence structure. I was learning Dutch at around the same time as my children.
One year, my parents visited for Christmas, and they brought along a suitcase of books. My old books, well-loved copies they'd saved from my childhood and beyond. Thumbing through them after all those years summoned up a dizzying wave of nostalgia --- especially when I came across the one my mother had wrapped with a red bow. My favorite childhood picture book, read so many times that the pages were faded and loose: THE SURPRISE DOLL, a story about a little girl whose sea captain father brought her dolls from all over the world. One of them, Katrinka, was a Dutch doll with hair as yellow as butter.
I'd forgotten all about that book, but I never forgot the way it made me feel, or how that story ignited my dream to see the world. That book was a promise of what would come, and it taught me that the real world was out there, just waiting for me to visit. Like that little girl's father, I wanted to cross the oceans to foreign lands, eat their foods and learn their cultures. And here I was, all those years later, living in one of them.
It's a wanderlust I passed on to my children, along with a love of reading. They're adults now, and we are a family split, with one of them Stateside and the other living in Holland. I don't see the distance as a drawback but a blessing, yet another reason for me to board a plane. This year, we're celebrating the holidays in Amsterdam, and you better believe there will be plenty of books under the tree. But our bilingual, bicultural family --- that is the real gift.