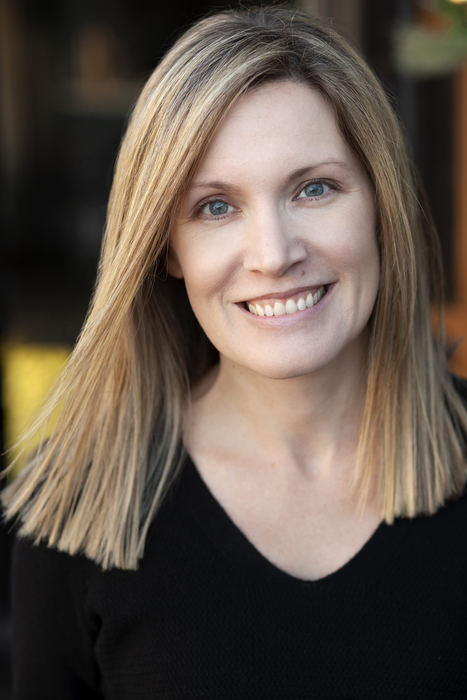 We are kicking off this year's Mother's Day Author Blog series with New York Times bestselling author Megan Miranda, whose new psychological thriller, THE GIRL FROM WIDOW HILLS, releases on June 23rd. Megan has such vivid childhood memories of visiting the library with her mother each week and never leaving empty-handed. Receiving her first library card was significant for Megan, as it opened up a world of possibilities for her and gave her the freedom to explore all different kinds of books. Megan's path to becoming a writer (and a very successful one at that) begins with her mother and their shared love of the written word, as she explains in this heartwarming piece.
---
One of my most vivid memories from childhood is a recurring event: Every Thursday, my mom would bring me to the library. Thursday was her day off, and this was our weekly routine --- each of us roaming the aisles, selecting books, carrying large stacks out to the parking lot. I can remember the car rides home, the books piled high on my lap. Evenings where she'd read on the couch, and I'd do the same.
I remember, distinctly, receiving my first library card. The feeling it brought --- of independence and possibility. It was a feeling that my mother helped foster: What were my interests? What was I drawn to? She encouraged me to try different types of books, but let me set my own path. I found myself there, in the stacks, over the years. I saw myself reflected in stories, and peered through windows to worlds I wouldn't have experienced on my own.
Even when I was young, I gravitated toward the mysteries --- the mysteries in a story, and then the mysteries inside the characters. I devoured Nancy Drew, and then Edgar Allan Poe.
When I was older, I used to visit my mom's bookshelf in her room, borrowing from her collection. I remember discovering the stories of Mary Higgins Clark, Lee Child, Dean Koontz, Maeve Binchy and Michael Crichton.
I started writing. It's no secret that my path to becoming an author begins with her and a shared love of books. Reading was always a part of our day, a part of our world. No matter my age or interests, this was always our common ground. Even now, we share books constantly. We text about them, call about them, drop them off at each other's house.
I think the tradition of visiting our community library together each week stopped sometime when I was in high school, when I was in after-school sports and using my school library more often than not. But in hindsight, maybe it never ended at all, only shifted: It's a tradition I continued as soon as I had children of my own. Even before they could roam the aisles and explore the shelves on their own, we would visit the library for story time each week, selecting books together afterward.
Though I was always a huge reader, for a long time, I had put writing aside. But it was around this time when I started again. The first person I told that I was writing again --- Trying to write a book, actually --- was my mother. And when I finished, she was my first reader. She remains my first reader, 11 books in.
Now, when I'm reading on the couch at the end of the day, and one of my children sits beside me, book in hand --- the sound of the pages turning, looking over to catch their expression as they read --- I feel time snap tight between us all, and I can picture myself as both mother and daughter. I can see the small child version of myself signing my name to my first library card, with my mother beside me --- the worlds opening, the possibilities awaiting.