Jeffrey Siger has penned a series of mysteries starring Chief Inspector Andreas Kaldis, which explores political and societal issues confronting contemporary Greece. The 10th and latest installment, ISLAND OF SECRETS, is now available in paperback following its hardcover publication last year as THE MYKONOS MOB. The book takes place on the Greek Aegean island of Mykonos, where Jeffrey has lived for the past 35 years. In MYKONOS AFTER MIDNIGHT, the fifth in the series, he warns how Greece's dire financial crisis led to Mykonos falling prey to foreign opportunists seeking to turn the island into a wide-open hedonistic playground bearing little relationship to its roots. ISLAND OF SECRETS sadly depicts the consequences of Mykonos ignoring that warning, as Jeffrey explains in his thoughtful blog post.
---
I'm an American author living half the year on the Greek Aegean island of Mykonos, a place I've called home for 35 years. I write the Greece-based Chief Inspector Andreas Kaldis series of fast-paced mystery-thrillers exploring political and societal issues confronting contemporary Greece. The New York Times described my series as "thoughtful police procedurals set in picturesque but not untroubled locales," and designated me as Greece's thriller novelist of record. The Greek Government selected me as one of six authors --- and the only American --- writing mysteries that serve as a guide to Greece.
My 10th and latest book --- just released in trade paperback as ISLAND OF SECRETS --- returns to the locale of my debut novel, MURDER IN MYKONOS, a story I set there in more innocent times that became Greece's #1 bestselling English-language book of the summer and a US bestseller.
I've also written a third book based on Mykonos, MYKONOS AFTER MIDNIGHT. It's the fifth in the series (shortlisted for a Lefty as Best Novel in a Foreign Setting), and in it, I warn how Greece's dire financial crisis opened Mykonos to falling prey to foreign opportunists seeking to turn the island into a wide-open hedonistic playground bearing little relationship to its roots.
ISLAND OF SECRETS sadly depicts the consequences of Mykonos ignoring that warning.
Writing as I do on the edge of societal change, my books far too often have the unnerving habit of coming true. For example, the second in the series, ASSASSINS OF ATHENS, anticipated the rise of Greece's former prime minister years before he was on anyone's radar, and the ninth, AN AEGAEN APRIL, selected by Library Journal as one of the best books of 2018, puts its finger firmly on the pulse of the refugee crisis now overwhelming the island of Lesvos and shaking the European Union.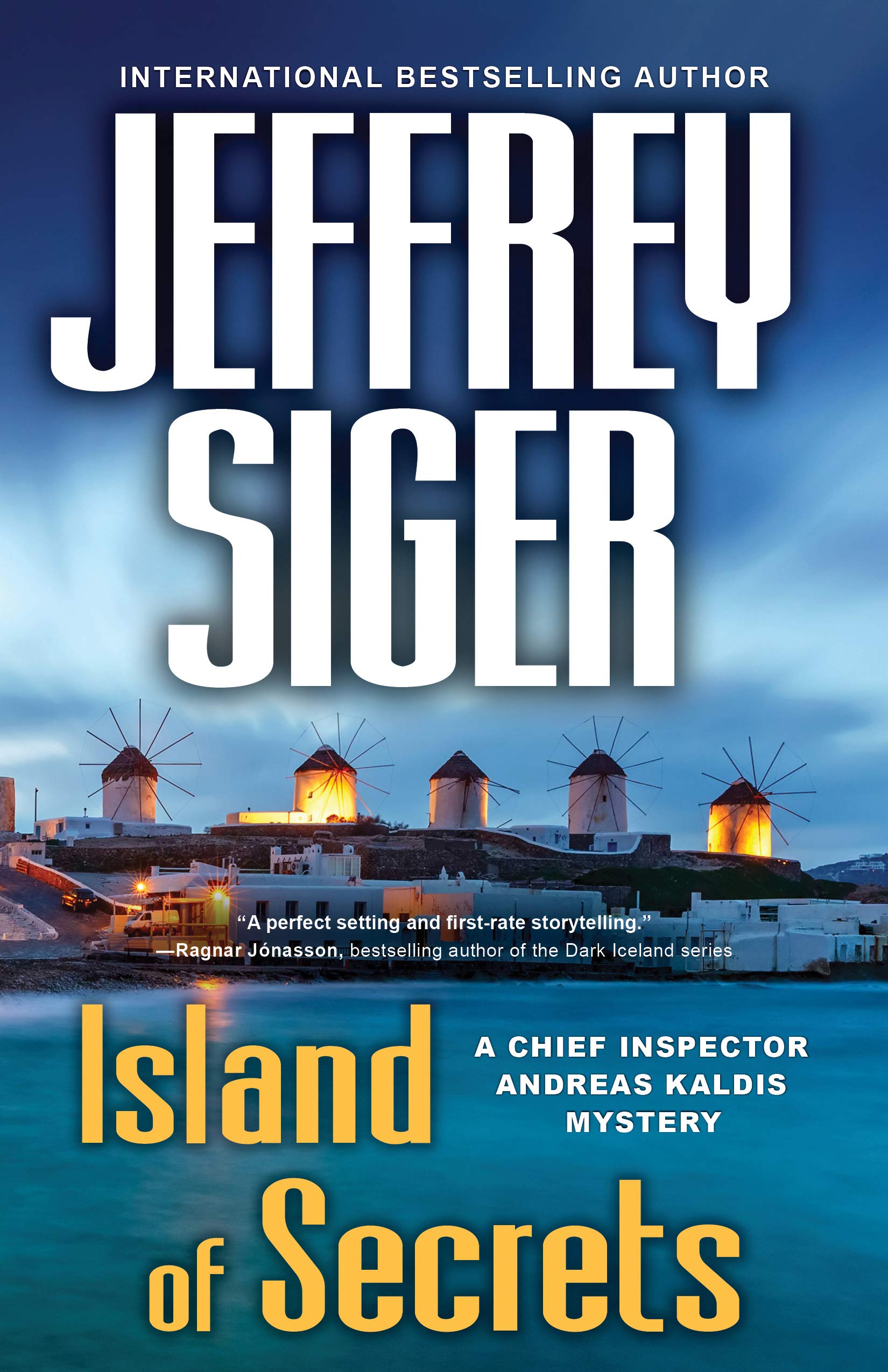 But ISLAND OF SECRETS is proving to be the uncanniest predictor of all. Two days before its hardcover publication date as THE MYKONOS MOB, a newspaper article appeared detailing a real-life episode virtually identical to the fictional event driving my storyline.
ISLAND OF SECRETS opens with the assassination of a mob-linked character who controls Mykonos' protection rackets through his security business --- an operation that ties him into the island's highly lucrative nightclub and drug trade. The hit occurred off-island as the victim was getting into his Mercedes, gunned down by a Bulgarian assassin. And I refer to that seamy side of life in paradise as the "World of the Night."
According to the newspaper article, the Greek police in Athens had detained a "Bulgarian" in connection with the "murder" of a "businessman…gunned down…as he climbed into his Mercedes." The victim "ran a security business" and "was linked" to "the trafficking of $13 million worth of drugs…the attempted murder of an underworld crime boss...and had recently invested heavily in nightclubs on the island of Mykonos." The article concludes by describing the Greek underworld as "the World of the Night."
As I said, uncanny.
Mykonos has undergone an extraordinary metamorphosis during my time on the island, and change on a cosmic level for those who remember its pre-Jackie Kennedy Onassis visit years. Going back further, it's hard for those not touched by the island's World War II-induced days of starvation and depression to imagine Mykonos as impoverished as it once was. Today it's the world-renowned 24/7 summer-playground for the super-rich, and the long-impoverished Mykonian people now among the wealthiest per capita in Greece.
And in that lay the conundrum.
How much of a good thing is too much? How much candy can you eat before getting ill? How much heavenly sunshine can you enjoy before it kills you? You get the idea.
Much of the island's traditional agrarian and seafaring ways were sacrificed to cater to the holidaymakers. Its dozens of breathtaking beaches now boast world-class clubs and restaurants.
Locals running traditional town businesses in buildings owned by their families for generations now make far more turning their shops into bars, or renting their spaces to international fashion brands. Outside of town, farmers realize more on the sale of a parcel of land than they could ever hope to make in a lifetime farming that same soil.
Off-islanders, drawn to Mykonos by its seeming immunity to the rest of Greece's dire financial circumstances, have invested heavily to participate in the island's anything goes tourist season experience.
Let's face it folks, the world realizes Mykonos is a tourist gold mine.
I bet you think the next sentence is going to begin with something like, "On the other hand…"
Wrong. I'm not a naysayer, and though a true downturn in the tourist industry is always a risk, most notably brought on by our world's COVID-19 affliction, I see a different one confronting Mykonos' future.
To wit: How far away from their island's cultural and societal roots are Mykonians willing to stray to accommodate their island's new reality? It is a question for each Mykonian to honestly answer and act upon to the full extent of his or her own beliefs.
That's not my passing the buck on offering an answer to the Ultimate Question; it's stating a respectful reality. I am not properly qualified to offer an opinion on how today's Mykonians should shape their island's future.
After all, it is their descendants who shall judge them on how they chose to act --- or not.