For years, I have heard about Lisa Scottoline and Francesca Serritella's Big Book Club Party and had wanted to experience it to share more about it with our readers. Last weekend, they hosted their 13th annual event. On Saturday, my son Greg and I were invited to Lisa's 44-acre farm in Pennsylvania to attend the first day of what is a two-day celebration of book groups. One hundred groups attended each day on Saturday and Sunday, bringing somewhere between 500 and 600 people each day to Willow Farm, which is the name of Lisa's farm.
It was everything I hoped it would be --- and more.
For book groups to be selected this year, they had to read Lisa's April title, AFTER ANNA, with their book group, take a photo of the group and submit it via her website. The event was booked in a few weeks with a waiting list of 100!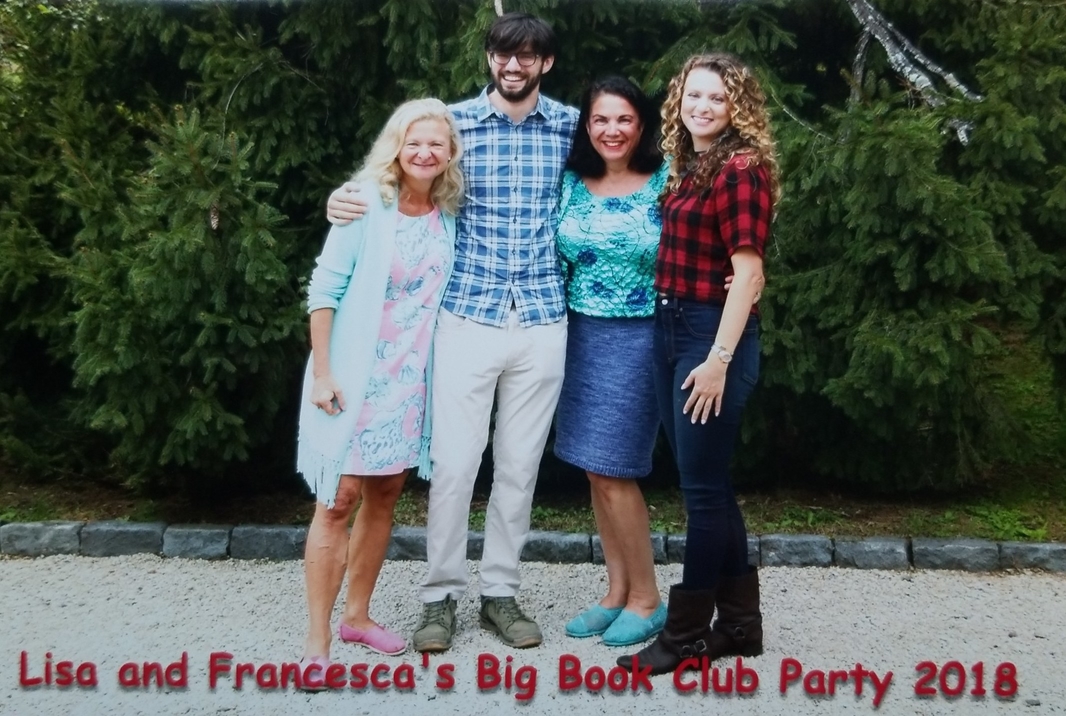 Every detail of the event was completely thought through to make it personal and special; Lisa really celebrates her readers. We arrived and joined others on a line for hugs and a photo op with Lisa and Francesca. Every single attendee was personally greeted and received a photo with them to commemorate the day. You can see ours. Waiting on line, some guests who we spoke with had been there before; for others, this was their first time. Lisa's assistant, Laura, moved through the line and greeted each of us as we waited, and she coordinated group members for the photos. We got our hug and a chance to do a quick catchup with them before our photo was snapped.

From there, everyone was invited to tour the first floor of Lisa's home and enjoy a buffet lunch of wraps, salads, cheeses, crackers, breads, fruit, cookies and pastries, including my favorite: cannolis.
We meandered from room to room --- seven were available --- looking at her extensive book collection, including a room filled with signed copies that were alphabetically shelved. We saw her treadmill desk; at some point, I have to ask her if she runs faster when she is writing an exciting scene and if she stops walking when she has writer's block. Her home, originally built in the 1800s, is beautifully decorated and appointed. There is a walk-in fireplace that is traditional of the period when it was built. The home was filled with so many personal details that made me smile, knowing Lisa's fabulous sense of humor. Sharing her home like that was so special.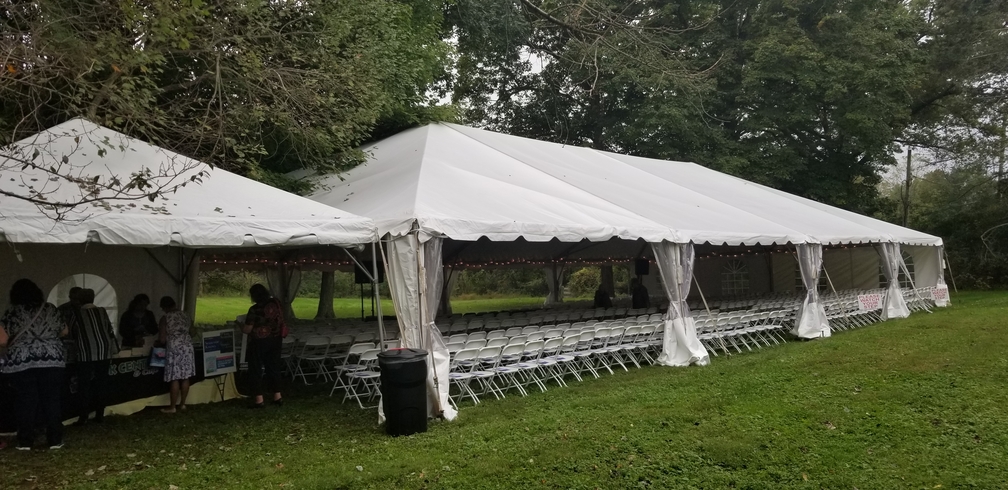 A huge tent was set up behind the house, and we gathered there to get ready for the main event --- Lisa and Francesca's book talk. Greg and I sat in the last row, as I wanted to be able to watch the audience during the presentation. Others had staked out seats in the front of the tent as soon as they arrived. The audience was mostly made up of women; most were from Pennsylvania and New Jersey, while others hailed from Connecticut, Wisconsin and even the UK. On each chair was a printed piece with the prologue and chapter one of Lisa's April 2019 book, SOMEONE KNOWS, as well as a history of the farm. Those who pre-ordered a copy that day from Towne Books also received a paperback copy of Lisa and Francesca's book of humorous essays, I NEED A LIFEGUARD EVERYWHERE BUT THE POOL.
Laura welcomed everyone formally, and then Francesca bounded onto the stage to start the event. She shared some fun stories about Lisa, and it is clear how close the two of them are. Lisa joined her on stage, and she shared her story about getting published. Lisa was a single mom shortly after Francesca was born, and as she wanted to spend more time with her, she decided to leave her job as a lawyer. She loved books and reading, and came to the idea that becoming a writer would give her a chance to do just that. To allow herself time to try her hand at this, she had five credit cards with a $10,000 line on each of them. A big problem. Francesca wanted to eat at McDonald's, but they did not take credit cards at the time. So instead they went to Chili's. When she signed her first deal, she took Francesca to McDonald's and explained how to look at the board to order. Francesca looked and then asked where the appetizers were!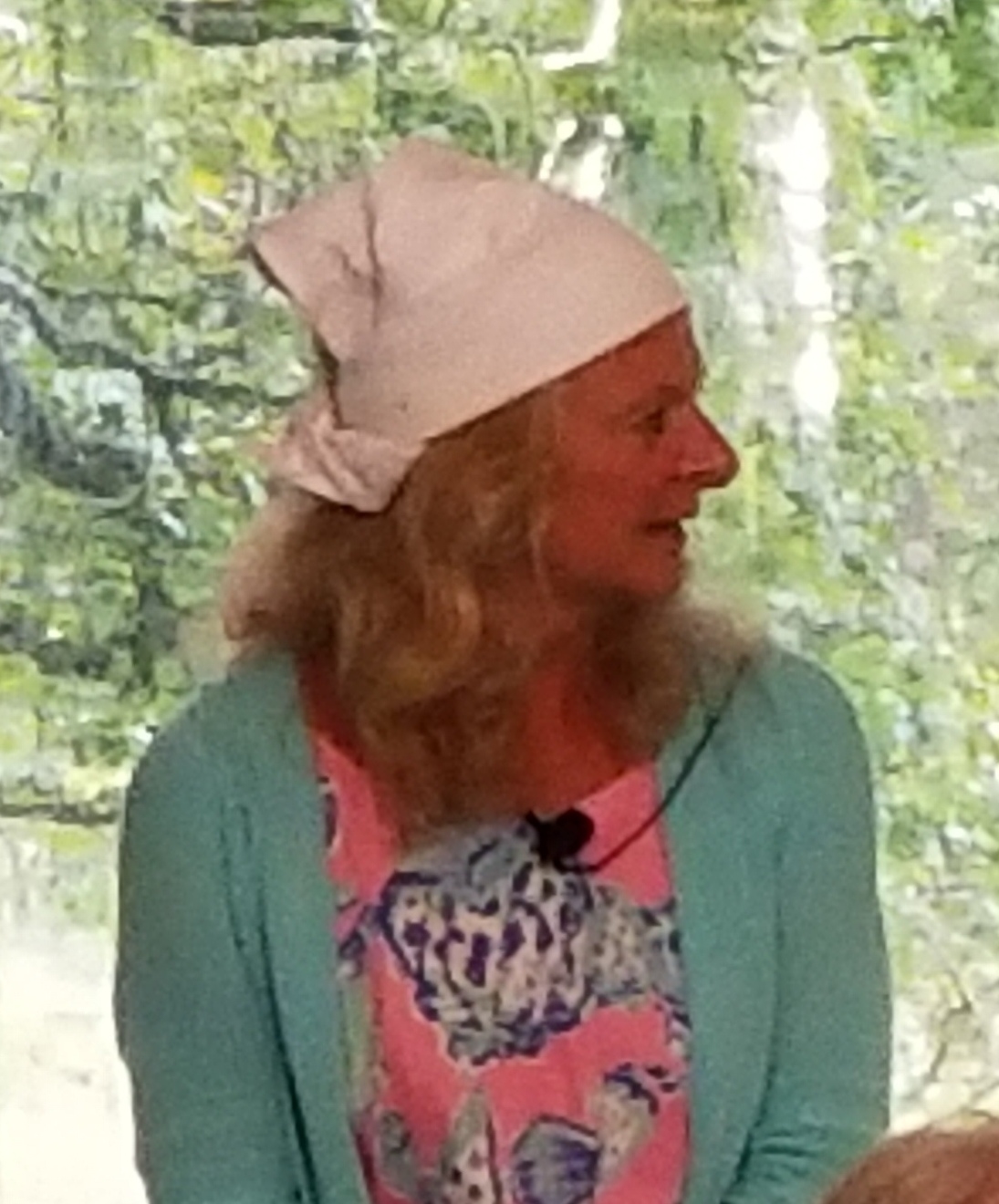 Francesca teased Lisa about her Lilly Pulitzer outfit. The original plan for the day had been farm chic, which Francesca epitomized in a plaid shirt and jeans, but Lisa shunned her chambray shirt and jeans for something cooler, inspiring lots of laughs from the crowd. They told us about a fun romp of a girls' vacation a few years earlier where at one point Lisa was wearing a hotel napkin on her head in lieu of a ball cap. She demonstrated this in case others needed some unique fashion inspiration. Here's a photo in case you want to see what a napkin on your head looks like.
There were so many stories like that, which clearly showed the audience that the stories they read each week in their "Chick Wit" column in the Philadelphia Inquirer clearly are not ghostwritten. They punctuated their stories on Saturday with the same signature humor. Lisa clearly channels Erma Bombeck, who was someone she felt really captured life as we know it. The column started because she missed that voice. These are the same pieces that are gathered together in their nine humorous nonfiction books.
SOMEONE KNOWS will be followed by another stand-alone title. Next, Lisa is working on something very different --- a historical fiction book that takes place in Italy during World War II, set under the fascist reign of Mussolini. It is called ETERNAL. This is a story that she has wanted to write since she was a student of Philip Roth's at the University of Pennsylvania, where she took seminars on the "Literature of Desire" and the "Literature of the Holocaust." She left yesterday for Italy for a 10-day research trip.
Lisa shared news that at next year's event, Francesca's novel, GHOSTS OF HARVARD, will be available for pre-sale. Francesca has been working on it for years and shared the plot. It's about a young woman who is attending Harvard (Francesca's alma mater); her brother had been a student there as well before he died by suicide. The woman is trying to understand her brother, but at the same time she sees herself feeling some of the same pressures and wonders how similar they may be. It's very different from her other writing, as well as what Lisa writes; Francesca clearly has her own voice.
There was a fun Q&A session where Lisa was peppered with questions about her infatuation with Bradley Cooper. Francesca chimed in with a funny story about actually meeting him when he stopped to pet her dog, Pip, a Blenheim Cavalier. Four-legged friends clearly are close to their hearts. One of Lisa's dogs --- I think it was Peaches, a King Charles Spaniel --- was meandering around all day enjoying some stage time.
Throughout the day, there was a feeling of gratitude from Lisa. The Book Club Party is a huge thank you to her readers, who she knows are the key to her success. She was so proud to share that with the publication of AFTER ANNA, she became a #1 bestselling author, which was a huge milestone.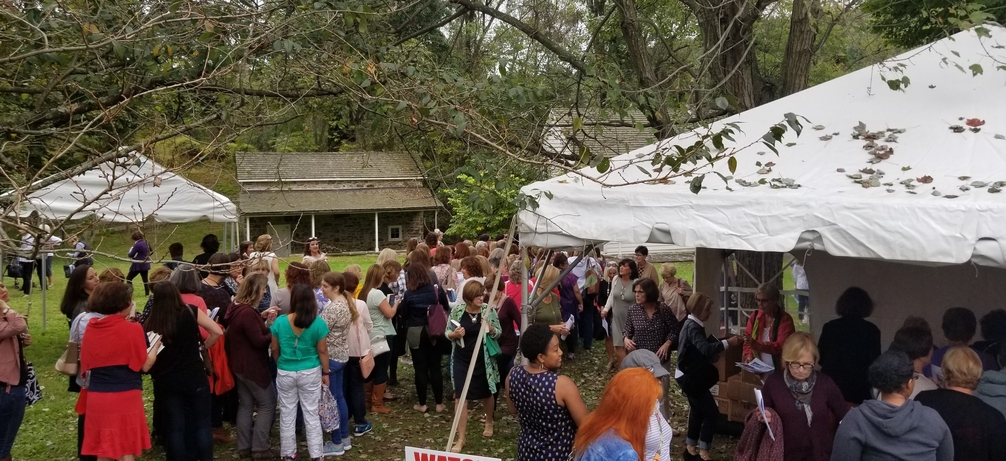 As the formal program, which ran for about an hour and a half, concluded, attendees queued up for a book signing where Lisa and Francesca signed books that were bought that day, as well as any that readers had brought from home --- and to get more hugs, smiles and well wishes. The weather had been gloomy, even misty at times, but the mood all around Willow Farm that day was nothing but bright.
Would you like to attend next year? Keep a watch on Lisa's website for instructions on how to enter for an invitation for your book club, by reading SOMEONE KNOWS with your group when it comes out in April.
One last note: In what looked like it was a guest house on the property, I saw prayer flags flying and peered into a room where there were yoga mats, blankets and blocks all set up. What fun it would be to take a yoga class with Lisa! I am not sure I can picture Lisa relaxing.