The second annual Montclair Literary Festival took place from March 15-18 at Montclair Public Library, First Congregational Church, Montclair State University and Montclair Art Museum. Nancy, one of our readers, was at the Festival for a day and attended four lively panel discussions featuring such authors as Jonathan Santlofer, Christina Baker Kline, Min Jin Lee and Miranda Beverly-Whittemore. In this blog post, Nancy talks extensively about her two favorite sessions.
---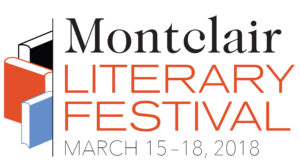 As an avid reader, I'm always interested in hearing authors speak. I'm fortunate that during the year, there are several literary festivals within easy driving distance. One such event was on Saturday, March 17th in Montclair, New Jersey. Montclair is a lovely town and an easy car drive/train or bus ride into Manhattan. Over the years, it has become home to a fair number of celebrities (Stephen Colbert, Bobbie Brown) and well-known authors (Dorothea Benton Frank, Christina Baker Kline), and has a well-developed downtown and arts life.
This was the second year of the Montclair Literary Festival, and, as usual, there were more sessions of interest than time slots! Here are the sessions I attended:
"Why We Write": Nancy Star moderated a panel with Miranda Beverly-Whittemore, Marcy Dermansky, Jillian Medoff and Jonathan Santlofer.
"How to Write One True Sentence": Christina Baker Kline moderated a panel with D. T. Max, Garth Risk Hallberg, Matthew Thomas and Adelle Waldman.
"The Immigrant Experience in Fiction": Kate Tuttle moderated a panel with Min Jin Lee, Dagmara Dominczyk, Nicole Dennis-Benn and Wena Poon.
"Writing the Lives of Rock Icons": Thad Ziolkowski moderated a panel with Joe Hagan, David Yaffe, Warren Zanes and Deborah Davis.
The sessions were all very interesting, and I think my favorites were the first and --- surprisingly to me --- the last. One of my reasons for attending the festival was to hear Jillian Medoff speak (I recently finished THIS COULD HURT, and as an HR person I just loved it), and she and the rest of the panel did not disappoint. They were all very open and upfront about their writing experiences (how they write, writing style, challenges, etc.), and there also was great interaction among the panelists.
Jonathan Santlofer told the very touching story of his wife's sudden death that eventually led to his writing of his upcoming book, THE WIDOWER'S NOTEBOOK. As he was working on the book, he knew he had to organize it and found that he ended up structuring it like a crime novel (which is what he has previously written), so it comes across as a thriller. Another interesting point during the session was that there are many books about grief written by women, but not many written by men.
In addition to Jonathan's discussion about structuring his book, Miranda Beverly-Whittemore talked about how she works since her book, JUNE (and also the book she's currently working on), goes back and forth between time periods (a 60-year gap in JUNE). She described herself as a "total nerd" about structure and that she wrote the book as it's read (versus writing each story separately). She said that her experience has been that if she wrote the stories separately, they were too "choppy."
The authors all spoke about their writing practice when starting and then writing a new novel. Miranda explained that in the beginning, she knows a person or group of people who will be part of the story. She'll write 100 pages as a testing ground to see if the story and characters could develop into a novel. At that point, she'll develop an outline so she generally knows where she's going.
On the other hand, Jonathan explained that when he writes a crime novel, he doesn't work with an outline (contrasting, he said, with the other crime writers he knows who outline their books before they write them). His process involves reviewing his writing at the end of the day, and then writing a brief summary about where he thinks the story should go next (to use as a starting point for the next day).
Marcy Dermansky tried an interesting approach with her most recent novel, THE RED CAR. She said that she was "stuck," so she thought she would try to write a novel in the style of Haruki Murakami. She followed his structure; for example, he always has a character who thinks he is ordinary but is really extraordinary. She did this but made the main character a woman.
All the authors were asked how they got their start with writing. Jillian said that she always loved writing and, while working full time, attended the MFA program at NYU. Her first published novel came from her MFA thesis. Miranda's first novel (which hasn't been published) was her senior thesis at Vassar. On the other hand, Jonathan was trained as an artist and turned to writing his first book after a fire destroyed 10 years of his art work that was being exhibited. Marcy had a job she didn't like, but it involved a lot of writing (which she did like), and she was eventually able to write on a full-time basis.
The last session I attended during the day ("Writing the Lives of Rock Icons") also turned out to be one of my favorites. Some of the interesting questions posed focused on the challenge of writing biographies of people when they have been big fans of their music, how to deal with an unreliable narrator, and determining which information to include in the book (especially challenging, I imagine, with the individuals they wrote about).
Warren Zanes mentioned that in working with Tom Petty, eventually his meetings with him felt more like therapy sessions, and it was up to him (as the writer) to filter out what he didn't think would be appropriate. After the book was published, he never had any contact with Petty again, and Zanes felt this was due to how the content of the book affected his family.
As the session drew to a close, there was a brief but interesting discussion about the subjects as potentially unreliable narrators as they aged, and the possible implication of drug use.
David Yaffe's most recent book is a biography of Joni Mitchell. He said that she prided herself on her memory, and he needed to "separate the wheat from the chaff." While drug use was part of her life, David felt that she was a "lot less of a druggie than her peers," which may be why she thought her memory was better than others.
Warren handled the issue of a possibly unreliable narrator by putting statements that might be questionable in Petty's voice.
Tina Turner, on the other hand, was not a drug user, according to Deborah Davis. She related a story when Turner performed the song "Acid Queen" inTommy but didn't realize, at the time, that it was related to drug use.
There were two sessions I would have liked to attend, but both were in the same time slot as "Why We Write": "Irish Women: Revolution, Romance and 'the Troubles'" with Elizabeth Brewer Redwine, Lucy McDiarmid, Belinda McKeon and Colette Bryce, and "Writing Without Boundaries," which featured writers from The Matheny School (a NJ school/hospital/adult program for individuals with complex medical developmental disabilities, with a focus on cerebral palsy).
I already had read the books by many of the authors I saw during the day, but, of course, I did end up with some additions to my TBR pile. I actually already have a copy of JUNE and will move it up the list. I'll also add THE WIDOWER'S NOTEBOOK and PETTY: The Biography.