On Thursday, November 9th, Random House invited readers to go "off the page" for their annual Open House event. While Open House is usually hosted in their Manhattan offices, this event was held in the beautiful new Tishman Auditorium at the New School, a venue that allowed for far more attendees and offered plenty of space for readers to spread out and enjoy the day.
To kick off the event, authors Elizabeth Berg (THE STORY OF ARTHUR TRULUV), Emily Ruskovich (IDAHO) and Lisa Wingate (BEFORE WE WERE YOURS) hit the stage for a Storytellers' Roundtable, where they discussed the inspiration for their books. Ruskovich explained that her book, IDAHO, focuses on a very bad mother, so to complicate her character, she gave her some qualities of her own mother --- who was very, very good, she quipped. Wingate also drew inspiration from her own life, but she focused on her work with at-risk teenagers. For so many of these troubled youths, she explained, it is easy to see where they are headed unless someone intervenes. She found a lot of material in that potential for change and based her characters on a mix of the teens she encountered, as well as the scandalous history of Georgia Tann and the Tennessee Children's Home Society. Berg's source was a bit different, as she explained that images come to her "like Polaroids" that she then explores.
The women all agreed that great books usually begin as accidents pulled from snippets of what authors see, hear and experience. Their advice for aspiring writers is to follow whatever points you toward your own originality and not rush. Of course, if you need a little literary inspiration, the trio also shared their favorite authors. Ruskovich cited Alice Munro, Marilynne Robinson and Richard Adams as some of her greatest inspirations. Berg also listed Munro as one of her idols and is currently diving into Karl Ove Knausgård's My Struggle novels. Wingate, meanwhile, loves to read her fellow Southern writers like Pat Conroy and Mark Twain.
Following the literary fiction panel, we were joined by Amanda Hesser of the famous online food website and store, Food52. Amanda talked about starting the company in 2009 with her close friend, Merrill Stubbs, which included many anecdotes about the two of them testing upwards of 1,400 recipes in a small kitchen for many years. The website has continued to steadily grow since its inception, and E-commerce was added in 2013 to really round out the home cook and consumer experience. Hesser explained that social media has done nothing but help their company and community and that she loves interacting with readers.
She went on to share that the most popular recipe on the website is the One Pot Kale and Quinoa Pilaf, a dish that sounds simple, but really delivers in the details. As many attendees had Thanksgiving on the brain, Hesser concluded with her best turkey-day advice: Defrost your turkey on time!!
For the last panel before lunch, readers were delighted to see political commentator and activist Van Jones in conversation with conservative commentator S.E. Cupp. Although you might immediately guess that the two are enemies, they explained that they are actually close friends and that they thoroughly enjoy all of their debates --- political and otherwise. This panel absolutely flew by as Van delivered hard-hitting truth after hard-hitting truth and discussed his book, BEYOND THE MESSY TRUTH. Van believes that both parties can and should work together, but that we all need to rethink our goals and priorities for that to happen. His passion was palpable and nearly every statement he made was met with great applause.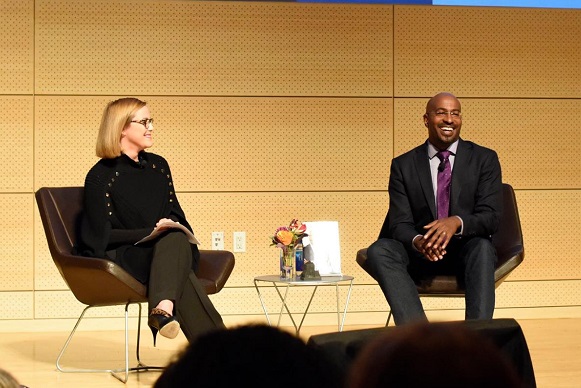 Following lunch, we were treated to another highly passionate author: Kelly Corrigan. I was admittedly not familiar with Kelly before Thursday's event, but I was immediately taken with her quick wit and "tell it like it is" attitude as she discussed her upcoming book, TELL ME MORE. Although Kelly is known for her raw and real storytelling, she explained that she makes every effort to not exploit or affect the people in her life negatively. The conversation quickly turned to the woes of trying to be a "cool mom," and how adding the phrase "tell me more" to her vocabulary has added a whole new dimension to her relationships with her teenage daughters. Insightful, powerful and very smart, Corrigan was a real treat as her sharp wit and compassion had the room exploding in laughter and sighs. Corrigan also shared a laugh-out-loud funny of the first time she heard the phrase "tell me more" and understood its value: after asking a facialist for advice on how to hide her forehead wrinkles with minimal effort. Each time Corrigan brought up a new reason why she could not afford special products, the facialist responded "tell me more." When Corrigan finally asked what she could do, the specialist quickly suggested bangs.
Corrigan was followed by literary icon Salman Rushdie, who was there to discuss his newest book, THE GOLDEN HOUSE. This book follows an eccentric family as they take up residence in a Greenwich Village neighborhood in New York City. Without giving away any spoilers, Rushdie explained that readers will realize early on that this eccentric family is escaping from something in their past, which adds a thriller element to his book. The question then becomes "Can you escape your past?" Rushdie believes that in a novel, you cannot.
Rushdie also discussed the difficulties of writing such a contemporary novel that so deftly covers our current political climate and culture. He explained that it is definitely dangerous to write with the times, but that if you do it right, it can be really educational. Rushdie has had the story of the Golden family stuck in his head for a long time, but to set it during our time meant that he had to be responsive to capture the flavors of the moment --- everything from the election to the cronut.
Following Salman, Dr. Lucy Kalanithi shared the moving story of her husband Paul, who wrote WHEN BREATH BECOMES AIR, his account of being both a doctor and a patient as he learned of his terminal diagnosis with stage IV lung cancer. Although Paul passed away before he could see his book completed, it became an instant bestseller and Lucy has taken his place on book tours, where she signs books with a line of Paul's favorite poem. Lucy discussed what it means to keep Paul's memory alive, how patients and doctors can better work together in such situations and how she's begun to move on from the grief.
Political icon and lawyer Khizr Khan closed out the event by discussing his childhood in Pakistan and his journey to America with his editor, Ben Greenberg. Khizr Khan quickly rose to fame after he spoke at the 2016 Democratic National Convention following the death of his eldest son in the Iraq War. During his segment of the day, he discussed meeting his wife, being the first member of his family to attend college and more, but perhaps most riveting was his description of the moment he discovered the Constitution, a document he has since sworn to uphold. Khan was taken with the document in a way that many natural-born Americans take for granted, and it was truly uplifting to see what an affect it had on him in his youth and today. Needless to say, Khan's talk pushed many of us to tears and he received a rousing applause when he concluded.
To cap off the day, readers who had paid for a cocktail party ticket were invited downstairs, where many of the authors were present to sign their books and chat --- along with wine and hors d'ouvres, of course.. I had already met Lucy Kalanithi at a previous event, but I wanted to follow up with her about a book she recommended, FAR FROM THE TREE. We had a fantastic chat and I got to tell her that there is now a young-adult version of Andrew Solomon's masterpiece. All in all it was a fantastic day of literary programming and, as always, I cannot wait to see what Random House puts together next.