John Shors is the internationally bestselling and award-winning author of BENEATH A MARBLE SKY and UNBOUND, among other works of historical fiction. In an effort to provide readers with an unparalleled travel experience, John launched John Shors Travel in 2014. Through his tour company, he has led small groups of travelers on adventures all over the world to the settings in his novels, including India, China, Japan, Thailand, Vietnam and Cambodia. In this piece, John talks about the origin of these unique literary tours and how wonderful it has been to travel with his readers.
---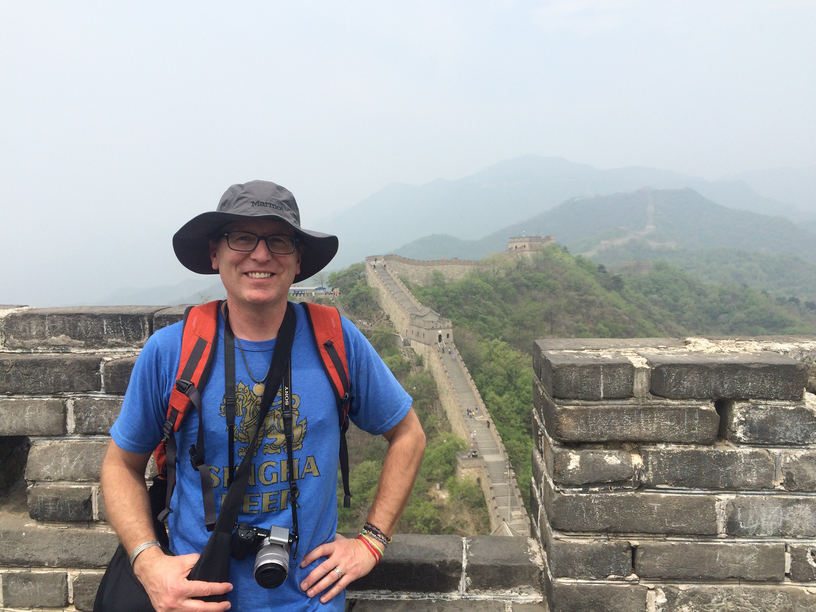 Ever since I was a young man, I wanted to explore the world. Upon graduating from college, I immediately flew to Japan, where for several years I taught English and saved money for future adventures. After leaving Kyoto, I backpacked around Asia, exploring new cities and forgotten temples, and even climbing the Himalayas.
Toward the end of my journey, I was lucky enough to stand in the shadow of the Taj Mahal. I'd never seen anything as magical and majestic. While my guide told me about the love story that inspired the creation of the mausoleum, I wondered if I'd finally found the premise for my first novel.
I spent the next five years reincarnating that famous story on the page, and finally released my debut novel, BENEATH A MARBLE SKY. The book went on to become an international bestseller and is now in 25 languages. Equally exciting, Warner Brothers is making a miniseries out of it.
After BENEATH A MARBLE SKY was released, I received hundreds of emails from readers who told me that the novel made them want to travel to India, but that they didn't feel confident heading there by themselves. I absorbed these thoughts, but life was busy, and I moved forward. Years passed, I wrote more novels set in Asia, and yet these same sorts of emails continued to arrive in my inbox. Readers were interested in visiting the places that I'd written about --- India, China, Japan, Thailand, Vietnam and Cambodia --- but had no idea how to undertake such a trip.
While I love to write, creating a book is a difficult process and involves countless hours in front of a laptop. As someone passionate about exploring, I missed the sights and sounds of Asia. Although I was able to travel back to the region for research purposes once or twice a year, I still longed to spend more time in the countries that I knew so well.
I began to muse over the idea of starting my own travel company, which would allow me to take small groups of readers to the settings of my novels. To my surprise, I couldn't find a single novelist with such a program. Undaunted, I launched John Shors Travel in 2014, and have since led many groups of travelers and extraordinary, high-end adventures to Asia and beyond. On most of the trips, we've followed in the footsteps of my characters, visiting the backdrops of my novels, which are all works of historical fiction. We've explored the Taj Mahal. We've walked atop the Great Wall of China. We've been blessed by monks deep within Angkor Wat.
Traveling with my readers has been a wonderful experience for me. I've been able to introduce my favorite places in the world to eager, but oftentimes inexperienced, travelers. Because I know the region so well, we always stay at the most interesting hotels, eat at lovely restaurants, and have amazing local guides. We also enjoy excursions that larger tour companies don't offer. For instance, we've ridden elephants through the rainforests of Thailand, river rafted in Japan, visited a children's charity in Vietnam, and taken cooking classes in India. It's important to me that not only do my guests see the best sights of each country, but that they enjoy a rich, cultural experience.
Group travel doesn't have to be about large buses, pre-set menus and inflexible itineraries. That's why I limit the size of my groups, offer people a variety of activities, and am aware that each traveler is unique. Everyone is going to interpret a street corner in India in a different way, and one of the things I like about leading trips is that I get to embrace and encourage those differing perspectives.
There are many authors who are experts about various parts of the world, and I hope that the success of my program inspires other writers to create similar travel companies. I feel fortunate to have shared my expertise about Asia with hundreds of travelers who now, because of our shared adventures, understand my passion for the region. Many of us have become good friends and have traveled together several times.
Fortunately, I also still write. In fact, just last month I released my new novel, UNBOUND, which is set on the Great Wall of China. But in addition to recreating worlds on the page, I get to lead three or four trips a year to the places that have inspired me for so many years.
For me, writing and traveling have always gone hand-in-hand. I'm just thankful that all those readers opened my eyes to the possibility of traveling together and then joined me for unforgettable experiences.
For information on John Shors' travel company, please visit johnshorstravel.com. And to learn more about his books, please visit johnshors.com.

---
Photo #1: John at the Great Wall of China
Photo #2: John making friends in India