Every December, readers, writers and booklovers gather at Random House's Open House event, a day when readers are invited to meet their favorite authors and Random House's staffers to learn more about new and upcoming titles. (There are additional events like this hosted throughout the year.) The event is typically hosted at the Random House offices, but last week for their 10th Open House event, they celebrated by taking things out of house, to the nearby Kaye Theater at Hunter College. Aside from adding the excitement of a new venue to the mix, this new location accommodated three times the number of guests, which is a very important detail for an event that typically sells out in less than ten minutes. I was on the scene with Bookreporter's Carol Fitzgerald and her friend Beverley, 20Somethingread's Nicole Sherman, and three of our reviewers, Vivian and Elena Payton and Matthew Burbridge.
Though the outside temperatures were frigid (with wind chills, the temperatures were hovering in the teens), readers arrived in droves for what promised to be a fabulous day, starting with coffee and pastries, shopping in the pop-up Random House bookstore and mingling with Random House's staff. Although the change of location made things a bit confusing initially, the staff wore bright red scarves and were endlessly helpful when it came to directing traffic and helping attendees find their assigned seats --- the latter being something new for this event.
For the first panel of the day, readers were treated to a conversation between Trevor Noah, who you may know as the hilarious and devilishly handsome host of Comedy Central's "The Daily Show" and his editor, Chris Jackson. They discussed Noah's book, BORN A CRIME, which walks readers through his journey from his criminal birth to biracial parents in apartheid South Africa to the liberation of South Africa. Although Noah can certainly dominate a stage, he remarked that his mother is the true hero of his story, as it was her bravery and courage that allowed him to stay alive in a divided country while dreaming of something bigger. Describing his mother's parenting style, Noah said, "Some would say I was a demon of a child, but I think I gave my mom the best opportunity to display her expert parenting skills." Because of his mixed parentage, Noah's black grandparents didn't know how to punish him and his grandfather often called him "master," even having him ride in the back seat as he drove, but Noah's mother was firm and consistent with her love and discipline, often saying "I will kill you before the world does." After giving the audience a lesson about apartheid and the divisions it creates, Noah shared humorous stories about his mother's dry sense of humor, and how she continues to parent him even today, as well as wonderful tales from his wise grandmother.
Following Trevor Noah's panel, authors Lindsey Lee Johnson (THE MOST DANGEROUS PLACE ON EARTH), Sana Krasikov (THE PATRIOTS), Laura McHugh (ARROWOOD) and Allison Pataki (SISI) took to the stage to discuss their latest works. Although McHugh and Pataki have already been published this year, Johnson and Krasikov will both be published early next year, which gave the panel an interesting, balanced feel. After briefly summarizing their books, the authors launched into discussing their paths to publication, including battling writer's block, working with editors and hearing thoughts from readers. Lindsay Lee Johnson humorously explained that the biggest change since her book was bought by Random House was that people are finally listening to her when she calls herself an author instead of looking at her like she's out of her mind. She explained, "When you begin writing a book, you think the writing is the party. Then when you meet your editor, you think editing is the party. Then you realize there is no party." The other authors echoed her sentiments and described their own writing styles, including where and when they write and which actresses they envision as their main characters.
Up next, beloved and bestselling author Jodi Piccoult arrived with the esteemed Alice Hoffman to discuss her latest book (and instant bestseller) SMALL GREAT THINGS. Jodi is a favorite for many of Random House's readers, so we have already covered her book tour here, when she participated in their Big Ideas Night series.
After a full morning of program
ming, it was time for lunch! As always, attendees were given boxed lunches and we all convened in the cafeteria for conversation. This is always one of my favorite parts of the day, as it's so exciting to hear which authors other attendees are most excited about. Nicole, Matthew and I ended up sitting with a group of women who were all very excited to see Diana Gabaldon, author of the bestselling Outlander series. Of course, we had to talk about the television show, which made for a fabulous icebreaker.
Following lunch, we raced back to the theater to see presidential historian and Pulitzer Prize-winner Jon Meacham discuss politics and his latest book, DESTINY AND POWER, with TV journalist Willie Geist. In today's charged political landscrape, this program provided some of the most rivetingly and timely conversation of the day. As Meacham has profiled numerous presidents, from Jackson to the first Bush, he started by explaining how he chooses his topics. He explained that every president has at least one cool story, but his subjects must also resonate with our time in order to be considered worthy. From there, he will embark on up to nine years of researching and interviewing in order to make his books factually accurate. This panel was brisk and informative about presidential power through the years up to the President-Elect, made all the more fun because Meacham and Geist spent a lot of time poking fun at each other. I learned a great deal and it was easily my favorite panel of the day.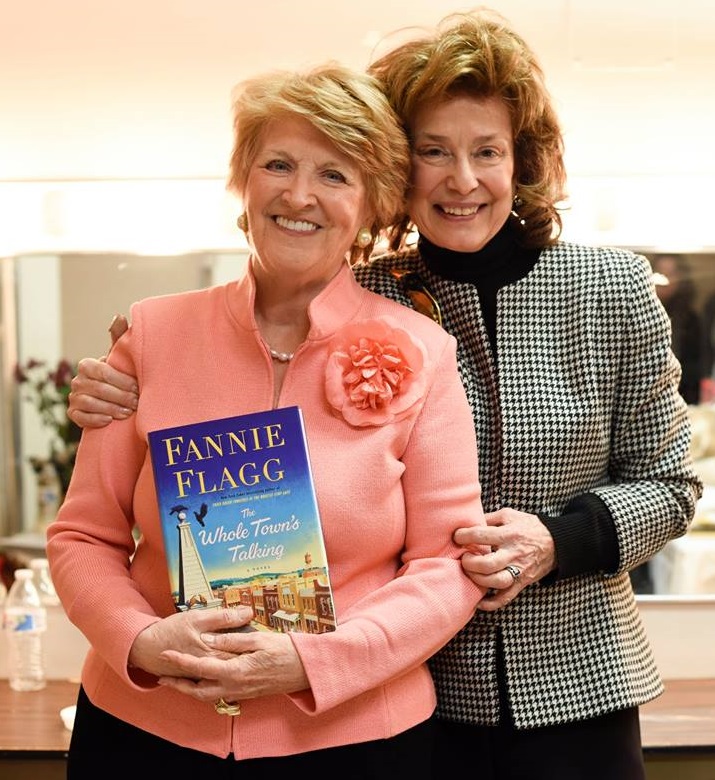 Up next, Fannie Flagg took to the stage with her editor, Kate Medina. The pair have worked together for years, so their conversation was easy and free-flowing, which made for a lovely break after the subject matter of the previous panel. Fannie explained that she writes for a world that needs laughter and shared some of her funniest stories, including her first invitation to the Academy Awards --- and the girdle she eventually discarded in the bathroom. A natural born storyteller, Flagg was confident and friendly on stage, and it was easy to see why her latest book, THE WHOLE TOWN'S TALKING, was an instant bestseller. Flagg also shared with us some photos and stories about the little town she calls home in California.
For the sixth panel of
the day, Random House switched things up a bit by inviting legendary short story writer George Saunders to discuss his very first novel, LINCOLN IN THE BARDO, which will release early next year. Joined by his editor, Andy Ward, Saunders discussed his preference for short stories and what drew him to write a novel based on Lincoln's grief following the death of his son. Saunders explained that he heard that Lincoln visited his son's body several times to hold it, and he became fixated on the intensity of the moment. Although he prefers shorter formats, he found that once he began writing, there was no way to cut Lincoln's story down. Because his novel is based on real events, he explained that his method for researching was to read everything he could about Lincoln, including his own writing, and then forget it all the moment he sat down to write. Otherwise, his writing would have been stilted and drenched in historical details that would have distracted from the plot. The release of Saunders' first novel is a huge moment for the literary world and it was only fitting that he joined us at Random House's tenth Open House.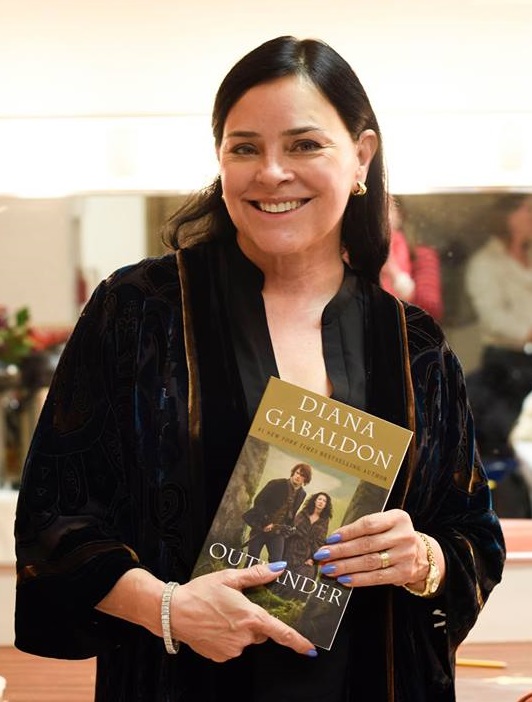 Finally it was time for Diana Gabaldon to join us to discuss her bestselling phenomenon, the Outlander series, which spans eight books, a television show and an international (and ever-growing) fanbase. It seemed that most of the audience was familiar with her books, so Diana mostly talked about the television show and what it's like to work with the actors, screenwriters and producers to keep the series on track with the books. When asked about the effects the actors have had on her writing, Diana explained that she had to base a character off of Sam Heughan, the actor who plays Jamie, after he spoke to her about his proclivity for using curse words. He is now immortalized in a foul-mouthed blacksmith who spews vitriol at his tools. She also treated us to a 90-second demonstration of how shee writes and places herself within her characters' worlds.
There is no way I could sum up what followed, but let me say that I have a newfound respect for Gabaldon and her ability to set scenes. To close the day, Gabaldon gave us some teasers about what to expect in her ninth Outlander book, as well as the third season of the television show. Needless to say, it was a terrific end to a great day!
As always, attendees were invited to join the staff for a cocktail party following the last panel. With both red and white wines and hors d'ouvres and sweet treats, this was definitely the place to be. Thanks so much to Random House for keeping the fun going for 10 marvelous events --- we can't wait for number 11!