This year's National Book Festival was held this past Saturday, September 24th, at the Washington Convention Center in Washington, DC. Denise Neary, our longtime and intrepid reporter, attended with her husband Chris Kelly, and was more than willing to share her experience with us. Here, she discusses Festival highlights, including panels with Katherine Paterson, Geraldine Brooks, and --- by a serendipitous stroke of luck --- Stephen King.
The Book Report Network: Tell us about your experience at the National Book Festival.
Why does "Entertainment Tonight" NOT cover the National Book Festival? I have been lucky enough to write about the festival for Bookreporter before --- you can see that here. Since my 2009 post, the festival has moved indoors to the Washington Convention Center; the organizers are much more delighted about the change than I am. They are no longer beholden to weather! Although I miss wandering the National Mall, popping from one panel to another, it still remains a favorite event!
My 2016 book festival started on Friday night. I work just down the street from the Library of Congress, so tried being paparazzi for the Book Festival gala, all the while sitting outside the Library livestreaming the event. At the Library, I ran into the world's nicest two guys, in from Colorado to work the event. They mentioned they came because they were such Stephen King fans --- I asked them if they had tickets, because the King event was advertised as the only "ticket only" event of the festival. Turns out that yes, they had tickets…but they didn't need them, since they were volunteering. And they asked if I could use them? YES!!! Through absolute serendipity, we were set for the best start to the festival.
On Saturday morning, it was so fun driving into the District. The place was electric, with the Festival and the opening of the African American History Museum. One of the first people I saw when I arrived: one of the good guys who gave us the King tickets. He promised he would hold seats for us in the room! One of the next: Library of Congress National Ambassador for Young People's Literature, Gene Luen Yang. It always makes me laugh that authors always seem surprised to be recognized; he was borderline flabbergasted.
My husband and I made our way to our VIP seats to listen to Stephen King. I wish Mr. King had been in "my" section, to hear the things said about him. The two gentlemen next to me, who live in New York, had never been to a book festival before --- they came just to hear him. The teacher in front of me said her whole class cheered when she successfully booked online tickets.
It was a treat hearing the Librarian of Congress, Carla Hayden, introduce Stephen King. Hayden tweeted the day for the Library…her tweets include a picture of herself with Clifford!
King was smart and hilarious. He said writers are supposed to be secret agents --- observers, not people to be observed. And then he told a series of stories about being identified…and misidentified. He has been recognized as Francis Ford Coppola and Stephen Spielberg. He told us he met someone once who said she didn't like his scary stories, only uplifting things like THE SHAWSHANK REDEMPTION; he couldn't convince her he wrote it. He also gave an impassioned plea for literacy. Support libraries, support independent book stores, read to children, read on the toilet!!
TBRN: Who did you attend the Fair with?
Denise Neary: I attended with my husband Chris --- but we were apart more than we were together.
TBRN: Was there one particular author, or maybe two or three that you most looked forward to seeing? If so, what was that experience like?
DN: I wanted to see John Lewis, but was closed out. (VERY happy that a civil rights icon was totally oversubscribed.)
Chris wanted to see Jon Meacham. He went into the room with high expectations; those expectations were exceeded. Meacham was lively, entertaining and informative talking about the first President Bush.
TBRN: What panels did you attend?
DN: I saw: Stephen King, Ken Burns, Katherine Paterson, Geraldine Brooks, Jon Meacham, Margo Jefferson and Jason Reynolds. Chris saw: Stephen King, Katherine Paterson, Jon Meacham and Douglas Brinkley.
TBRN: Which was your favorite?
DN: For both of us, King was the standout. He is such a natural presenter (and obviously, a great storyteller).
TBRN: Were there any authors who surprised you or shared something unexpected?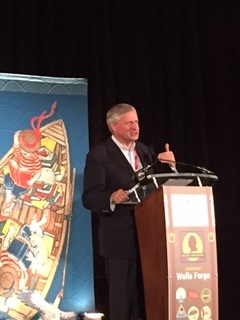 DN: Katherine Paterson spoke about a Valentine's Day as a young schoolgirl. Valentines were handed out in class, and she received none. Her mom was furious that day, and asked her years later why she didn't write a book about the day she didn't get a Valentine. Because, she explained to her mother, ALL of her books were about the day she didn't get a Valentine. A good friend once told other friends that Paterson was the National Embarrassment of Young People's Literature (she was in fact the Ambassador).
Geraldine Brooks said she was so astonished to get the Pulitzer for MARCH that she had to laugh when her son told people she receive the Pulitzer Surprise.
The charming Jason Reynolds said he read others primarily to steal from them!
TBRN: Were there other panels that you wish you could have attended?
DN: SO MANY! The building was packed full of people I adore, but time was limited. Doreen Cronin's books make me laugh until I cry, although I am not quite her target audience. It killed me that I missed John Lewis! Kareem Abdul-Jabbar, Ali Benjamin, Lauren Groff, Monica Hesse, Jo Knowles, Lois Lowry, Mary Roach, Annette Reed, Richard Russo, Shonda Rhimes, Jeffrey Toobin, Calvin Trillin, Jaqueline Woodson, Gene Yang --- all authors I would have loved to have seen!
TBRN: Which books did you most look forward to reading after the Festival?
DN: Both my husband and I resolved to reread some Stephen King, especially his short stories. And we both walked away with a list of things we want to read! I have never read Marilynne Robinson, and it seems like everyone I adore loves her. (Geraldine Brooks said Robinson is among her favorite authors.)
TBRN: Did you discover books that you would like to share with your book group for possible discussion?
Katharine Paterson's presentation made me want to reread and discuss everything she wrote, especially BRIDGE TO TERABITHIA. That was a favorite book of my children --- I'd love to explore it again.
Margo Jefferson's presentation on NEGROLAND really has me thinking. She talked in a compelling way about the pressure on black parents to maintain their children's innocence while providing enough savvy to negotiate the world. She also spoke about what a gift it is not to have to think about race (book club discussion gold!).
TBRN: Any additional thoughts?
DN: I loved the festival, and am so glad I had the chance to attend. It is held every year, and is offered at no cost to those attending. It is a book lover's dream! "Entertainment Tonight," I work cheap!