Last Friday, The Book Report Network's Carol Fitzgerald, Nicole Sherman and I took some time out of our busy schedules to treat ourselves to a day at Random House for their Spring Open House event. My dear friends --- and avid Bookreporter.com readers --- Vivian Payton, Elena Payton and Mary Wegner were also in attendance, as was Carol's friend, Beverley Wilson. This was my fifth time attending the event, and, as always, it did not disappoint. Each featured guest spoke to a packed house about their latest book, giving readers a special behind-the-scenes glimpse at their inspirations, writing processes and goals for the future.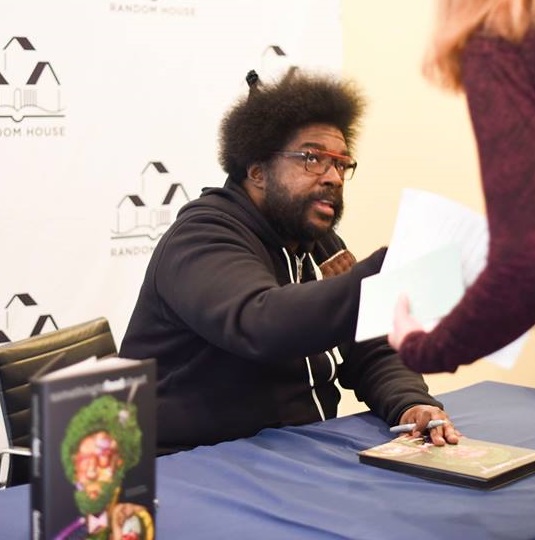 To start the day, our group enjoyed coffee and pastries provided by Random House and mingled with fellow booklovers as we all discussed which of the upcoming panels we were most excited about. Before long, Questlove took the stage to discuss SOMETHING TO FOOD ABOUT, a collection of conversations with 10 innovative chefs about their creative processes. In his panel, Questlove explained his love of food and how he views cooking as a true art and not just a simple combining of ingredients. In this regard, he spoke highly of Jiro, the famed sushi chef of Sukiyabashi Jiro in Tokyo. For him, he said, going to a well-prepared dinner at Jiro's is "like going to confessional." As an artist himself, Questlove discussed his own process, comparing preparing his DJ sets with setting up ingredients for a meal. Not surprisingly, one of the audience's first questions for Questlove was about his favorite NYC eatery, to which he quickly responded with En Japanese Brasserie in Tribeca. I had the pleasure of meeting Questlove after his panel and found him unbelievably humble and gracious. He took the time to shake the hand of each person in his line, introducing himself as Ahmir, his given name. He even included a little doodle with every signature, which made it much more personal and fun.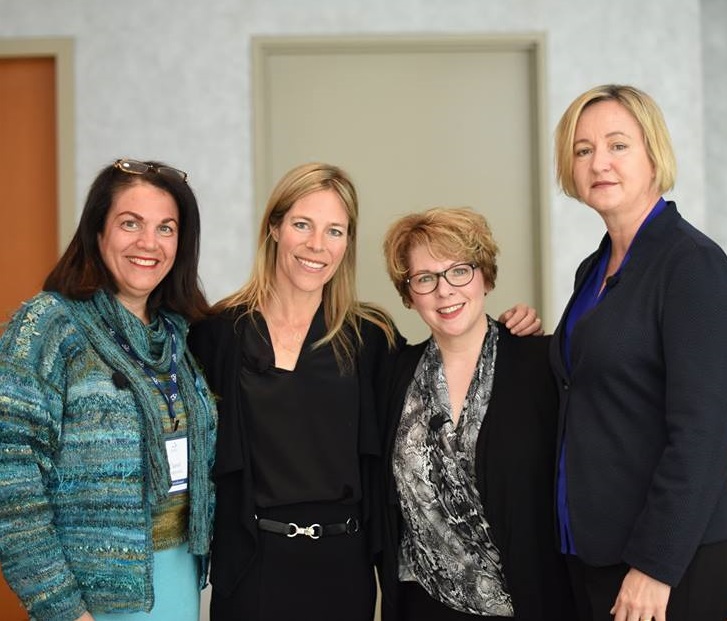 The second panel of the day was called "Well-Behaved Women Seldom Make History," and featured authors Melanie Benjamin (THE SWANS OF FIFTH AVENUE), Dawn Tripp (GEORGIA: A Novel of Georgia O'Keeffe) and Helen Simonson (THE SUMMER BEFORE THE WAR) in conversation with our own Carol Fitzgerald. Each of their books features an unconventional female character who pushed the boundaries of her life, a concept that makes for a terrific novel. Carol started her panel by asking each woman about the ways in which her character tested her limits. For Dawn Tripp, author of GEORGIA, inspiration came easily, as Georgia not only created radical, controversial art, but enjoyed scandalous personal relationships as well. Melanie Benjamin found herself fascinated by the so-called Swans of 1950s NYC and knew she had to write about the ways they found freedom even as trophy wives and socialites. Although Helen Simonson's novel is more fictionalized, her character, too, tested boundaries in a setting very familiar to her --- her own hometown. Simonson believes this added comfort allowed her to really enjoy her characters and move them around more freely. All three authors agreed that while their characters certainly wanted more from life than they were promised, they also desperately wanted to be seen for the full complexities of who they were. Although they certainly are all flawed, it is their flaws that give us the greatest insight into who they truly are. It was really wonderful to see such a brilliant group of women discuss female characters and role restrictions so openly. This panel was the highlight of my morning!
The next panel, "Apocalypse Wow," really switched things up by bringing epic fantasy authors Justin Cronin (The Passage trilogy) and Pierce Brown (The Red Rising series) to the stage. Both men are New York Times bestselling authors who take their readers to outlandish worlds full of thrills and suspense. Entertainment Weekly editor Tina Jordan moderated as the men discussed world-building, heroes, villains and, of course, the joys and pressures of writing a series. Cronin kicked off the panel by discussing how his daughter inspired him to write THE PASSAGE after telling him he absolutely must write a book in which the hero was a girl. For three months the two brainstormed, and, before long, Cronin realized he had something worth expanding upon. Although Brown doesn't have a daughter to bounce ideas off of --- don't worry, he promises he's working on it --- his creative process was similar, as he set a goal for his narrative and worked towards it when he had time. The authors also agreed on the very important point of making your work as realistic as possible despite the fantastic elements. They explained that no one would read their books if their characters were magically able to survive fatal situations, so they often have to make difficult decisions about killing their favorite characters. Cronin humorously admitted that he has cried at his own writing, "the height of [his] own vanity."
Following the "Apocalypse Wow" panel, we were all invited upstairs for lunch. During the lunch hour, there were two optional workshops --- one based on coloring books and the other on social media --- but I had to stop by the office, so I only had time for a quick bite and chat with my friends. We all agreed that the day was going very well, and we could not wait to get back to the programming, especially as the next panel focused on something very different: cover design.
For the humorously titled "Judging a Book by Its Cover" panel, art directors Greg Mollica and Joe Perez took to the stage to discuss their design processes and how their work comes to readers. As they walked us through their designs, among them those for BETWEEN THE WORLD AND ME by Ta-Nehisi Coates and GEORGIA by previous panelist Dawn Tripp, it was fascinating to watch their designs come to life. Every detail, from images to fonts, is carefully considered and drafted several times over before a book hits shelves. I particularly enjoyed watching the cover for BETWEEN THE WORLD AND ME as it evolved, as I believed I was looking at the finished copy at nearly every step. For directors Mollica and Perez, however, a cover is only complete when it matches their visions perfectly. I really learned a great deal from this panel and was excited to see something so different.
Next was an author who truly knows how to captivate her audience: the bestselling and beloved Debbie Macomber. As soon as Debbie took her seat, it was clear that we were in for a treat. Although she was promoting her new novel, A GIRL'S GUIDE TO MOVING ON, Macomber began her panel by discussing her early career beginnings and the rejections that very nearly stopped her from pursuing her dreams. Her unending faith and love of books, however, propelled her through extremely tough situations and made her the writer she is today. Even when her early manuscripts were rejected, she knew that she could improve upon them if given the chance. As she discussed her setbacks, she maintained a lighthearted, positive tone that made all of us feel like dear friends and not strangers. A true lover of books, Macomber admitted that she never goes to bed without a book and that she reads from a variety of genres and authors. During her signing period, she was kind enough to inscribe a copy to my grandmother for Mother's Day, a gift I know she will treasure.
We took a short snack break afterwards, during which I heard numerous attendees rave about Debbie Macomber's panel --- she clearly struck a chord with many readers that day. Before long, we were ushered back into the main room to hear Random House VP Editor in Chief Andy Ward, Sally Marvin, SVP Director of Publicity, and Leigh Marchant, VP Director of Marketing, discuss WHEN BREATH BECOMES AIR, an instant bestseller released posthumously after the author, Paul Kalanithi, passed away from cancer. Although the panelists had to discuss their book without its star, it was obvious that the book affected each of them in huge, powerful ways. I won't go into too much detail here, as I'll be blogging more about this book next week after Paul's wife, Lucy, visits Random House for their "Big Ideas Night" series. Click here to learn more.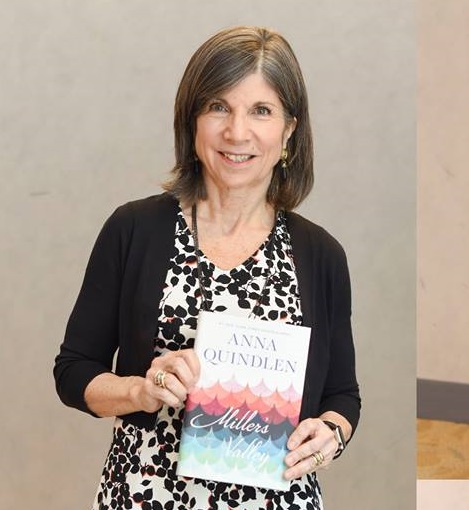 As the time neared for the last panel of the day, readers were nearly silent in anticipation waiting for Anna Quindlen --- author, journalist and Pulitzer Prize-winning columnist --- to begin her discussion with bestselling author Lee Woodruff. As Quindlen's latest novel, MILLER'S VALLEY, focuses on a small valley town full of family secrets, gossip, flawed marriages, and varying degrees of loyalty and love, Anna first discussed her idea of home. She explained, "I'm a real homebody, a nest builder, and the idea of anybody being able to take my home is just terrible to me." Given her outstanding career, the discussion quickly turned to her writing process and how she gives herself space when she writes. Quindlen relayed the challenges of balancing work, writing and being a mother, but noted that she spends about an hour a day walking or running and that is her time to focus on her novels. Her ability to maintain such different responsibilities was truly remarkable and made her bestselling novels that much more impressive. It was the perfect end to a lovely day of programming.
To round out the day, attendees were invited to Random House's 14th floor for a cocktail party and snacks. This is always one of my favorite parts of these events as it gives me the opportunity to meet fellow readers and discuss the day with them and the Random House team. I am always delighted when a staff member asks me about my favorite part of the day and recommends books related to the titles I most enjoyed learning about. The Random House team clearly loves what they do, and it is always their enthusiasm that makes the day shine. As always, I cannot wait for the next Open House!
Photos provided by Random House, courtesy of photographer Danielle Siess.