On Friday, December 11th, readers and book lovers gathered at Random House for their semi-annual Open House, a wonderful, interactive program that has been held each spring and fall since 2012. This time around, readers were treated to panels featuring some big names in film and publishing, along with a fabulous cocktail party catered by celebrity hostess Mary Giuliani. I attended this season's Open House with Carol Fitzgerald; Beverley Wilson, Carol's friend and a frequent attendee of bookish events; and my friend, Jamie Carroll Frisk, an avid reader of Bookreporter.com.
As always, we started the day with a delicious breakfast of pastries, yogurt parfaits and my favorite addition to any meal: coffee. I also took some time before the first panel to catch up with some of my favorite Random House contacts and purchase some books ---- at terrific discounts, I might add. Before I knew it, it was time for the first panel, "The Thrill of the Chase," featuring masters of suspense Kathy Reichs and Lee Child.
I found Reichs and Child perfectly matched as each of their creations have proven themselves as enduring characters and both authors have successfully translated their characters to film: Reichs with the hit series "Bones" and Child with two movies starring Tom Cruise. Since both Reichs and Child have been around for some time, the interviewer from Entertainment Weekly focused not on their careers, but on their backgrounds and inspirations. Reichs, like her character, started her career as a forensic anthropologist working for both the police and the military. It was a particularly gruesome case that planted the seed for her first novel, DEJA DEAD. Child, on the other hand, began his career as a television director in Manchester. Although he adored his job, he was fired at 39 and was forced to find something else. In search of a job that would allow him to work for himself and semi-retire, he landed on writing. In a humorous twist, Reichs and Child had practically nothing in common aside from writing. While Reichs is an avid researcher and outliner, Child prefers to move where the spirit takes him --- though they agreed that there is no such thing as writer's block. To close the panel, Child made the exciting announcement that he and Reichs will soon bring Temperance Brennan and Jack Reacher together in a short story. Following the panel, I had the pleasure of meeting both Reichs and Child and found them both delightful. While Reichs was gracious and warm, Child kept his fans laughing while asking them questions about their own lives. They were truly a terrific pair!
Up next was the inimitable Gloria Steinem, who was greeted with a standing ovation, which clearly moved her. Interviewed by her editor, Kate Medina, Steinem discussed her latest book, MY LIFE ON THE ROAD, giving greater insight into difficult topics such as her relationship with her father, abortion and the current political climate. With regards to her role on the frontlines of the Women's Rights Movement, Steinem graciously explained that she feels nothing but gratitude for the people who tried to hold her back, as they only encouraged her to work harder, even if it meant stepping far outside of her comfort zone. Resistance, she explained, forced her to turn to public speaking, a mode she believes is the strongest, as books and the internet can teach people, but only person-to-person contact can inspire empathy. Speaking on the current climate, Steinem advised attendees not to worry about everything they should do to make the world better, but focus on what they can do. I really cannot say enough about Steinem as she was a totally dynamic and informed speaker. More importantly, she treated every woman who asked a question as an equal, proving that she is every bit the legend I believed her to be. Beverley and Carol marveled at how terrific she looks for 81. They both remember when Ms magazine launched!
The next panel was my favorite of the day, as it featured caterer to the stars Mary Giuliani, author of THE COCKTAIL PARTY, a fun book for hostesses of all types of events looking to eat, drink, party and rest. If you're an avid Bookreporter.com reader, you may remember Giuliani from Random House's Off the Page event in July, where she charmed the audience despite the sweltering heat. I was totally taken with Mary and am delighted to report that she did not disappoint the second time around. Speaking about her new book, Giuliani explained that she loves to entertain, but also has a life and cannot always spend a week preparing for a single night. To cut down on her preparation time, Giuliani focuses on comfort foods and interactive "snacktivites" that allow her guests to do most of the work while having a blast. When asked about good cocktails for the holidays, she revealed her secret recipe for "Drinking Stars Till I See Stars," a combination of champagne or prosecco with edible sugar stars. Though simple, this drink looks gorgeous and can easily be made for large groups of people. She also advised against children's tables, as they separate children from the joys of listening, learning and watching rituals as they are passed down. Carol loved that she talked about pigs in a blanket as a perfect cocktail party food --- always a crowd favorite. Her final bit of advice? DON'T skimp on the alcohol. If your food is bad, you can always just get your guests drunk!
With all of Giuliani's talk about food, lunch couldn't have come at a better time! Though I don't have much to report here, I have to discuss an important change in this year's lunch. In past events, two panels were held during the meal, with attendees given the choice of attending one or the other. As this created quite the rush, feedback was not very good, prompting Random House to cancel lunchtime panels at this Open House. It is so refreshing to see a company truly take its feedback to heart! The change allowed me to really enjoy my lunch and take time to talk to fellow guests about the panels thus far, which really made the day special.
After lunch, we returned to our seats for a panel featuring psychic medium Laura Lynn Jackson. To start, Jackson explained the finer details of her gift, using a heartfelt story about her deceased grandfather as a starting point. She explained that her gift initially made her feel naughty and confused, but after a difficult talk with her mother, she was able to see the light in her gift. From this point on, she began to use her talents for communicating with the deceased to help others find closure and peace. Interestingly, Jackson noted that she loves skeptics, as she was raised to be a critical thinker herself. In fact, her career as a psychic medium began with numerous tests that tracked her brain waves as she read, proving that there is a scientific element to her talents. Jackson was very sweet and encouraged the audience to second guess everything, but accept comforts when they appear, even if they seem far-fetched.
Following Jackson's panel, Elizabeth Strout, author of OLIVE KITTERIDGE and the forthcoming MY NAME IS LUCY BARTON --- which we received an advance copy of in our complimentary tote bags --- took the stage. Strout, who was interviewed by her editor, Susan Kamil, spoke mainly about the miniseries based on OLIVE KITTERIDGE, humorously noting that none of it felt real until she sat down to preview the first episode. Thankfully, all of the media attention has not affected her writing as the folks at Random House are calling MY NAME IS LUCY BARTON Strout's best work yet. In this book, Strout explores mother-daughter relationships through the titular Lucy and her mother. Lucy is recovering slowly from what should have been a simple operation when her estranged mother visits, forcing them to confront the source of their tension and longing. An exploration of class, writing and family, this novel is sure to be a hit when it releases in January.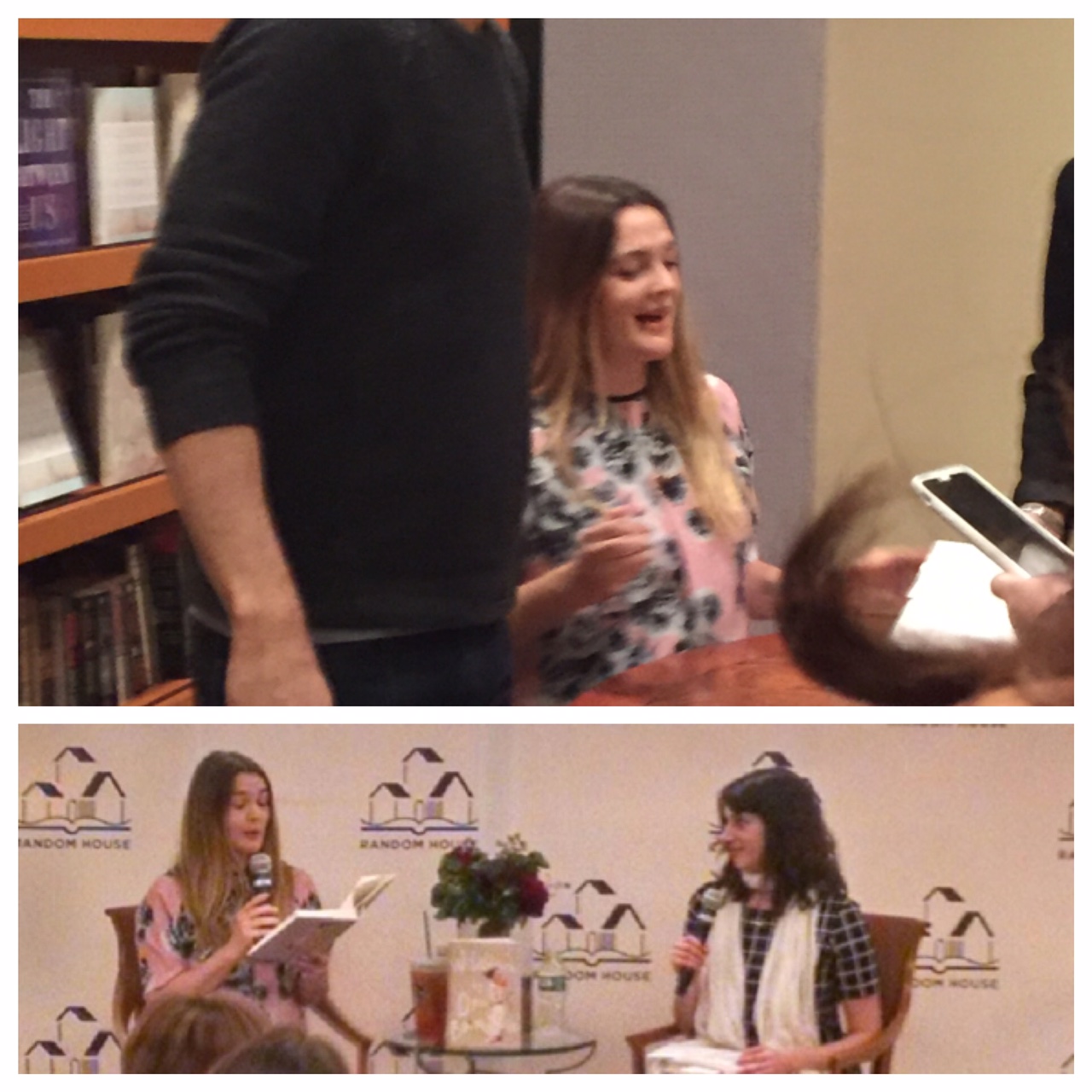 After a brief snack period, we all settled down for the final program of the day --- and for me a highlight: actress Drew Barrymore discussing her book, WILDFLOWER. Everyone is already familiar with the antics of Drew's youth, but WILDFLOWER goes beyond those crazy years to explore the woman she became. To start, Drew disclosed that her book is an effort to tell her daughters the truth about everything, from her younger years to what she hopes they will experience as they grow. With regards to writing a book, she explained that she did not want to get published for the "wrong reasons," as she did not want to publish a tell-all or a heavy-handed book full of false inspiration. To find this balance, she wrote two to three days a week for two to three hours, allowing her plenty of time to review and spend time with her daughters. Drew was surprisingly approachable, even as she was commanding the attention of the room and relaying stories about stars such as Jimmy Fallon and Adam Sandler. She clearly has a terrific relationship with her editor, Jill Schwartzman, and it was fun to hear them banter. Hearing Drew speak was truly a once-in-a-lifetime experience for me, and I cannot wait to read her book. She read the prologue, which prompted Carol to pick up the audiobook, which she is loving.
To close the day, we all went upstairs for a delightful cocktail party catered by no other than Mary Giuliani's catering service, complete with her famous pigs in a blanket bars and macaroni and cheese bites. Each table was set with several sauces so attendees could personalize their snacks, making for a terrific and fun evening. This year's Open House was a tremendous success, not only because of the stellar authors in attendance, but because Random House truly welcomed its readers as guests. As always, I cannot wait for the next program!