New York Times bestselling author Chris Bohjalian's hotly anticipated new book, THE GUEST ROOM --- a story of human trafficking, a party gone horribly wrong, and a marriage in crisis --- will hit bookstores on January 5th. His favorite Christmas novel, Patrick Dennis' THE JOYOUS SEASON, is a bit more playful; he describes its narrator as "Holden Caulfield with a sense of humor." In his Holiday Author Blog, Chris examines what draws readers to certain holiday stories --- particularly the more self-aware contemporary ones --- and why it's important to appreciate both the sacred and the profane.


---

Every year in November or December, I spend a few hours rereading one of my favorite Christmas novels: THE JOYOUS SEASON by Patrick Dennis. It's the tale of a pair of Manhattan siblings whose parents' marriage implodes over one Christmas in the mid-1960s, and over the years it has had me laughing aloud on planes, trains, and all alone at coffee shop counters. It was published in 1964, and I discovered my mother's copy when I was 12 or 13. It's narrated by a precocious (perhaps implausibly precocious) 10-year-old named Kerry, which --- he informs us --- "is short for Kerrington, for cripes sake, spelled with a K and an E and not a C and an A." Imagine Holden Caulfield from THE CATCHER IN THE RYE with a sense of humor. Dennis is known best for AUNTIE MAME, which was the inspiration for the musical "Mame," but THE JOYOUS SEASON is an underappreciated gem.
The novel is not precisely my childhood because Kerry's family lives in Manhattan, and I grew up in the suburbs of New York City and Miami, Florida. But there are moments that capture perfectly the universal chaos that can mark Christmas morning, especially those Christmases from the "Mad Men" era, when some parents (no names, please) just might have had too much to drink on Christmas Eve, and the toys were less likely to have been vetted for safety. Here is one of the presents that Kerry and his six-year-old sister, Missy, open before awakening their parents: "It was a genuine Martian Outer Space Squirt Gun. It holds a pint of water and, depending on which knob you turn, shoots either a hundred Instant Locomotor-Paralysis Rays or one full-pint Gamma Death Ray, which means curtains for Earth Mortals." (I didn't have that squirt gun, but I had a robot almost as tall as I was that shot rubber-tipped darts from its eyes. I discovered within hours that it would also shoot sharpened pencils. It's a small miracle that my older brother and I can still see.) Inevitably, Missy surprises their half-asleep, badly hungover father in their parents' bathroom: "Missy did something with her squirt gun and Daddy got it up and down his whole front with a full pint of ice-cold Gamma Death Ray. There was a bellow like he'd grabbed a live wire and then a stream of language like even I have never heard."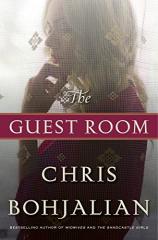 The book is one of those Proustian madeleines that catapult me instantly back to any one of a hundred childhood memories. I never surprised my father with a genuine Martian Outer Space Squirt Gun, but I did nail him accidentally with one of my Lincoln Log pieces that fit nicely into the depth charge catapult on a toy battleship. Another Christmas morning, I thought it would be great fun to wake up my parents with a toy train engine I found under the tree. I wasn't old enough to tell time, but it was still dark outside and I can't imagine they were thrilled to feel a metal locomotive rolling over their shoulders and backs and heads, especially since "the night before" had only ended for them a few hours earlier.
My sense is that these are the sorts of recollections that draw us to contemporary Christmas novels, and why we have affection for such tales as SKIPPING CHRISTMAS by John Grisham or WISHIN' AND HOPIN' by Wally Lamb --- or the chaotic, raucous living nativity in John Irving's A PRAYER FOR OWEN MEANY.
Of course, Irving's narrator also reminds us of another reality: "Any fool can feel like a Christian at Christmas," he says. Indeed. The modern Christmas novel --- the modern Christmas itself --- is often more about popular culture than the virgin birth of the Son of God. The original Christmas story, the one with a star and shepherds and a psychotic king named Herod, is often presented as a comic set piece in a church or school auditorium. There are exceptions, of course, such as when Charles Schulz masterfully brought Linus van Pelt to the stage to explain the meaning of the holiday --- reciting the key verses from the Book of Luke --- in "A Charlie Brown Christmas."
But this time of the year it remains important for me to separate out the Christmas novel from the Christmas story: Pop sentimentality from profound faith. I hunger for the healing powers of each, especially this December when peace seems more elusive than ever in some parts of the globe, and the world seems more abused and fragile than ever.
And among the precious, possible gifts of the season? Sometimes the soul can find both. Certainly that will be among my prayers this month.
To 2016: May somehow the New Year bring us peace.