London-based author Ruth Ware's debut novel, IN A DARK, DARK WOOD, is about a bachelorette party weekend gone horribly, horribly awry. Considering her own book is a fast-paced thriller, it's surprising to learn that her favorite Christmas story is rather plotless and idyllic. Here, she talks about LUCY AND TOM'S CHRISTMAS, the picture book she loved so much, and the miraculous coincidence that brought it back into her life.
---

I have given and received so many books over the years that it's difficult to pick out just one. Where to start? The gorgeous hardback edition of Kipling's JUST SO STORIES, inscribed from my uncle "who has seen the great, grey, green, greasy Limpopo River, all set about with fever trees"? The recipe books that my (then) boyfriend's mum gave me on our first Christmas together, some of which I still cook from now that we're married with kids? The DIY manual we were given when we bought our first flat, which saw us through several domestic crises and taught me how to refurbish a sash window? The vintage edition of Nancy Mitford my mum found for me in a second hand shop? It's always been a tradition in my family that no Christmas is complete without a book in the stocking or under the tree, and that the ideal Christmas morning begins with leafing through a brand new read. All of which gives me so many bookish Christmas memories that it makes it hard to choose just one.
So I'm going to write about a different book, one I never gave or received, but one that sums up Christmas for me in so many ways: LUCY AND TOM'S CHRISTMAS by Shirley Hughes.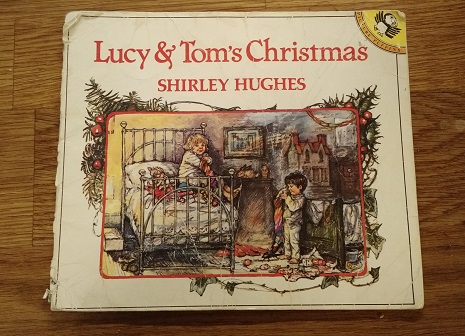 LUCY AND TOM'S CHRISTMAS is a picture book, and the funny thing is, nothing really happens in the story. A little girl and her brother prepare for Christmas; they make mince pies, they welcome carol singers, they count the presents they're making for their family. There's no real plot, no explosions or magic or moral. But there's something about it that made it magical to me as a small child. Perhaps it's the pictures; I was brought up in a house quite like the one in the book, with milk bottles on the doorstep, and a dresser hung with cups, and a mum who rolled out pastry on the kitchen table while I stood on a cane-backed chair and helped. I, too, woke up in the early hours of Christmas morning and gloated over my stocking and crept in to wake my sleepy parents --- although, living in the south of England, I never experienced a white Christmas, as they do in the book.
We never owned the book. It was in the library, and we got it out every year, trying to borrow it at just the right time so we wouldn't miss out, but could keep it over Christmas. I begged my mum to buy a copy for ourselves, but it was out of print --- which meant, in the days before the internet, it was virtually unobtainable, except for that one precious copy in the library.
But many years later, one wintry Saturday, I was helping out at the Christmas fete at my kids' school. I was manning the secondhand book stall, and I turned up to take my turn at the table, and there, lying on top of the scuffed Beast Quest books and outdated Power Ranger Annuals, was LUCY AND TOM'S CHRISTMAS. It was very battered and obviously much loved, with the name of a previous owner written inside the cover. But it was exactly as I remembered it --- the lovingly drawn house, the children waking in the dead of night, the mother at the kitchen table with flour up to her arms --- only now I was the mum, not the child perched on the edge of the table helping to cut out the pastry. Of course I bought it --- paying much more than the recommended 50p donation in my delight --- and that night I read to my own children about Lucy and Tom, and watched their faces as they recognised the Victorian house, with the milk bottles on the door step, and the bay window overlooking the street, and the slightly wonky Christmas tree with the glass birds and baubles.
To my delight, I discovered that this year Red Fox has reissued the book --- and so for the first time in many years, other children will be reading about Lucy and Tom. I might even give it as a present myself. But I won't be buying a copy to replace the torn and battered one I found on top of the secondhand stall at the Christmas fete. It felt like a Christmas present from the past, just for me.