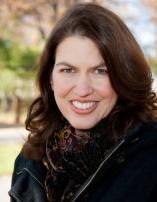 Edgar Award-winning thriller author Stefanie Pintoff knows how to keep readers on the edge of their seats. HOSTAGE TAKER is the first in her electrifying new series about whip-smart FBI agent Eve Rossi, and is set at St. Patrick's Cathedral within 24 hours of the famed Rockefeller Center Christmas tree lighting that takes place across the street (tonight!). In her Holiday Author Blog, Stefanie recalls the holiday season not long ago --- Y2K, and thrilling in its own right --- when she was introduced to the books that would inspire her to write thrillers…and learned to appreciate the luxury of time to read.
---

I'm sure there are many people who, like me, associate the holidays with the gift of reading pleasure --- whatever your taste may be. As a thriller writer, I still remember the holiday season when the right gift led me to what eventually became "my" genre.
It was the holiday season of 1999. Everyone was anticipating the arrival of the new Millennium, or Year 2K. And there was serious worry that if the computers everyone depended on malfunctioned, we were headed for something resembling a global disaster. Time magazine profiled a family in Ohio who bought a generator, a waterbed and a year's supply of canned chicken chow mein to prepare. The New York Times interviewed city building supers who were stocking up on garbage bags.
While the rest of the world worried, my husband and I decided to get away from it all and spend the holidays in New Hampshire. Our destination was a rambling farmhouse with no computers or even TV --- but where we'd have close friends, family and a barn converted into a basketball court. Most importantly, we'd have time. We were going to enjoy long, leisurely days without schedules or obligations.
Knowing this --- and probably also anticipating the countless hours he'd be spending on that basketball court --- my husband gave me a gift. Not just one book, but around a dozen that he thought I'd enjoy. After all, I'm a fast reader, and New Hampshire was going to be quiet.
I still remember those that spoke to me most --- and called out for re-reading, many times over subsequent years. Michael Connelly's THE POET. Jeffery Deaver's THE BONE COLLECTOR. Patricia Cornwell's POSTMORTEM. And Thomas Harris' HANNIBAL. I'd always loved reading --- the sensation of disappearing into a different world, thrilling to a great twist, or marveling at the inventions of an author's mind. But this was different. This was narrative drive and character development at its finest, and I was hooked.
That millennial holiday season was the first --- and last --- where I had the luxury of reading for pleasure over so many uninterrupted hours. Of setting aside so many days of my holiday vacation to escape into a good book (or three, or four). But it's a happy memory, and on many levels, it's one that inspires me when I write today.
Happy holidays to all! I wish you a season filled with good things --- and the time to enjoy them.