On Saturday, October 3rd, readers and writers braved the very cool, damp and gloomy weather that followed the threat of a hurricane to attend the second annual Morristown Festival of Books. Focused on celebrating the power of the written word while bringing authors and readers together, the festival featured several fun, informative panels throughout the day as well as author signings and a pop-up bookstore. The venues, spread throughout downtown Morristown, offered attendees the chance to explore the town and see their favorite authors in controlled settings, perfect for the rainy day. I attended the festival with Bookreporter.com reviewer Vivian Payton, former intern Matthew Burbridge, and Carol Fitzgerald, who moderated one of the panels.
To start the day, I attended Rose Levy Beranbaum's panel on her latest cookbook, THE BAKING BIBLE. Rose was joined by Woody Wolston, her friend and assistant, who has worked with her for eight years. The "Diva of Desserts" has won several awards for her work and also manages a blog, Real Baking with Rose, focused on helping her fans and readers with any additional questions. Rose humorously began her talk by explaining that she grew up hating both religion and food --- a fact that has since changed for the better. Rose and Woody then expanded upon the publishing process for a cookbook, explaining that cookbooks require rigorous testing, beta-bakers and specialized proofreaders who are familiar with the food at hand. Attendees were then treated to a slice of lemon cake, direct from one of Rose's own recipes. I am delighted to report that it was probably the best lemon-flavored anything I have ever had.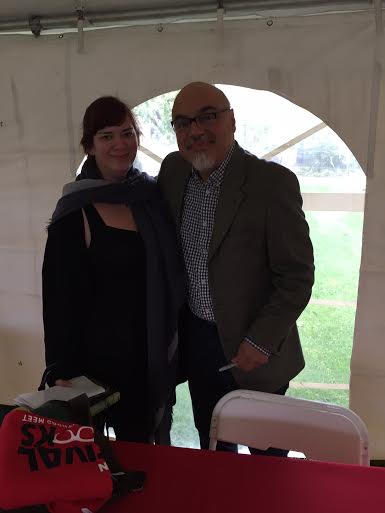 The next panel I attended was probably the most exciting of the day for me, as it featured author Hector Tobar speaking about his fascinating book, DEEP DOWN DARK, which I reviewed when it first came out. Tobar's book --- soon to be a movie --- is a groundbreaking portrait of the 33 Chilean miners who were trapped underground for a shocking 69 days. As most of the audience was familiar with the ordeal, Tobar used his panel to expand upon the lives of the miners following the event. After describing how he came into contact with the men, Tobar discussed their mental health and struggles with PTSD. Every single miner, he explained, has struggled with some form of mental anguish, but they remain in touch with one another and Tobar, which seems to be providing some solace. Perhaps most exciting was Tobar's discussion of the film, which he described as powerful, universal and important. I had the fortune of meeting Tobar afterwards, and we had a wonderful moment discussing Chile and the national pride that arose from the rescue mission.
Following the lunch break, Vivian and I settled in to listen to author Jami Attenberg discuss her newest novel, SAINT MAZIE. Although her novel is based on a real woman, Mazie Philips, "Queen of the Bowery," Attenberg's book acts as a fictional diary account of Mazie's fascinating life as a sort of Mother Theresa focused on helping the bums of New York City. During her panel, Attenberg explained that the real Mazie was far too busy living to leave behind much autobiographical information, so she had to create it herself after learning about her in an old essay. The responsibility of bringing Mazie to life forced Attenberg to constantly go with her gut, as any second guessing could ruin the whole project. In a fascinating twist, Attenberg's editor found a picture of Mazie just after Jami had finished her manuscript --- to her delight, she had grasped her character perfectly. Jami's enthusiasm for relaying the story of Mazi's life was absolutely awe-inspiring. She was perhaps the most dynamic speaker of the day, prompting a riveting Q&A session with the audience.
At the same time, Carol was moderating a panel with Dana Goldstein, author of THE TEACHER WARS. The crowd there was standing room only. Dana is well informed on the subject of what has been happening with public schools since the 1800s and how many of the topics that we are discussiing today have come up again and again in the past. The Q&A session went on for 30 minutes and easily could have been an hour!
After listening to Jami, I dashed to the next venue to get a good seat for one of the big names of the day, Gail Sheehy, author of DARING: MY PASSAGES. Sheehy came prepared with a Powerpoint presentation full of pictures of her most incredible moments as a reporter and daring woman, from witnessing Bloody Sunday, to spending time with RFK before his assassination, and supporting her late husband through his Hodgkin's Lymphoma. Although many of Sheehy's stories were not new, she provided valuable insight into how she was able to take the lead on so many fascinating events despite her role as a woman. Her stories about doubtful bosses were hilarious and it was empowering to see how she beat every odd. While closing her panel, Gail encouraged attendees to determine what they want from life and dare themselves to achieve it, a message I will certainly try to take to heart.
While I listened to Gail Sheehy, Carol attended a YA panel featuring authors David Levithan and Tommy Wallach, who are pictured above; David is on the left. Both read from their books and then had some lively banter on everything from the writing process to meeeting with readers to what they are working on next. Nice crowd there of both teens and adults!
For the last panel of the day, author Miranda Beverly-Whittemore moderated authors Christopher Scotton, Asali Solomon and Emily Schultz as they discussed the craft of writing. It was interesting to learn how each writer came to write their first novels and how they differed in their paths to publication. When it came to choosing their protagonists, for example, Scotton chose the traditional coming-of-age angle for its universality. Schultz, however, noticed how people treated her differently when her hair was blonde and drew upon her own experiences while playing with her protagonist's naivete. As far as considering an audience, all of the authors agreed with Solomon when she stated that fiction is a political agenda focused on encouraging the reader to be more human. In closing, each author described their next project, and how feedback from readers has shaped their writing.
This year's festival included a special ticketed wine tasting hosted by New York Times wine critic Eric Asimov, whose memoir, HOW TO LOVE WINE, is now in stores. To say Asimov's event was a blast would be putting it mildly. As the audience was treated to a sampling of five different wines, Asimov explained the cultural significance of each, as well as his own experiences with similar wines. While I expected Asimov to speak "wine," I found him completely down to earth and hilarious. He explained that the language that we commonly hear when reading wine descriptions --- "fruity with a hint of oak and tones of bergamont" --- is just silly, and that most highly rated wines are not actually that good. Asimov welcomed any and all questions, and I am happy to report that I learned a great deal and left with several terrific recommendations, both from the audience and Asimov himself!
During the wine tasting, I had the pleasure of speaking with author Christopher Scotton, who was gracious enough to answer all of my questions about his work and future projects. Scotton's novel, THE SECRET WISDOM OF THE EARTH, was my favorite book of 2014, and I was so excited to pick his brain a bit. It was the perfect ending to a fun, fascinating day, and I am already looking forward to next year's festival!