Award-winning New York Times reporter Stephanie Clifford has been making her own news lately with the release of her debut novel, EVERYBODY RISE. Set in New York just before the financial crisis, the book introduces readers to Evelyn Beegan, a young woman desperate to make a name for herself amongst her privileged peers. As she starts trying to pass as one of the elite, however, her lies --- and debt --- begin to consume her, and she must fight to maintain the lifestyle she has created for herself.
On Tuesday, I attended the EVERYBODY RISE book release party at BookCourt in Brooklyn, NY. Attended by dozens of fans, readers and friends of Stephanie's, it was an absolute blast. The night kicked off with wine and cheese as readers mingled and talked about the book. I was delighted to see that nearly everyone in attendance purchased a copy of EVERYBODY RISE, and some had started reading it!
As Stephanie read from EVERYBODY RISE and discussed her path to publication, I learned that it took her 10 years to write the book, utilzing the two hours every morning between waking up and heading to her job to write. During that time, she explained, she was constantly reporting on the world around her, particularly with regards to the financial crisis, which informed her writing. She found the writing program Scribner extremely helpful for keeping track of her characters and any major timelines.
Like most readers, Stephanie does not belong to the privileged world of her characters, but became interested in their unwritten rules when reporting on a fashion show early in her career. As she watched the glamorous people take their seats, she noticed that there was a very strict division between who got to sit in the front row and who was resigned to the fifth, and knew she had to write about it. At the same time, she wanted to share her own story about moving to New York and not immediately fititng in or finding work. She felt that her experience, which so many of us share, was not reflected in print, which seemed like a massive blow to her confidence. Her protagonist, Evelyn, is the personification of all of these feelings.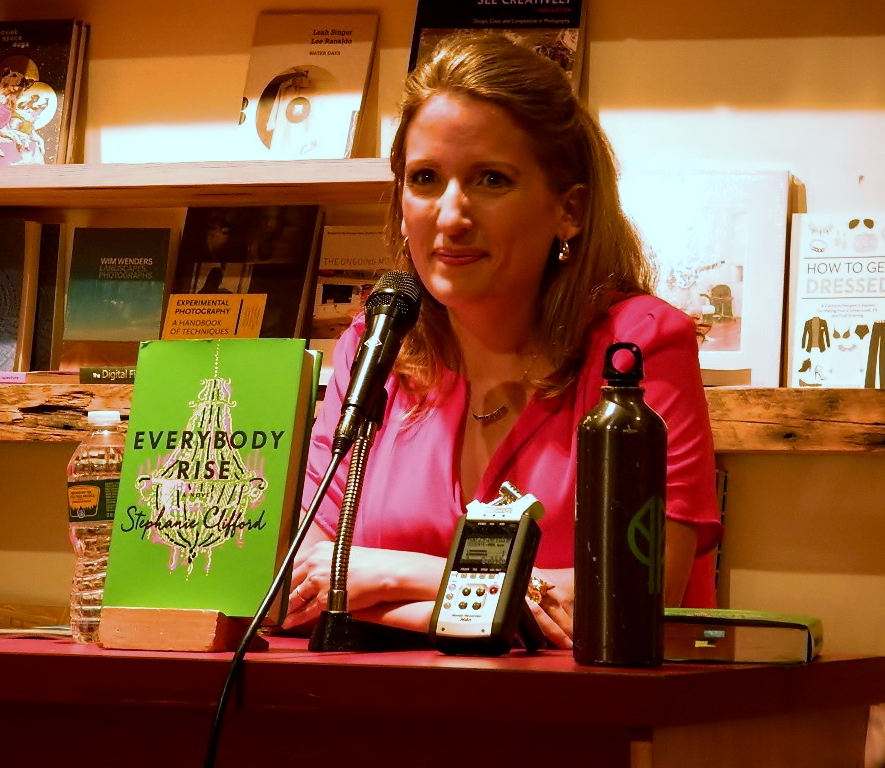 When it came time for the audience to ask questions, Stephanie proved that she is not only a terrific writer, but a dynamic speaker as well. When asked about her writing background, for example, she thoughtfully expained that her work as a reporter helped her polish the skills necessary for writing fiction, particularly with regards to dialogue and setting descriptions. She also expressed her compassion for the character of Barbara Beegan, Evelyn's mother. In the time since the release of EVERYBODY RISE, several readers have expressed a hatred of Barbara, but Stephanie explained that she has always felt for the character and is surprised by people's opinions of her.
Humorously, Stephanie's father was in attendance and asked how much of the book was influenced by her own family life. Since the father in EVERYBODY RISE is rather obnoxious --- not to mention a white-collar criminal --- his question was met with laughs from Stephanie and the audience. She was happy to report that no one in her family has ever been indicted for a serious crime.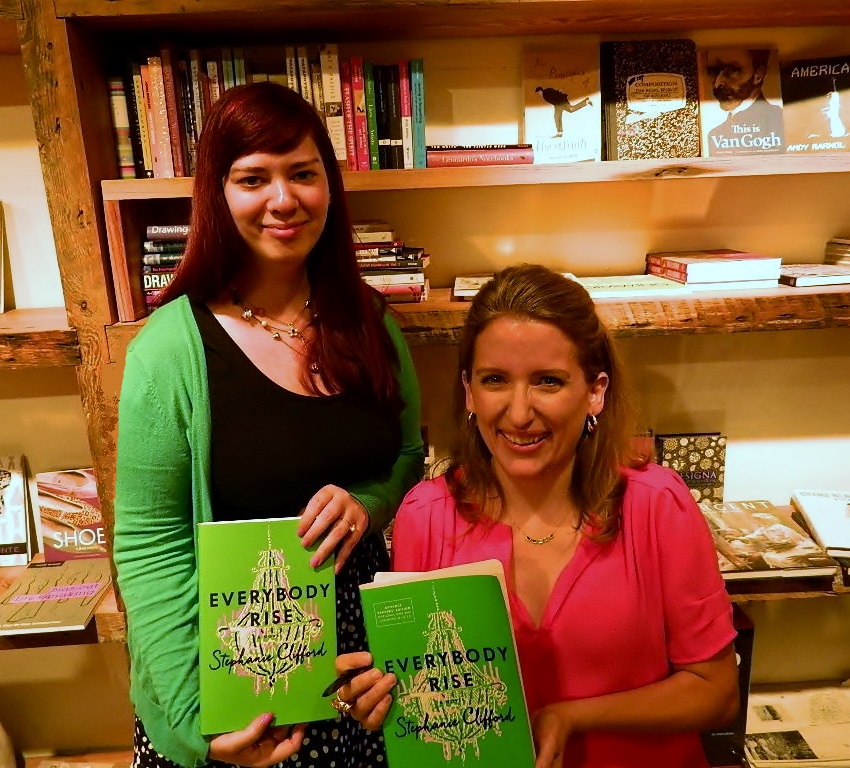 To close the evening, readers were invited to have Stephanie sign their books. She was kind enough to sign a few copies for me as I had friends who couldn't make the event, and we had a lovely conversation about the beautiful cover --- we agreed that it is very Lilly Pulitzer-esque.
All in all, it was a terrific release party, made all the more special by the wonderful employees of BookCourt and Stephanie's charming personality. Although I already loved EVERYBODY RISE, I left feeling like I had a new understanding of Evelyn Beegan and look forward to reading more from Stephanie.