This past Saturday, more than a hundred readers trekked up to beautiful Hudson Valley for Random House's latest reader event, "Off the Page." Although Random House has been inviting readers into their headquarters for years, this time they took the party to the stylish Basilica Hudson, a stone's throw from the Hudson Amtrak train station, where attendees were invited to listen as authors discussed their latest works, participate in workshops and even do a bit of shopping. I had the fortune of attending Off the Page with former Bookreporter intern Matthew Burbridge, Bookreporter reviewer Vivian Payton and Carol Fitzgerald.
Upon arriving at Basilica Hudson, we were all gifted with a Random House tote bag full of books and treats, as well as a plastic go-cup, which was a smart addition so we could get water all day. Then we mingled while snacking on glazed donuts and fresh juices. Before long, it was time for the first panel with Every Day with Rachel Ray executive editor Dana Bowen in conversation with legendary author, cookbook and food critic, Ruth Reichl. A master of every genre, Ruth discussed how her love of food has healed her time and time again, and how the community of readers she discovered on Twitter gave her the strength to move forward after the closing of Gourmet.
In an interesting twist, Ruth explained that she finds the discipline required for tweeting nearly poetic, and found that it really informed her writing process when it came to MY KITCHEN YEAR: 136 Recipes That Changed My Life, which will be in stores on September 29th. As the discussion moved to the current food situation in America, Ruth shared her insight that "if you're rich in America, you've never eaten better, but if you're poor, you've never eaten worse."
She also talked about how the latest food trends have her somewhat stymied. It's like everyone is trying to be so clever that they have lost their way. It was clear that she was highly interested in not only the preparation of food, but the manufacturing processes as well, making her panel both inspiring and educational. After hearing her speak, I quickly purchased her book, DELICIOUS! --- also a Bets On pick --- to get it signed and can confirm that she is every bit as lovely and smart in person.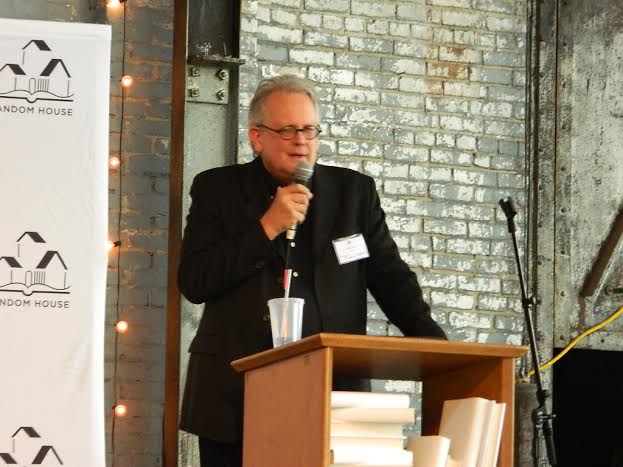 Up next, author and "Way of the Rose" founder Clark Strand discussed his book, WAKING UP TO THE DARK, and his research into sleep cycles. With so many people suffering from insomnia and other fragmented sleep patterns, Clark's panel could not have come at a better time. To start, Clark discussed how he often found himself waking up at night, unable to simply roll over and go right back to sleep. With some research, he discovered that, before the discovery of artificial light, humans would fall asleep immediately at dusk for four hours, wake up for two, then fall back asleep for four more. This pattern, he found, proved most conducive to healthy living and gave people time to meditate or pray. Clark then conducted the audience in a guided meditation.
During the lunch break, attendees were invited to meet author Lauren Redniss, editors Salwa Jabado and Caroline Trefler, and Darling cofounder, Sara
h Dubbeldam. With so much to look at, however, I took this time to eat and do some shopping. Although boxed lunches were available for purchase, I took my chances with the Black Forest Flammkuchen Co. food truck out back --- and I could not have been happier! After filling up on an amazing flatbread, I took some time to buy books and candles and participate in the coffee brewing workshop, hosted by Toby's Estate.
I have to admit that I am a bit of a Random House fan girl and have been following Director of Special Events Kate Childs on Instagram since the last Open House. For weeks now, she's been raving about THE REAL THING, a witty exploration of love from Washington Post wedding reporter, Ellen McCarthy. Bolstered by lunch, I flagged Kate down and admitted to her that I had just purchased THE REAL THING and couldn't wait to read it. We had a lovely chat --- I truly felt like I was speaking to a friend. The enthusiasm of Random House's employees is really what makes these events so special and keeps me coming back again and again.
Up next, Carol Fitzgerald took the stage with Leigh Marchant and Susan Corcoran from Random House along with Kelly Drahushuk, owner of a local bookseller called The Spotty Dog, to discuss Better Book Club Practices, from etiquette to themes and choosing the right book for your club. The first question for these ladies was "How do you pick books?" Carol astutely pointed out that it is most important to know your book group. To make this as easy as possible, your club should have about 8-12 members who create a nice balance of contributors and listeners. She also said that, in addition to rating the books you choose, you should rate your club's conversations and ask which books sparked the best talks. Passionate discussions, she explains, can happen even when group members dislike the book. Susan agreed with many of Carol's points and added that attending your club should not be daunting. If it starts to feel like homework, your club may need to reevaluate.
Next the discussion turn
ed to inviting authors into your club meetings, a practice many authors offer on their websites. Susan explained that, although this is typically a free service, m
any groups simply do not take advantage of it. Naturally, it can be daunti
ng to invite an author into your circle, so Susan recommended discussing your book first, then inviting the author in via phone or Skype during the last 10-20 minutes. This way, you
know exactly what you want to ask the author and avoid any awkwardness. Leigh added that getting to know your local bookseller can also help, as they will fill you in on readings or signings once they know your tastes.
Of course, book clubs require a certain etiquette, especially when one has not read the book. So, what to do if you are less than prepared? Carol says, "Attend anyway. Some people like the socialization. Cut them a break, as long as they are still engaged." Susan recommended confessing and offering to host, so your presence is still felt. Leigh agreed, saying that it is always better to be forthright and just go. When it comes to materials such as discussion questions, all women agreed that they can be extremely helpful, but your club should not feel tied to anything. Carol advised doing a quick Google search for extra information such as historical context, definitions, or questions relating to theme.
To close, the women were asked for their top five picks for book clubs, which was probably the most difficult question of the day. Leigh recommended CAN'T WE TALK ABOUT SOMETHING MORE PLEASANT by Roz Chast, as well the graphic novel FUN HOME by Alison Bechdel, and the YA novel SPEAK by Laurie Halse Anderson. She added that there are some books that may not be fun to read that are still very important, such as MISSOULA by Jon Krakauer. Susan recommended the classic GONE WITH THE WIND, because there is a ton to discuss and, despite its fame, she has found that very few people have actually read it. Carol recommended THE SHORT AND TRAGIC LIFE OF ROBERT PEACE, one of her favorite Bets On picks, but also suggested reading other works by a single author to compare and contrast.
During the time allotted for questions, the audience had the treat of hearing from the members of a real book club who were attending Off the Page together. One member took to the mic and explained that their group will choose members who prefer certain genres such as romance and allow them to monitor any discussions featuring similar books. That way, each member becomes something of an expert on their favorite genre and educates other members with enthusiasm.
After a short break, caterer to the stars Mary Giuliani took to the stage with Darling Magazine's Kara Dykert to discuss the art of entertaining --- and how to keep it stress-free. Like Ruth Reichl, Mary Giuliani has loved food her whole life. Interestingly, she ended up working as a caterer completely by accident, following a failed attempt at acting. Luckily for the entertainment industry, she found she loved catering and created her own company focusing on comfort foods and tons of fun. In her new book, THE COCKTAIL PARTY, readers can get her inside view on everything from food and drink recipes to throwing the perfect party to recovering after --- with the help of a drink or two.
For the closing presentation, BETTER THAN BEFORE author Gretchen Rubin spoke with Darling Magazine editor in chief Sarah Dubbeldam about the importance of habits and how to best change them. Already well known for her book about happiness, Gretchen realized that our habits play a huge role in how we achieve happiness. She was unsatisfied, however, with the existing methods for forming habits and decided to really look at the differences in how people meet expectations. From here, she created a framework for grouping people into four groups and looked at how they can best monitor their habits in order to preserve their self control. In a fun twist, she even helped Sarah Dubbeldam approach her own bad habits, such as not going to the gym every day. Watching Gretchen help Sarah work through her resistance and excuses really brought her book to life and made it an instant must-buy for me and Vivian.
To wrap up the day attendees were invited to sample Hudson Valley wines with Random House employees. As we mingled and discussed the day's events it became clear that the audience had had a wonderful day. I look forward to seeing where Random House takes us next!